Celebrating Earth Month at Divers Direct
The earth is a big and beautiful place, so let's take a big, beautiful look at our home planet this Earth Month and connect with how we can incorporate more eco-conscious practices into our everyday operations and life. As a retailer, a lot of our efforts center around choosing vendors who embrace environmentally friendly practices in the production and shipping of their products. 
 And we don't stop there. Sustainability is at the core of everything we do because we, as divers, see first hand the impact we all have on our oceans. From our eco-friendly packing and shipping methods to our staff volunteering to help clean the oceans and all the little details in between, we're putting our best foot forward, investing in our planet, and asking you to join us. Not just this month, but today, tomorrow, and every day. So let's dive in.
What about Divers Direct's packing peanuts?
Packing peanuts are a source of contention for any company that ships products. Here at Divers Direct, we use packing peanuts; however, the ones we use are made from biodegradable, compostable material. Check out the video below to watch how quickly our packing peanuts dissolve once they're submerged in water. We encourage you to try it out yourself, it's actually kinda fun.
What about the other packing materials Divers Direct uses?
Our commitment to the environment inspired us to write a blog about our use of packing materials. Basically, everything we use is either eco conscious packing materials or reused materials from packages we receive. Although we can't always choose what someone else uses in their packaging, we are in complete control of what we do with it once it reaches us. Recycle, reduce, reuse is our motto and every little bit helps.
What's up with Divers Direct's bags?
When you stop in one of our four locations and select all your new dive gear, at checkout, your items will be placed in a sturdy paper bag which can be reused (like a lot). And if you happen to purchase $100 or more in merchandise, your products will be put in one of our exclusive reusable Divers Direct Red Bags. The dimensions of this bag make it a great addition to your bag collection because it's perfect for hauling your stuff to and from the beach or boat.
Can I say 'No thanks' to a bag?
Yep. Our staff is happy to place your items in a bag of your own or let you carry your stuff out without any bag at all. Up to you. Every little bit counts.
How is Divers Direct helping in the community?
At Divers Direct, we know how important our coral reefs are to our sustainability. That's why we partner with Friends of Our Florida Reefs—from helping get the organization off the ground, participating in stakeholder groups, having had staff serve on their board, to helping support the Bleach Watch program. We're committed to helping the environment and organizations working to protect and preserve our aquatic ecosystems, which is why we also partner with Florida Keys National Marine Sanctuary Foundation. 
Some of Our Partners Investing in Our Planet
We work with as many companies as possible that focus on eco-conscious practices and investing in our planet. From eliminating harmful plastics and chemicals from their products to creating more sustainable and biodegradable packaging, here are a few of our many partners and a brief overview on how they're making our planet a priority.

EVO Water Gear is working to eliminate plastic waste from their packaging by reusing the same packaging you buy your snorkel and mask in. At the checkout, when you're buying the EVO Drift Snorkel and Mask Combo in our store, you can elect to take your new EVO gear out of the plastic clam shell packaging. One of our Divers Direct experts will gladly take it and make certain it gets sent back to EVO to be used again—thus eliminating the need to create more plastic, thereby reducing plastic waste.

Mares is working towards making all their dive mask boxes plastic-free, compostable containers. Focusing on their Blue Oceans Plastic Free initiative, Mares has started to change the game on dive gear packaging. They even removed the plastic coating on most of their packaging. Check out the bigger picture on what Mares is doing to invest in our planet.

Osprey has been working to invest in our planet since 1995 and they haven't looked back since. From reducing harmful chemicals in the production of their products to sewing in the Leave No Trace principles into their backpacks, Osprey is a true leader and innovator in eco-friendly practices. Here's what Osprey is up to in sustainability.

Fourth Element is one of the top scuba brands focusing on sustainability, eco-conscious business practices, and investing in our planet. From creating their Ocean Positive line that is made from recycled ghost nets, including dive suits to swimwear, to removing single use plastics from their packaging, Fourth Element sets the bar high when it comes to sustainable practices. Check out how they embrace the planet and work to protect and clean our oceans.

Spacefish Army creates fun watersports wear from recycled single-use plastics. Virgin polyester is not exactly a planet-friendly material, which is why Spacefish Army takes the extra steps necessary to keep plastics out of our landfills and oceans by recycling them into creative and unique apparel rather than using virgin polyester for their material.

Nomadix towels were once upon a time 30 plastic bottles. That's right, Nomadix takes single-use plastic bottles and turns them into versatile towels perfect for the beach, boat, pool, and anywhere you might want a towel. By eliminating plastic waste and creating innovative gear that works, Nomadix is raising the bar on towels.

Stream2Sea creates Protect Land + Sea Certified sunscreens that are tested and proven safe for fish and coral larvae. Additionally, they use sustainable ingredients and sustainable packaging too. Good for you and good for the oceans, does it get better than that? Find out more about this amazing company's eco-conscious efforts and activism.

Costa not only created their UNTANGLED collection which turns used-up fishing nets into frames for sunglasses, they also created their OCEARCH line that's dedicated to ocean conservation. When you buy a pair of Costa OCEARCH sunglasses, you're helping fund shark research expeditions to aid in protecting our ocean's ecosystem. Did you know that sharks play a huge role in our ecosystem?

4Ocean is on a mission to remove trash from the oceans and waterways. To fund that mission, they create bracelets and other products made from recycled materials, then the proceeds from the sale of each bracelet covers the cost of removing one pound of trash from the ocean. They raise awareness on the importance of protecting these areas and the magnificent creatures within them, offering the much needed reminder that we can all do a little more.

MANG® will plant a mangrove, with every purchase, to help restore and preserve coastal ecosystems with their Buy One. Plant One.® initiative. Since its founding, MANG® has partnered with nonprofits, scientific researchers, and communities to plant over 520,000 mangroves.

Fahlo is partnered with a variety of wildlife conservation organizations and donates a portion of their proceeds from every purchase to the organizations connected with the campaigns. Falho wants to educate about wildlife and excite others about conservation by offering a tangible, stylish bracelet and an interactive tracking experience.
What's Divers Direct's staff up to in the community and how can you help?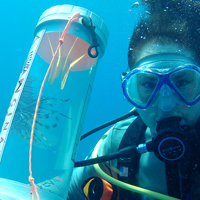 Randy - Over five years ago, the thrill of shooting her first lionfish started an exciting journey of lionfish derbies, cooking contests, making jewelry with the spines, and teaching thousands about the invasive species for Randy.  As the event coordinator at the Key Largo store, she began including lionfish dissections, classes on how to plan a specific lionfish hunt, and having REEF teach everyone how to make pendants from the spines. Randy has been volunteering at REEF and FWC lionfish derbies throughout Florida for the past five years cutting spines, fileting fish, making ceviche, and teaching the public about why we have to get rid of the lionfish. 
Divers are the only true predator of the lionfish, so we have to get out there and dive. If lionfish are present on a reef, 90% of the fish they prey on could be eaten, leaving the possibility that our next generation may never taste snapper, shrimp or lobster. Each female lionfish produces approximately 30,000 eggs every 2-4 days in an gelatinous egg sac that is not edible and floats on the surface current of the water to invade our previously fish abundant oceans.  Randy's goal is to make the world aware of these issues so people will order lionfish in a restaurant, wear jewelry made of lionfish spines, or teach others about the dangers of invasive species.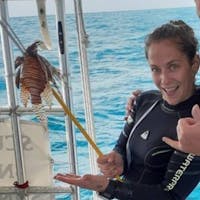 While Krissy is a treasured team member at Divers Direct, she is also the Director of Conservation at a Blue Star dive tour operator in Key Largo. She both manages and organizes the Dive Against Debris dives and other conservation based efforts there. Blue Star is a program established by Florida Keys National Marine Sanctuary recognizing tour operators who are committed to promoting responsible and sustainable diving, snorkeling, and fishing practices to reduce the impact of these activities on ecosystems in the Florida Keys. Krissy and her dive crew team up with Goal Clean Seas and NOAA and are currently working on extending their conservation programs with other organizations with similar mission statements such as I.CARE and The Turtl Project.  Part of her duties also include organizing participation in other activities such as trash and lionfish derbies, minimizing waste where possible, and efforts to keep the coral reefs healthy. These tasks can include things like advocating for no single-use plastic bottles and bags, using reef safe sunscreen, spreading the message of healthy reef etiquette, cutting down on unnecessary use of paper in the shop, recycling, and so on.
Last year, Krissy's team came in 2nd place in the REEF Lionfish Derby and removed over 1 TON of marine debris from the oceans, bays, creeks, and sounds of the Key Largo area. She and her team plan to continue their conservation efforts and expand their presence in the dive/marine community.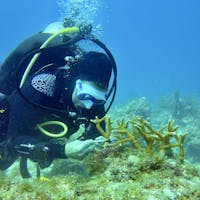 Since moving to Key Largo in 2018, Marilyn has gone on as many cleanup dives in the Florida Keys as she can. Many of the cleanup dives in the Keys started after Hurricane Irma and continue because of the amount of debris still accumulating. Marilyn and the cleanup team she works with bring up anything that doesn't belong in our oceans, often finding things like anchors, rope, lobster traps that no longer have a marker buoy and are often rolling over the reefs, chum bags, nets, phones, fishing poles, towels, hats, bottles and cans, and more.

Marilyn also does coral planting and maintenance with I.CARE, a nonprofit organization founded by Mike Goldberg and Doctor Kiley Smith. Her favorite part of doing this work is the maintenance. This is when she goes back to the coral that has been planted, removes any algae, and checks to make sure the coral is still firmly attached. Not only does this help the coral to survive, but it also gives her and the other volunteers a chance to see how much the coral has grown.

Knowing the effects that lionfish have on the marine ecosystem here in North America, she also takes time to go spearfishing for these vivid invaders. In doing this, she helps our reefs by eliminating an invasive fish that has no other predators. Plus, they taste great! 

As a water sport enthusiast, Marilyn also enjoys paddleboarding. While out paddling the waterways, she will pick up debris she sees floating in the water or stuck in the trees. She's always amazed at how many plastic bottles and bags end up in our water and does what she can to reduce waste where she sees it.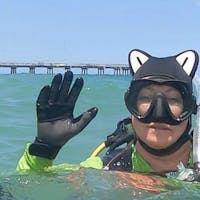 Meagan has been a scuba diver for a few years, but an animal lover and environmentalist always. After working in animal welfare for over 20 years, she went looking for a less stressful environment to work in where she could still feel a sense of purpose in her work and turned her sights to the sea. Since becoming a diver, Meagan has gotten involved in volunteering for a few nonprofit organizations. She is currently in the process of getting her adaptive dive buddy certification to do more work with Thresher Aquatics, a nonprofit that helps individuals with disabilities through scuba diving. Additionally, she assists with scuba events every month with Scuba4Good which also helps people with disabilities learn about scuba diving and getting certified. 
When it comes to protecting the planet, she hopes to get her Scientific Diver certification soon so that she can work more closely in conservation efforts. Of course, Meagan already does some conservation work and volunteers with an organization that specializes in restoring oyster beds and repurposing discarded oyster shells. Having not forgotten about her friends above sea level, she also volunteers with Purrr Rescue and Adoption Sanctuary, a local cat rescue organization.
Many of our staff participate in beach cleanups regularly. Removing 5-10 lbs of trash per person per cleanup, we're making an impact and keeping trash out of the waterways. There are plenty of nonprofits and groups out there organizing beach cleanups, but you don't have to wait for one of those to come along. Grab a bag and head for the beach, any beach will do. You get some exercise, a little vitamin D, and just about every time, you'll remove over 5 lbs of trash in about an hour. 
Note that all of these organizations and cleanups would love to have you join in the mission. Feel free to reach out to any of them and if you mention you read about them on the Divers Direct Earth Month blog, we're sure they'd be excited to hear that.
There is always more that can be done, and we are constantly looking into new ways to improve and invest in our planet.