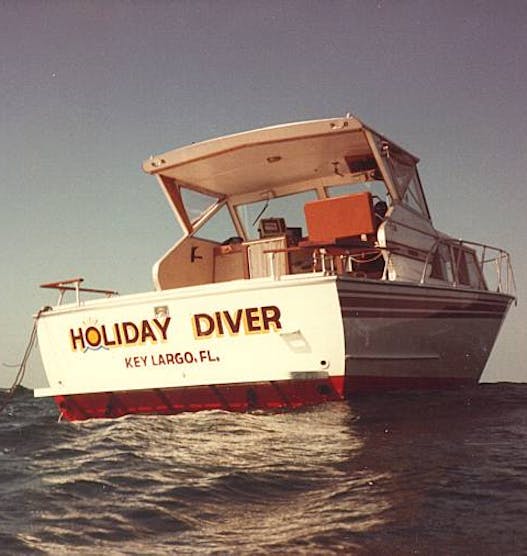 Wide gear selection, well-versed staff, family-owned. Divers Direct is committed to educating divers on the gear and providing the knowledge necessary to explore the underwater world. Whether you're a novice or an expert, looking for information or training, black or fuschia gear, or just the latest tropical adventure apparel… we have it.
Our story begins with the Senecal family moving two small boats from Michigan to Key Largo in 1984 to offer dive excursions at the docks of the Key Largo Holiday Inn. Wayne Senecal, founder of Divers Direct, used his own boats to launch the diving business. Months went on, divers came by, and Senecal continuously saw the same problem: divers in need of gear. New fin straps, an extra mouthpiece, wetsuits in sizes beyond L and XL, but not many dive shops seemed to have it.
Senecal realized he could better serve the diving community by shifting his focus to equipment. He sold his boats, invested the money in inventory and formed Divers Outlet in a small 600 square foot store (in Key Largo) without knowing it would one day become the largest dive shop in the world.
Thirty-five years have passed and we're now present through Florida and on the web with shipping all over the world. Divers still come to us for our gear selection and knowledgeable staff. We also offer classes, workshops, and events that educate beginners and advanced divers on the best practices to discover the ocean. Over the years, we've adapted our product selection and business practices to protect the ocean.
This year alone, Divers Direct will replace all sunscreens it sells to reef-safe only and replace plastic shopping bags for recycled paper bags. Our reusable Divers Direct red bag has been around for over a decade to help our customers reduce plastic usage. We're proud to be the largest dive shop in the world and to help educate divers worldwide to explore the ocean. If you are in Florida, please visit one of our store locations, and we'll be happy to talk diving with you. We are all divers just like you and your family!