Fourth Element Thermocline Long Sleeve Top, Back Zip (Women's)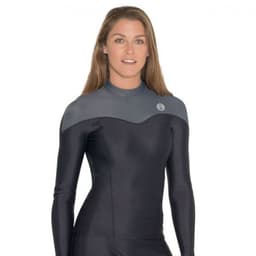 Fourth Element Thermocline Long Sleeve Top, Back Zip (Women's)
Earn 200 points with this Purchase
Description
Keep your body warm, dry, and protected as you swim, surf, and dive with the Fourth Element Thermocline Long-Sleeve Top, Back Zip. This thermal top works great on its own or when worn beneath your wetsuit. It offers added thermal protection in a neutrally buoyant design. Made without neoprene, this top is hypoallergenic and easy to pack. The fabric won't crease or become damaged. It dries within an hour and is machine washable.
Made with OceanPositive Econyl­® Material
Econyl® is made from 78% recycled nylon from 'ghost' fishing nets and other post-consumer waste. This makes your suit good for the ocean, but it's also great for you. This attractive, high-performance fabric is laminated with a waterproof membrane and lined thermal fleece to keep you warm underwater and dry above the waves. Wear it alone in tropical waters or layer it beneath a traditional wetsuit in cold conditions. Because it's neoprene free, those with allergies can use it as a barrier layer between neoprene and the skin.
Fourth Element Thermocline Top Features:
Equivalent to 2mm of neoprene
1/4 back zipper at collar for easy entry
Wear less lead thanks to the neutrally buoyant design
Great wetsuit top for travelers or those with neoprene allergies
Lightweight top that's travel ready and won't crease when folded
Moisture-wicking, quick-drying design with soft inner fleece layer for warmth
Keep it smelling fresh and clean because it's machine washable
33% Econyl® Recycled Nylon, 57% Polyester, 10% Elastane
Thermocline Top combined with Thermocline Leggings (sold separately) weigh less than 1kg (2.2lbs)
More Info
Product Sku:

DD109511

Thickness (mm):

2

Entry Style:

Back Zipper

Latex Free:

No

Sleeve Length:

Long Sleeve

Number of Pieces:

One Piece

Style - Wetsuit:

Top

Hooded:

No

Sealed Seam:

No

Sizing:

Adult

Accessory:

No

Closure:

Pull-on

Neoprene-Free:

Yes
More Info
Product Sku:

DD109511

Thickness (mm):

2

Entry Style:

Back Zipper

Latex Free:

No

Sleeve Length:

Long Sleeve

Number of Pieces:

One Piece

Style - Wetsuit:

Top

Hooded:

No

Sealed Seam:

No

Sizing:

Adult

Accessory:

No

Closure:

Pull-on

Neoprene-Free:

Yes