Where to Scuba Dive in Florida for the Winter - Part 1: Diving the Florida Panhandle
Winter's not for storing your dive gear, it's for getting out and gaining a new perspective of your old favorite dive site. Diving with the changing seasons can be an amazing experience. While diving in the summer can be more comfortable temperature-wise and you may experience more brightly colored tropical fish (depending on your location), diving in the winter can be incredibly rewarding. You could dive the same location at polar points of the year and feel like you're in a new world entirely! The water can often be calmer and clearer in the colder months, and, especially here in Florida, you may just find yourself diving around large and fascinating animals that are migrating south for the winter. So don't just save your dives for spring and summer, jump in when the water's cool too!  Here are some amazing winter dives you can explore around the Florida Panhandle, the first stop in our series of prime winter dive locations. This area will be the coldest and arguably the most challenging due to the depths you'll need to go to explore some of these incredible dive sites. Don't worry though, we've gone diving through the depths of research to find dives appropriate for all levels of divers for your winter dives in North Florida.
 First up, the USS Oriskany. Often called the "Mighty-O" or even "The Great Carrier Reef", this dive site features a massive 872-foot aircraft carrier that, thus far, wins the award for the world's largest artificial reef. You'll arrive at her tallest point at around 84 feet below the surface, already seeing the abundance of sea life that call her home. Should you wish to see where she meets the sand, you'll need to dive down an incredible 220 feet! For the technical divers out there, you can explore the flight deck at around 145 feet, or maybe even check out the open hangar bays at a depth of 175 feet. She's world-renowned, absolutely massive, and she's also well known for her impressive visibility, which clears up even more so in the winters. 
Want to go diving in Pensacola, Florida but a little intimidated by the depths of the Mighty-O? No problem! The Three Coal Barges, sunk by a Navy demolition team, are just a few miles off shore. Among these three barges that lie end-to-end and the bridge rubble that surrounds this area, you can observe a variety of underwater species that may be in town for the winter months. At just 50 feet of water, any level of diver can enjoy this vibrant dive spot in the Florida Panhandle.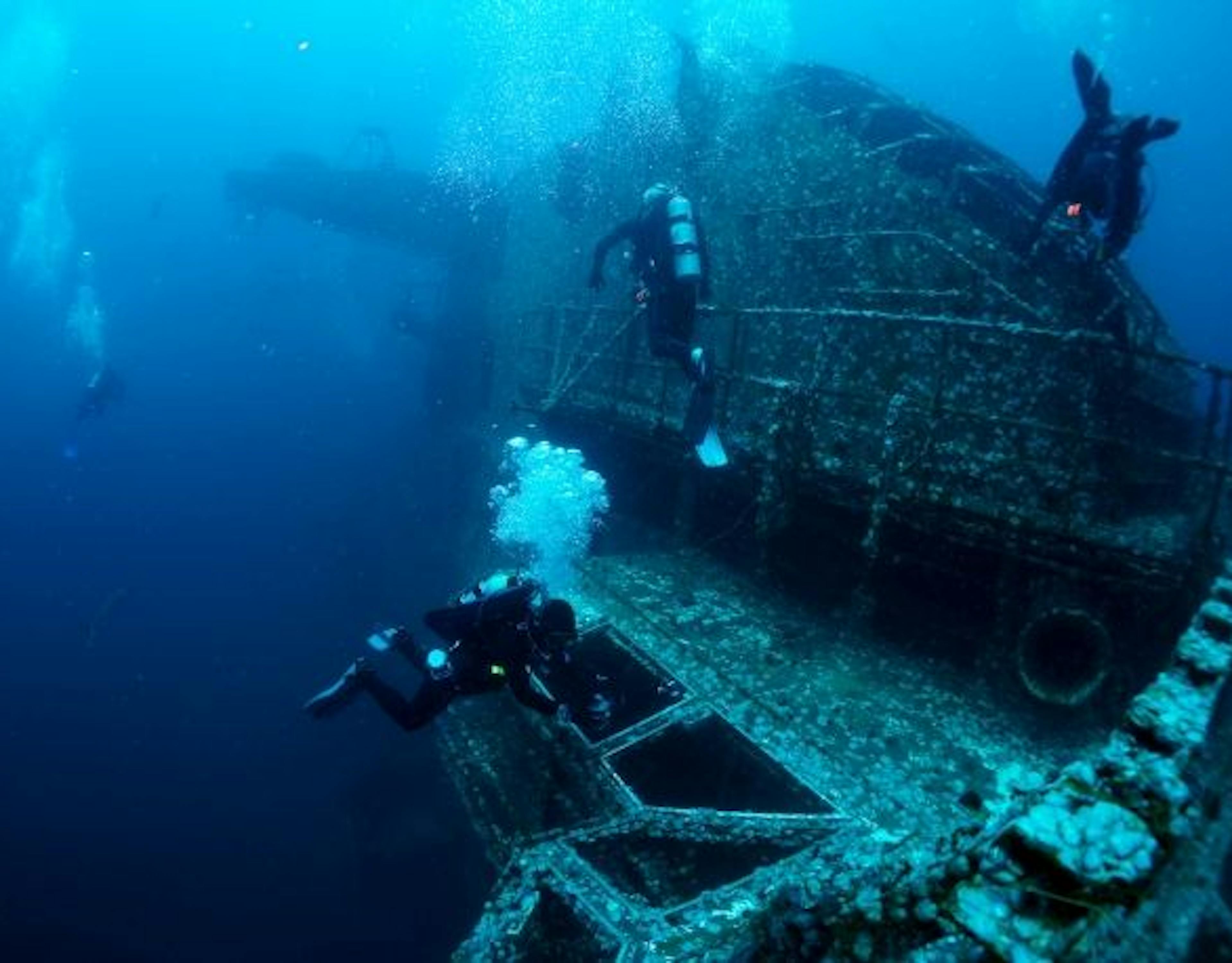 Silly side note: If you're willing to make a quick drive west (about an hour) for some fun and to say you've partied in two states at once, stop by the famous FloraBama Bar for a true honky-tonk experience that I can assure you will remember.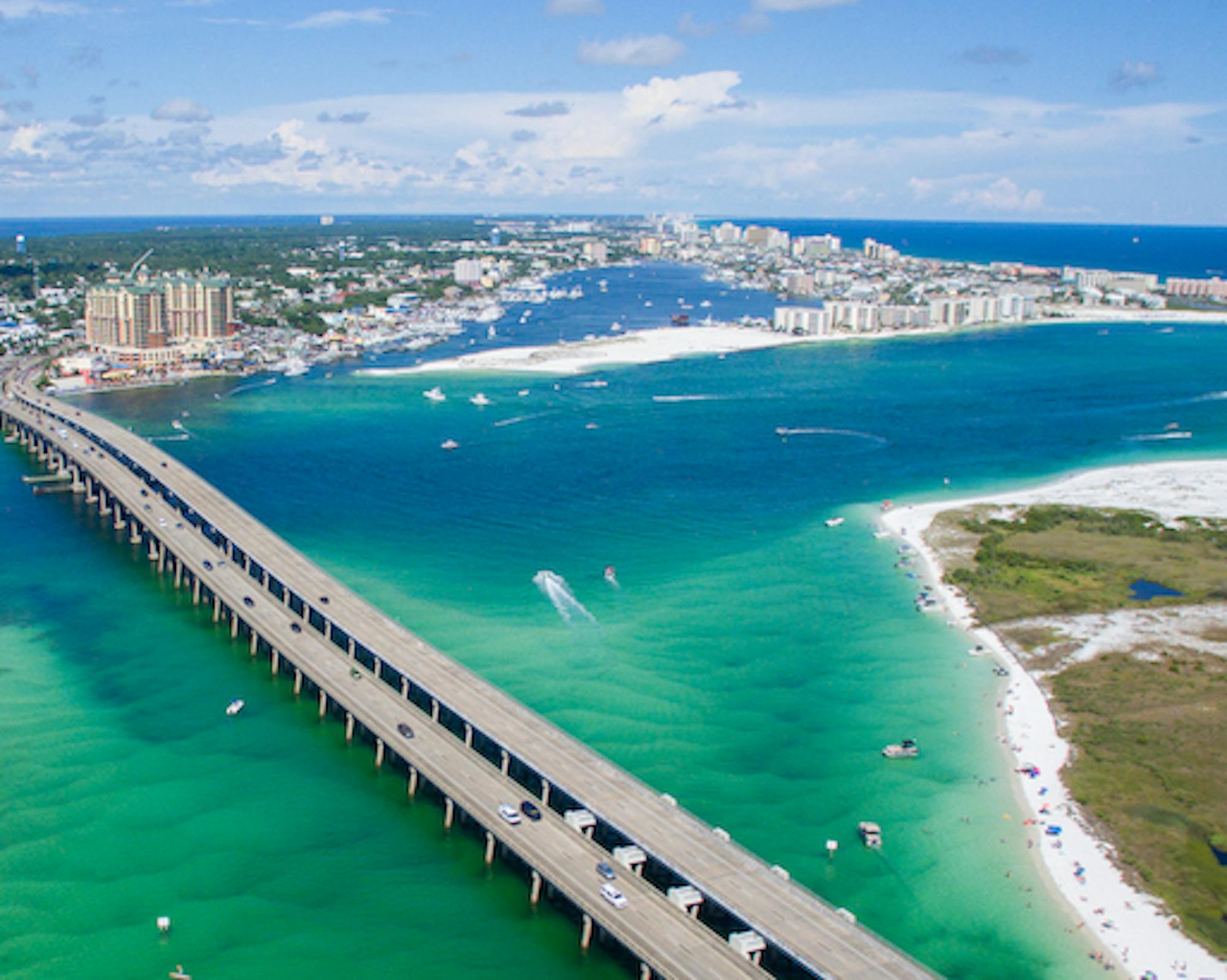 Whether you've ever been to Destin, Florida or not, you likely already know that it features a world famous beach, known for its sugary white sand, clear emerald waters, and unforgettable Southern hospitality of the locals. What you may not know is that the winter months not only bring better surf conditions (so grab your surfboard and catch some Florida waves), but also some amazing scuba diving conditions and generous spearfishing opportunities! As an added plus, since you're visiting in the off-season, you'll feel like you have the beach (and the sea) all to yourself. So let's go diving in Destin! 
First stop, the Miss Louise Tugboat. About half a mile off the coast of Destin, you can explore the Miss Louise artificial reef which lies in around 55 feet of water. She's been an underwater habitat for nearly a quarter of a century now, and you can find such a variety of sea life that you can either awe at the whale sharks and Goliath Grouper that swim by or go spearing for Lionfish, snapper, grouper, and more. 
As spearos, you already know to stay up to date on which fish are in season and which aren't, but in case you need a refresher, here are the recreational regulations for Gulf Fishing Seasons. 
Next on our Destin dive destinations, we have the Destin Bridge Rubble. There are three sections of the old Destin Bridge that make up this artificial reef. This is actually a great place for beginner divers who wish to stay a bit closer to shore and a bit closer to the surface. A mile and a half off the coast of Holiday Isle, you'll find the Destin Bridge Rubble and the incredible wildlife that explores its crannies and crevices. 
Tasty tidbit: I can't recommend enough that you stop by The Back Porch Seafood and Oyster House for a bite to eat and a post-dive beverage.
Panama City Beach, Florida
It may be number three on our list as we make our way south, but PCB is known as the "No. 2 Dive Destination in Florida". With a fascinating plethora of sea life that call PCB home, you may be surprised every time you jump into the water to meet a new sea critter cruising right by you.  But let's continue on our tour through the Panhandle Dive Trail, starting with PCB's most famous and historic wreck dive, the Empire Mica. If you've not heard of the Empire Mica, here's a brief history: 
The Empire Mica was a British tanker used in WWII. In the summer of 1942, she was torpedoed twice by a German U-boat. After burning on the surface of the water for more than 24 hours, the Mica eventually sank to the 120-foot deep ocean floor. Unfortunately, there were 33 casualties in the attack. Many love to dive this site to not only explore a slice of history from our most recent World War, but also because the Empire Mica is now home to loads of incredible wildlife.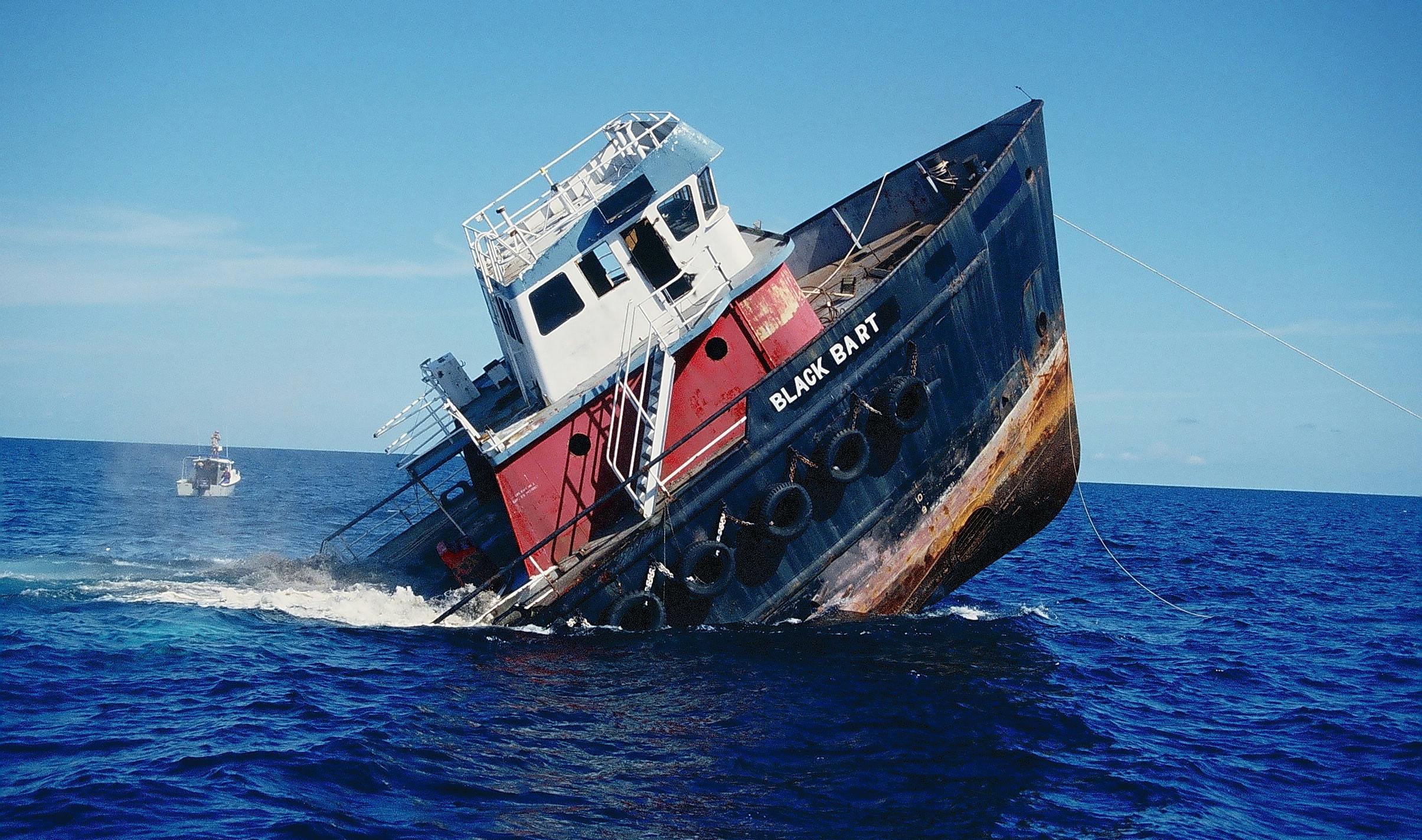 Next, we will move into the more beginner-friendly wreck, The Black Bart. Of the three wrecks mentioned here for Panama City Beach, The Black Bart is the only one that was intentionally used as an artificial reef. It's also the most accessible by all levels of divers. You can swim through the wheelhouse at around 40 feet, find your sea legs on the deck around 66 feet, or check out the open cargo holds at 80 feet of water. 
Let's add one more to the list of PCB dive spots, mostly for the sake of lobstering and spearfishing, yeah? The SS Tarpon is a prime spot for snaring lobster or spearing dinner. You can, of course, dive this great artificial reef without a spear or snare in hand and just enjoy the sights and history behind one of the most requested dives off Panama City Beach's coast. When the SS Tarpon sank, it was on the way to Panama City from Pensacola loaded with as much as it could hold, and when some water started splashing over the sides it was just too much for the Tarpon to carry. The ship began to sink in the wee hours of the morning, taking with it eighteen people, including the captain. The Tarpon now sits in around 95 feet of water.         
These are just a few of the great dive spots throughout the Florida Panhandle, and you can check out more dive opportunities with a map to the Florida Panhandle Shipwreck Trail. 
What You'll Need for Winter Diving in the Florida Panhandle
As you may already be aware, the water can be quite cold 'round these parts, anywhere from November to March. So grab yourself a nice thick wetsuit so you can jump in and enjoy these amazing dive spots year round.  
For this environment in the winter, a nice 5mm wetsuit ought to keep you comfortable and warm. Of course, you could also layer up your 3mm suit with a 1.5mm wetsuit jacket or 2mm Dive Vest if you prefer to work with what you have and add on from there. You'll definitely need some 3mm boots or 5mm boots to keep your feet comfortable, and some gloves are definitely recommended. If you're usually a tropical water diver with closed heel fins, you may want to grab yourself some open heel fins to accommodate your dive boots. Finally, your winter dive fashion isn't complete without a hoodie to help contain your body heat. 
Inspired by the aspect of spearing some lionfish or scooping up some lobster while you're out? Grab yourself some spearfishing and lobstering gear for the dive, too! Always be sure to check the Florida Fish and Wildlife Conservation Commission website for what species are (or aren't) in season!
Stay tuned, because our next stop for winter diving is Central Florida! Happy diving! 
How cold is the water in the Florida Panhandle in the winter? 
During the winter months, the water temperature around the Florida Panhandle can vary from a relatively warm 74 degrees Fahrenheit in November to the quite chilly 61 degrees Fahrenheit in February 
Is a dry suit appropriate for winter diving in the Florida Panhandle? 
Yes! While dry suits are often used for more extreme conditions, these milder winter waters would be perfectly fine for using a dry suit or even for getting trained in dry suit diving 
What fish are in season in the winter in the Gulf of Mexico? 
See what the official fishing regulations are for the Gulf via the Florida Fish and Wildlife Conservation Commission
Why is visibility greater in the winter months? 
Colder waters restrict algae growth, keeping algae, seaweed, and other visual inhibitors from blocking your view of what's in the sea
What are the benefits of scuba diving in the winter? 
Scuba diving in all seasons can be beneficial for maintaining a connection with nature. When diving in the winter, the waters are clearer and often calmer than they can be in the summer months. Additionally, there may be some physical benefits to diving in colder waters—being exposed to cold waters can improve circulation, elevate your mood, and enhance your immune system to name a few.