EVO 5mm Classic Dive Boots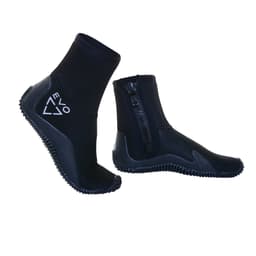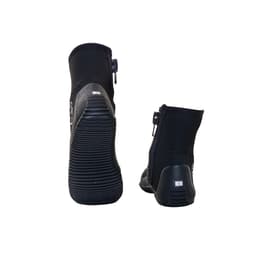 EVO 5mm Classic Dive Boots
Earn 45 points with this Purchase
This Item Ships FREE in One Business Day with Purchase of $49 or more.
Shipping Policy
Description
Our poor feet: cut and scraped on coral and rocks, rubbed raw and blistered from fins, sunburned on top because we forgot sunscreen. Enough is enough! Be sweet to your feet and upgrade your watersports experience with EVO 5mm Classic Dive Boots. Rugged, puncture-resistant vulcanized rubber protects your tender soles while the no-slip traction keeps you upright. The 5mm neoprene keeps tootsies toasty at a wide range of water temperatures, but isn't too warm to warmer climates. Because we hate those excruciating blisters on the backs of our ankles, these dive booties have a high armored heel cap including a fin stop to keep your fin straps where they belong. The heavy-duty zipper makes putting on and taking off your dive boots super-easy. Built durable and rugged, these dive boots will last for years with their industrial-strength gluing, blind-stitching, and the toughest materials we could find that were suitable for all-water use. EVO Classic High Top Dive Boots: your passport to adventure!
EVO 5mm Classic Dive Boots Features:
5MM Classic design Medium Sole Zipper Boots
5MM neoprene upper suitable for a wide range of water temperatures
Puncture-resistant No-slip traction sole locks onto the slickest surfaces
Say goodbye to flapping fin straps and blisters thanks to armored heel cap with fin stop
Rugged materials secured with heavy-duty gluing and blind-stitching
Note: All Dive Boots are expressed in men's shoe sizes. Women should subtract two (2) sizes from their normal shoe size in order to obtain correct dive boot sizing.
More Info
Product Sku:

10452

Thickness (mm):

5

Seams:

Flat-Lock Stitched

Sizing:

Men

Accessory:

No

Boot Type:

High Top
More Info
Product Sku:

10452

Thickness (mm):

5

Seams:

Flat-Lock Stitched

Sizing:

Men

Accessory:

No

Boot Type:

High Top