XS Scuba Tank Holder - Single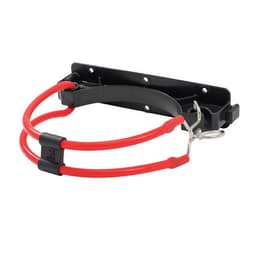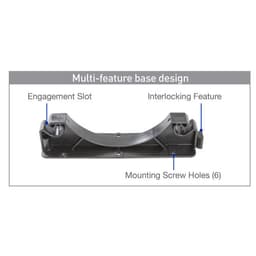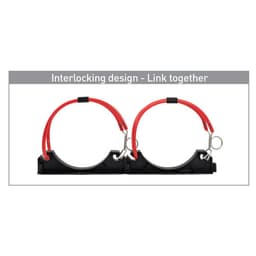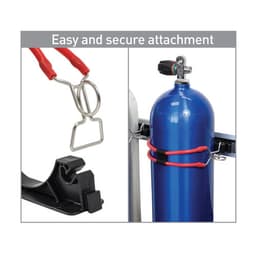 XS Scuba Tank Holder - Single
Earn 33 points with this Purchase
This Item Ships FREE in One Business Day with Purchase of $49 or more.
Shipping Policy
Description
The XS Scuba Tank Holder features a rugged, double slotted base made of durable, impact-resistant plastic. The adjustable-length silicone bands are user replaceable. They feature a durable, corrosion-resistant stainless steel hook. Simply stretch and latch to easily snap your tanks in place. The bands can be fastened to either side of the mount thanks to the reversible tank holder design.
You can mount the base directly to your wall, truck, or boat with the 6 included mounting screws. Or you can combine the Tank Holder with the Aluminum Tank Rail for a removable tank system. Slide up to 3 tank holders on or off the 36" Aluminum Rail as needed -- no hardware required. This is a great space saver on pickup trucks or small boats.
XS Scuba Tank Holder Features:
Easy to use -- just stretch and latch
Corrosion resistant stainless steel buckle
User-replaceable surgical-grade silicone tubing
Corrosion-proof, durable, impact-resistant plastic base
Interlocking base so you can connect an infinite number of tanks
Mount tanks in either direction with the reversible design
Includes 6 screws to mount the tank holder directly to any hard surface
Combine with the Aluminum Tank Rail for a secure, convenient, Removable Storage System
Secure tanks with adjustable-length bands

Ideal for holding 7.25" / 184mm diameter scuba tanks
Also capable of holding 6.9" / 175mm tanks and 8.0" / 203mm tanks
Use the extender kit to secure a tank with BCD attached
More Info
Product Sku:

TR120-E

UPC Code:

649823890933

Sizing:

Adult

Accessory:

No
More Info
Product Sku:

TR120-E

UPC Code:

649823890933

Sizing:

Adult

Accessory:

No