XS Scuba Tank Holder Replacement Band or Extender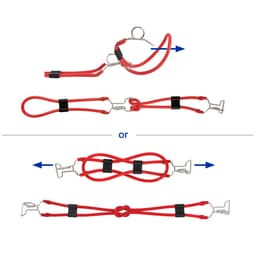 XS Scuba Tank Holder Replacement Band or Extender
Earn 22 points with this Purchase
This Item Ships FREE in One Business Day with Purchase of $49 or more.
Shipping Policy
Description
A replacement silicone band for the XS Scuba Tank Holder, this band is identical to the one included in that package. It's a great Save-A-Dive kit item. It can also be cut down to size to provide a custom fit for smaller items.
It can also be used as an extender to easily secure bulky items like a tank/BCD combo. The Replacement/Extender Band is easy to cut down to size for custom use. Combine bands for larger items.
XS Scuba Tank Holder Replacement Band or Extender Features:
Use as a replacement or extender
Identical to the original silicone band
Can be cut down to secure smaller items
Combine bands to store cylinders attached to BCDs, or other bulky items
Surgical quality silicone tubing with stainless steel buckle
More Info
Product Sku:

TR160-E

UPC Code:

649823890940

Age Group:

Adult

Sizing:

Adult

Accessory:

No
More Info
Product Sku:

TR160-E

UPC Code:

649823890940

Age Group:

Adult

Sizing:

Adult

Accessory:

No