HammerHead MV3 Action GoPro® Mask, Two Lens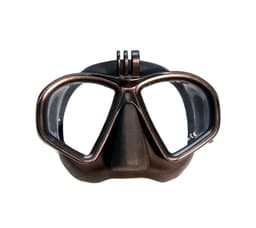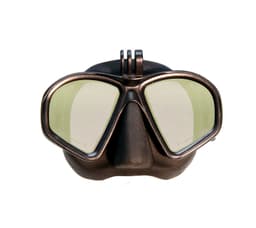 HammerHead MV3 Action GoPro® Mask, Two Lens
Earn 90 points with this Purchase
Description
The HammerHead MV3 Action GoPro® Mask, Two Lens is designed with a low internal volume that's suitable for freediving and spearfishing, with a black silicone mask skirt to help block out unwanted light. With a built-in GoPro® Mount on the mask frame, the HammerHead MV3 Action Mask allows you to shoot everything—fish and video.

Choose from three different mask lens types to achieve your desired viewing experience underwater: ultra clear, yellow mirror tint, or purple.
Yellow Mirror Tint Lenses have a mirror coating on the outside of your lens that reflects light. The yellow tint reduces eye-strain and enhances the contrast of the underwater world much like sunglasses. In addition to these benefits, mirroring conceals your eyes from your prey.
Ultra Clear Lenses are constructed with optical grade glass to produce sharp vision. Optical grade glass transmits 10% more visible light than traditional glass, for a clear and concise view of the underwater world.
Purple ARC Lenses are made with an Anti-Reflective Coating (ARC) which effectively blocks reflected light to produces crisp, clear vision underwater. ARC lenses are designed to increase the amount of available light transmitted to the diver's eye while underwater. ARC lenses will enhance contrast and clarity of the underwater world, while reducing eye-strain and glare that hinders vision. ARC lenses are especially helpful in low light conditions, especially when lobstering or hunting under ledges.
HammerHead MV3 Action Mask Features:
Low volume design
Matte silicone mask skirt
Optical grade tempered glass lenses
Three lens options: ultra clear, mirrored yellow, or purple ARC
Built-in GoPro® mount
Note: GoPro® not included
More Info
Product Sku:

137756

Anti-Fog:

No

Hypoallergenic:

No

Latex Free:

No

Corrective Prescription Lenses Available:

No

Face Size:

Medium

Mask Volume:

Low

Number of Lenses:

Two Lenses

Tempered Glass:

Yes

Color - Lens:

Multi

Sizing:

Adult

Accessory:

No

Recommended Use:

Freediving, Spearfishing

Camera Mount:

Yes

Goggles:

No

Full-Face:

No
More Info
Product Sku:

137756

Anti-Fog:

No

Hypoallergenic:

No

Latex Free:

No

Corrective Prescription Lenses Available:

No

Face Size:

Medium

Mask Volume:

Low

Number of Lenses:

Two Lenses

Tempered Glass:

Yes

Color - Lens:

Multi

Sizing:

Adult

Accessory:

No

Recommended Use:

Freediving, Spearfishing

Camera Mount:

Yes

Goggles:

No

Full-Face:

No