EVO Forte Open Heel Dive Fins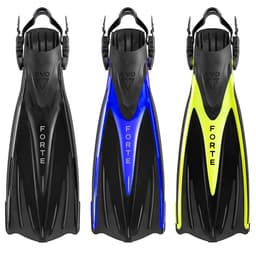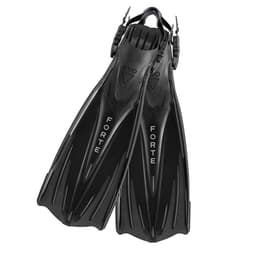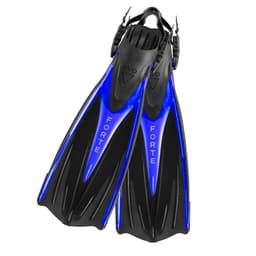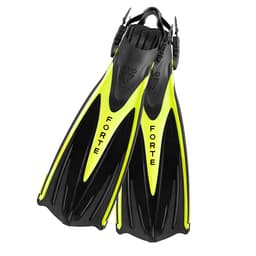 EVO Forte Open Heel Dive Fins
Earn 75 points with this Purchase
Description
The lightweight, high-propulsion EVO Forte Fins are a joy to dive in thanks to the angled blade, dual-material construction, and EZ-Release comfort foot pocket.
Dual-Material Design for Speed and Performance
The fin blade base is made from a rigid material that stores energy from your kicks. Hard, reinforced side rails direct this energy down to the end of the fin for stability and power. The center of the fin is made from a flexible polymer that changes shape through each part of your kick. As you cycle your feet, the flexible ribbed blade scoops up sea water and channels it out towards the tip for effortless propulsion and reduced fatigue.
Angled Fin Blade For Improved Kick Efficiency
The blade is fused to the fin pocket at a 20° angle. This optimizes the angle of attack and reduces wasted energy. For each kick with an angled blade fin, you get a 10% increase in propulsion vs. standard straight blade fins. It does this without increasing resistance for higher speed, longer swim time, and less fatigue.
Flexible Foot Pocket Provides Comfort
The large, multi-compound foot pocket has a hard bottom that increases power transfer to the fin blade. The inside and top are made from a flexible rubber polymer. It changes shape to fit your foot for comfort on long dives. The side rails and drainage holes make it easy to get these scuba fins on and off while the rubberized grip underneath the foot pocket provides extra traction when you're shuffling around the boat before your dive.
EZ Strap and Buckle System Snaps On and Off Fast
The EVO Forte Dive Fin has straps that you only need to adjust one time. Once you achieve the perfect fit with the 1-way ratcheting rubber strap, you don't have to pull or tug to get the fins on and off your feet. The quick-release buckles snap open and closed without affecting the band size. Plus, the hinged buckles let you change the angle of the strap so it sits comfortably on your heel. Adjust the strap while the fins are on your feet for a secure, perfect fit. After that, getting your fins on and off will be a snap.
EVO Forte Fins Features:
Dual-material design
20° Angled blade design
Reinforced side-rails
EZ Strap and buckle system
Multi-compound foot pocket
Balanced flexibility
More Info
Product Sku:

DD106128

Sizing:

Adult

Accessory:

No
More Info
Product Sku:

DD106128

Sizing:

Adult

Accessory:

No