Quiksilver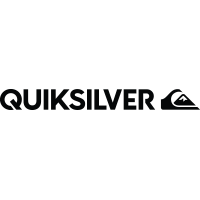 Founded in 1973, Quiksilver brings Alan Green and John Law's beliefs in authenticity, innovation, pride, confidence, and limitless potential as a basis for the company. The partners started Quiksilver in Torquay, Australia and they began producing wetsuits with a loan. In 1973, Green and Law focused on what is now the company's signature item, boardshorts. With a high commitment to surfing, the duo ensured they produced the best boardshorts available.
It didn't take long for Quiksilver to become available in the USA, Brazil, Japan, South Africa, Turkey, and Asia. By 1988, the boardshorts company was a successful business across the globe and started to look for new opportunities in the market. In 1990, Quiksilver invested heavily in female sportswear with the foundation of ROXY.
On Any Board with Quiksilver
Quiksilver represents the casual lifestyle of young-minded people that connect with its boarding culture. The company has sponsored numerous athletes throughout the years, from surfers in the 70s to skaters and snowboarders around the globe. Quiksilver also organizes and sponsors many contests and events, extending from international to local scale. The company's commitment to technical expertise and competitive success goes from the waves to the mountains without neglecting one or the other. Visit the Cabo Pulmo National Marine Park in Baja California, Mexico, and experience one of the healthiest coral reefs in the world. Or stay local and visit Islamorada in the Florida Keys where you can dive in reefs that are only 10 to 15 feet deep.
Catch Waves with Quiksilver
Quiksilver's name came from Green's wife, Barbara, when she found the word 'quicksilver' used to describe something as elusive, liquid, mercurial, and changing readily, and thought it was similar to what Green wanted the company to be. As a thriving company that cares about delivering the best performance wear, Divers Direct believes in Quiksilver and invites everyone to explore the brand and all they have to offer.