Princeton Tec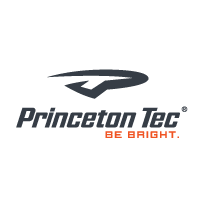 Created by Bill Stephens in Princeton, New Jersey, in 1975, Princeton Tec innovated how divers calculate their bottom time with the launch of the first Bottom Timer. A waterproof stopwatch that allowed scuba divers to track their time underwater. This all happened after the avid diver, Stephens, quit his day job to focus on his passion - scuba diving.
An engineer by day and entrepreneur at night, Stephens knew the diving industry had a lot to grow. After digital watches became a thing in the early 80's, Princeton Tec invested in lights. The company produced the first affordable underwater lights, Bottom Lights, and the course of the company took a bright, new direction. Nowadays, Princeton Tec offers the best lights for a variety of industries.
Follow the Light with Princeton Tec
Princeton Tec grew from the Bottom Timer to Bottom Lights to Solo, the first waterproof and water-resistant headlamp. With that, Princeton Tec has been able to serve a whole new group of customers - from rock climbers to sled mushers, utility workers, and global peacekeepers. From that point on, Princeton Tec started to provide lights for the U.S. military, reinvented lanterns, and further developed their headlamps. Venture yourself into night diving and test the Princeton Tec lights in Nudi Falls, Lembeh Strait, Indonesia, where you can discover incredible creatures that are active at night, such as blue-ringed octopuses, cuttlefish, and nudibranchs. Or stay local with Divers Direct and explore the White Horse Key in Everglades where divers witness glowing water simply by moving their arms.
Be Bright with Princeton Tec
Princeton Tec has expanded from a small stopwatch shop to one of the most powerful performance lights for underwater and land activities. The company operates two large facilities in New Jersey where they manufacture, engineer, assemble, and distribute their products. Princeton Tec proudly offers lights to any situation, condition, and environment, and we are happy to offer Princeton Tec at Divers Direct. Shop for primary lights, secondary lights, and more.