Taking the Plunge: My Journey to Open Water Scuba Certification
Are you interested in or want to learn to scuba dive? Becoming an Open Water Certified scuba diver is an exciting and rewarding experience that can provide you with a lifetime of adventure and fun. Imagine yourself exploring the beautiful and diverse underwater world that most people never get to see. There's nothing quite like the feeling of weightlessness as you float effortlessly through the water, surrounded by marine life. The scuba diving community is a welcoming group of people who are passionate about exploring the underwater world and being Open Water Certified is acknowledged worldwide. 
Hi, my name is Carlos. I am a new content creator at Divers Direct. As someone unfamiliar with diving, I wanted to understand more about it, so I decided to get Open Water Certified. I completed the certification through Divers Direct's Fort Lauderdale location. I am sharing my experience and providing insights in hopes of inspiring you to give scuba diving a try. Your Open Water Certification process may differ from mine but here is some of what you could expect to experience. Once you purchase and complete the online course material, Divers Direct will connect you with one of their professional SSI dive instructors to take you on four training dives before becoming certified. You'll interact with your instructor and other students and learn how to set up, break down, use, and care for essential scuba gear. You will also practice performing a proper buddy check, entering and exiting the water, buoyancy control, basic underwater navigation, and safety and emergency procedures. 
My Journey to becoming an Open Water Certified Scuba Diver
Once I made the decision to take the plunge, I purchased the SSI Open Water Diver eLearning kit at Divers Direct. They registered me into SSI's system and provided the instructor with my contact information so he could contact me and get my training scheduled. My instructor was Michael Hallman, a retired USCG Naval Engineer/Rescue Swimmer who is passionate about all things diving. After studying all the online material at my own pace and without the pressure of a time limit, I reached out to my instructor to let him know I was ready to begin the In-water training. He informed me that the live sessions can be safely completed over a weekend: a pool session Friday evening, a lake session on Saturday, and on Sunday we would take a dive boat to complete the certification. Originally, I was nervous because I did not know what to expect but I dove in (pun intended) with an open mind and an eagerness to learn.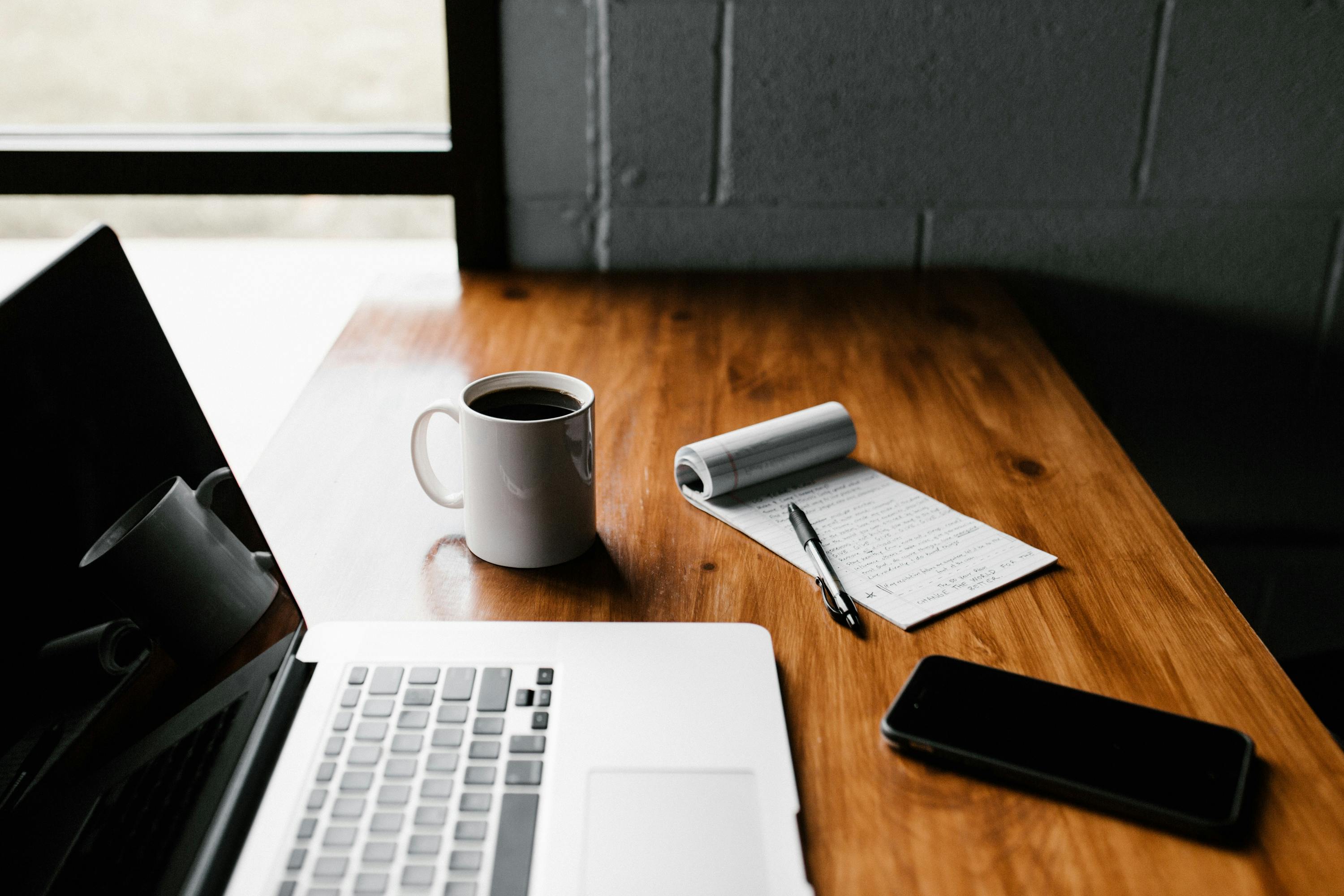 DAY 1: In-Water Training in the Pool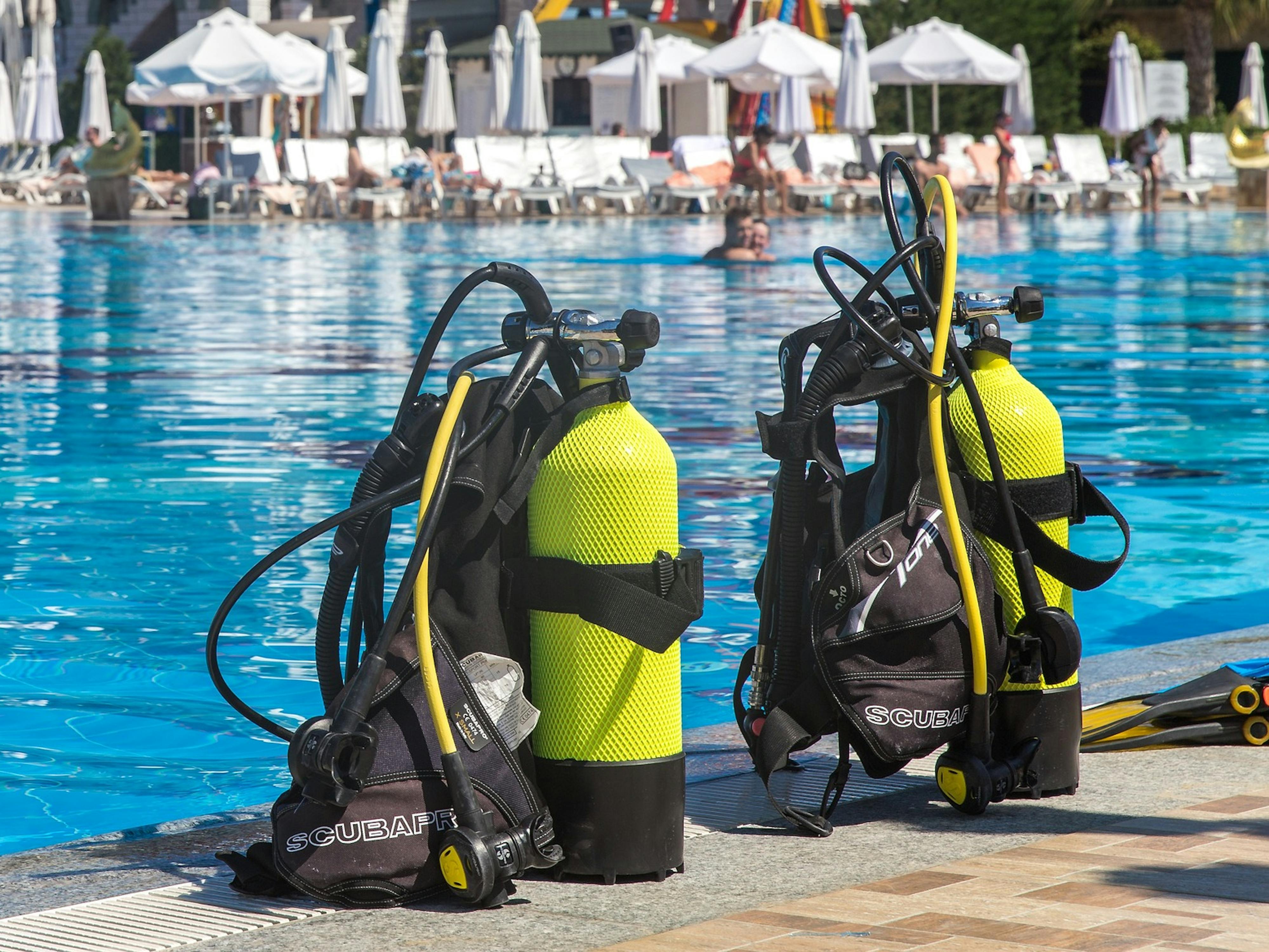 During the pool session, my instructor explained and demonstrated how to properly set up my gear, including pressure gauge, regulator, BCD, and tank. Then, with my wetsuit on and my scuba gear ready, we jumped into the pool. Did you notice that I did not mention my mask, snorkel, or fins? With only the regulator in hand, he told me to place it in my mouth and breathe underwater normally. I took my first breath underwater and I was surprised by how effortless it felt. Afterward, the instructor helped me to familiarize myself with all the scuba gear and also how to perform basic exercises and scenarios. Because of the unnatural feeling of breathing underwater, it took me longer than expected to feel comfortable. But with his encouragement, I gained confidence and caught on. One of the exercises I had to perform was removing, putting on, and clearing my mask underwater. When I removed my mask, at first I held my breath out of instinct. I soon realized that although my visibility was gone, I did not need to see to continue breathing. A valuable lesson my instructor reminded me of from the eLearning was to remain calm and breathe continuously. During this session, I learned the fundamentals of scuba diving, like breathing and neutral buoyancy, but there was only so much I could learn in a pool.
DAY 2: In-Water Training in the Lake
The next day I met my instructor for my next session at Tigertail Lake, which is located near Divers Direct's Fort Lauderdale store. This was my first open-water dive and I was excited to get going. I memorized how to set up and evaluate my equipment from the previous session. As we headed towards the water, my instructor and I performed a giant stride entry. As we began descending, I communicated with hand signs to my instructor that something wasn't right. I was experiencing some ear pain due to the increase in pressure. I remembered in the eLearning that the techniques to relax the ear muscles include swallowing, rotating the jaw, and the Valsalva technique. I tried swallowing and the pain went away. As we continued our dive, we practiced neutral buoyancy, performed a tired diver tow, conducted underwater navigation, did a decompression stop, and more. I even experienced a drastic change in temperature, known as a thermocline. When the fun was over, my instructor helped me log my first open-water dive.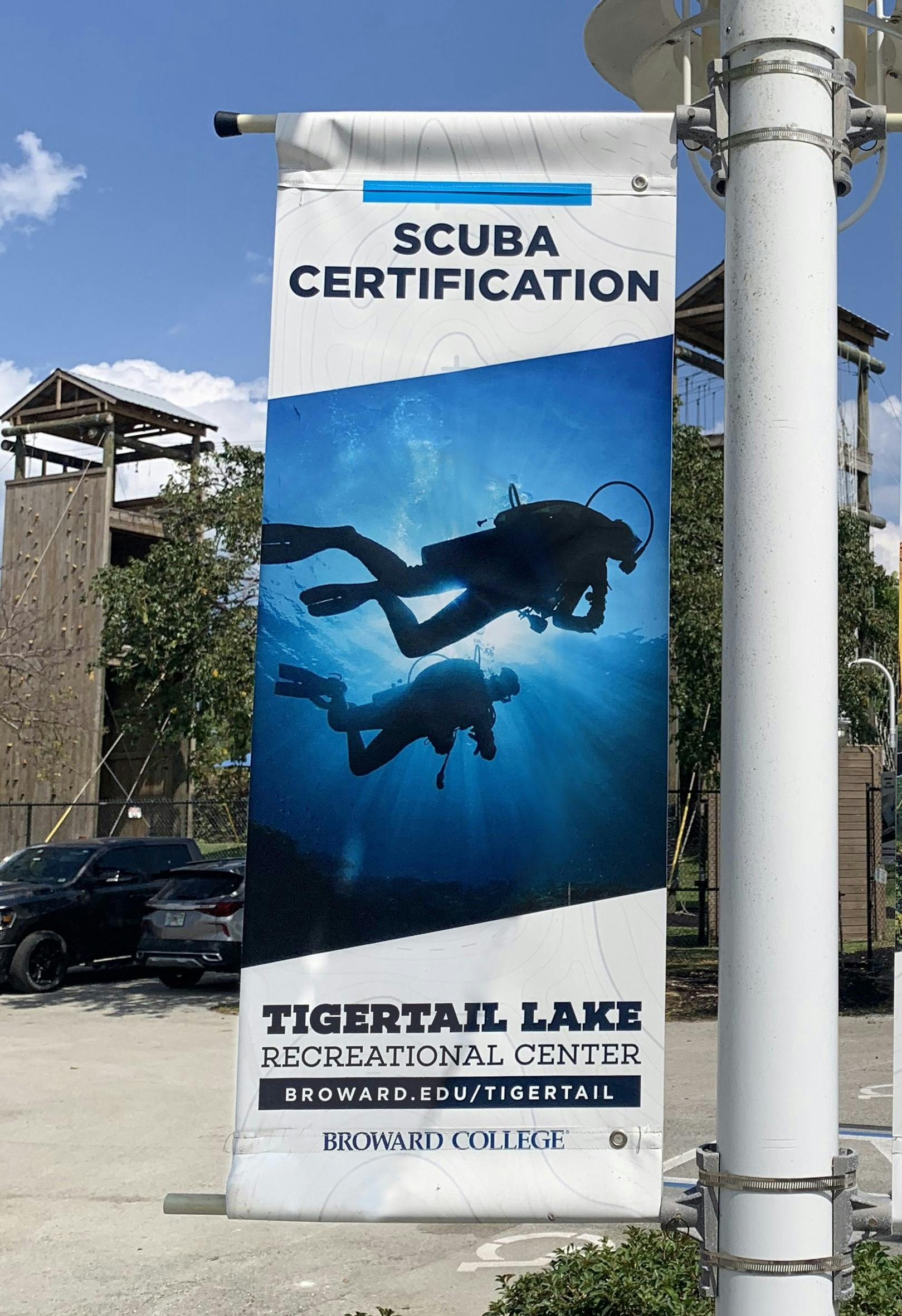 DAY 3: In-Water Training in the Ocean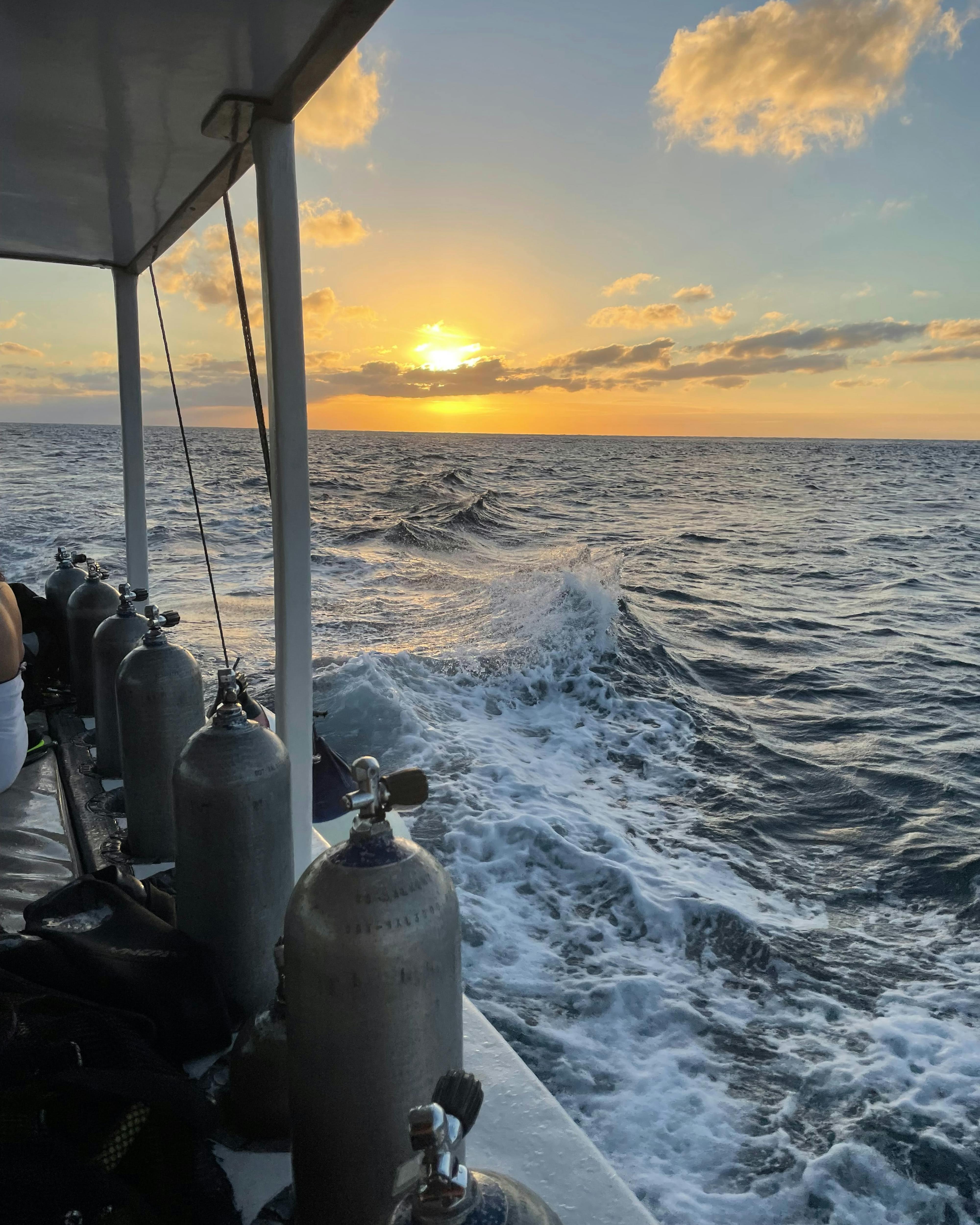 On the final day before the sun was up, I headed out to meet my instructor in Pompano Beach. He explained that we, along with other divers, will take a dive boat to two dive sites. I gathered my belongings and placed them near our tanks. As we waited for the other divers and crew to get situated, I took my exit exam. For those with testing anxiety, rest assured that while the exam is comprehensive, it's not difficult. The online eLearning course material covers everything you will need to know on the 50-question exam. After the crew did a roll call, we headed off to our first dive site. Of course, you might not be taken to the same spot, but for my first ocean open-water dive, we explored the sunken U.S. Army tugboat Okinawa.  As we began descending, the underwater current began getting stronger. Visibility was great and it was fascinating to see this sunken boat covered in colorful coral and surrounded by beautiful sea life. The current was manageable but was a reminder to never underestimate the power of the ocean. The second dive was much more peaceful. It was a drift dive along Abbey Too Reef.  Within those dives, I saw a goliath grouper, lobsters, a lionfish, and a bunch of colorful fish. It was truly a life-changing experience and I already booked another dive trip.
Now that I am Open Water Certified, I have the knowledge to safely and confidently scuba dive. Of course, they say the best way to practice your diving is by diving. As you dive more and log those dives, it will become second nature. I am excited for the aquatic adventures to come and the future dive buddies I'll meet. You, too, can officially be an Open Water Scuba Diver when you complete each skill successfully and pass the exit exam.  If you fall in love with the sport as I did and wish to continue your diving education in the future, Divers Direct also offers Advanced Open Water Courses and specialty courses like Nitrox and Rescue.
What are the techniques to prevent ear squeeze while scuba diving?
To prevent ear pain, also known as ear squeeze, try swallowing, rotating the jaw, and or the Valsalva technique.
How long does it take to get scuba certified?
Getting scuba certified can usually be accomplished within two weeks.
Where can I get scuba certified?
Divers Direct's Orlando and Fort Lauderdale locations have classes available to earn your scuba certification.
Is it scary to go scuba diving? 
It may be nerve-wracking when starting to learn about scuba diving but it is known to be therapeutic. 
Why do I need a scuba certification? 
The most important reason to get scuba certified is safety. Without proper knowledge and training, scuba diving can be dangerous.