Memorial Day Dives: Historic Sunken War Ships You Can Dive In Florida
As Memorial Day approaches, let's take a moment to honor and celebrate the brave men and women who gave their lives in service to our country. As scuba diving has become a more popular recreational activity, more and more divers are venturing out to explore underwater sites with historical significance. Warships have been sunk during battles or intentionally scuttled to create artificial reefs. Nonetheless, these wrecks have now become popular diving destinations for enthusiasts seeking to explore these submerged time capsules. In recognition of Memorial Day and our fallen soldiers, here are some fascinating warship diving sites in Florida, each with a unique history.
U.S.S. Oriskany, Pensacola
The U.S.S. Oriskany, nicknamed the Mighty O, was an Essex-class aircraft carrier that was built shortly after World War 2. With 25 years of service, the Mighty O earned multiple battle stars for its contribution during the Korean War and the Vietnam War. This aircraft carrier is 911 feet in length and was once able to harbor up to 80 planes at once. 
Thanks to a collaborative effort between the U.S. Navy, Escambia County, and Florida Fish and Wildlife Conservation Commission, the U.S.S. Oriskany became the first naval warship ever to be intentionally sunk in U.S. coastal waters. Its sink date was May 17, 2006. The sheer size of the Mighty O has deemed it another nickname "The Great Carrier Reef." It is currently the largest artificial reef in the world. It is roughly 23 miles southeast of Pensacola. The U.S.S. Oriskany is sitting upright on the seafloor at 212 feet and has a minimum depth of 80 feet. This site is for advanced scuba divers. If you are near the Florida Panhandle, we recommend checking out this historic dive site. You will most definitely see countless reef fish, sea turtles, and much more. There have also been occasional manta ray sightings.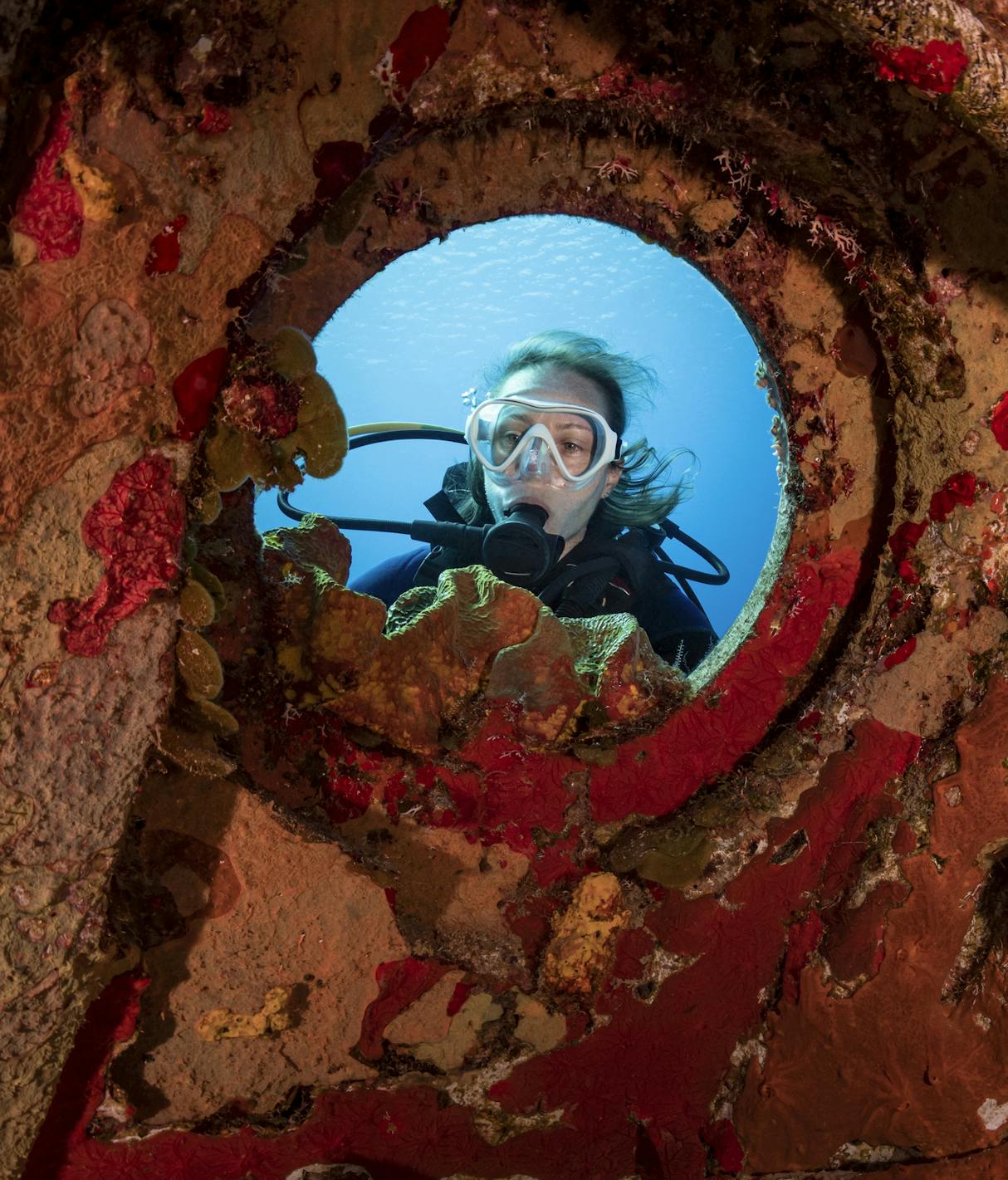 U.S.S. Spiegel Grove, Key Largo
The U.S.S. Spiegel Grove was a Thomaston-class dock landing ship and was named after the estate of the 19th President of the United States, Rutherford B. Hayes. This dock landing ship has served through both peaceful times and wartimes. This vessel was decommissioned after 33 years of service. On the day of its initial sinking,  May 17, 2002, the 510-foot-long vessel unexpectedly began sinking several hours before its scheduled time.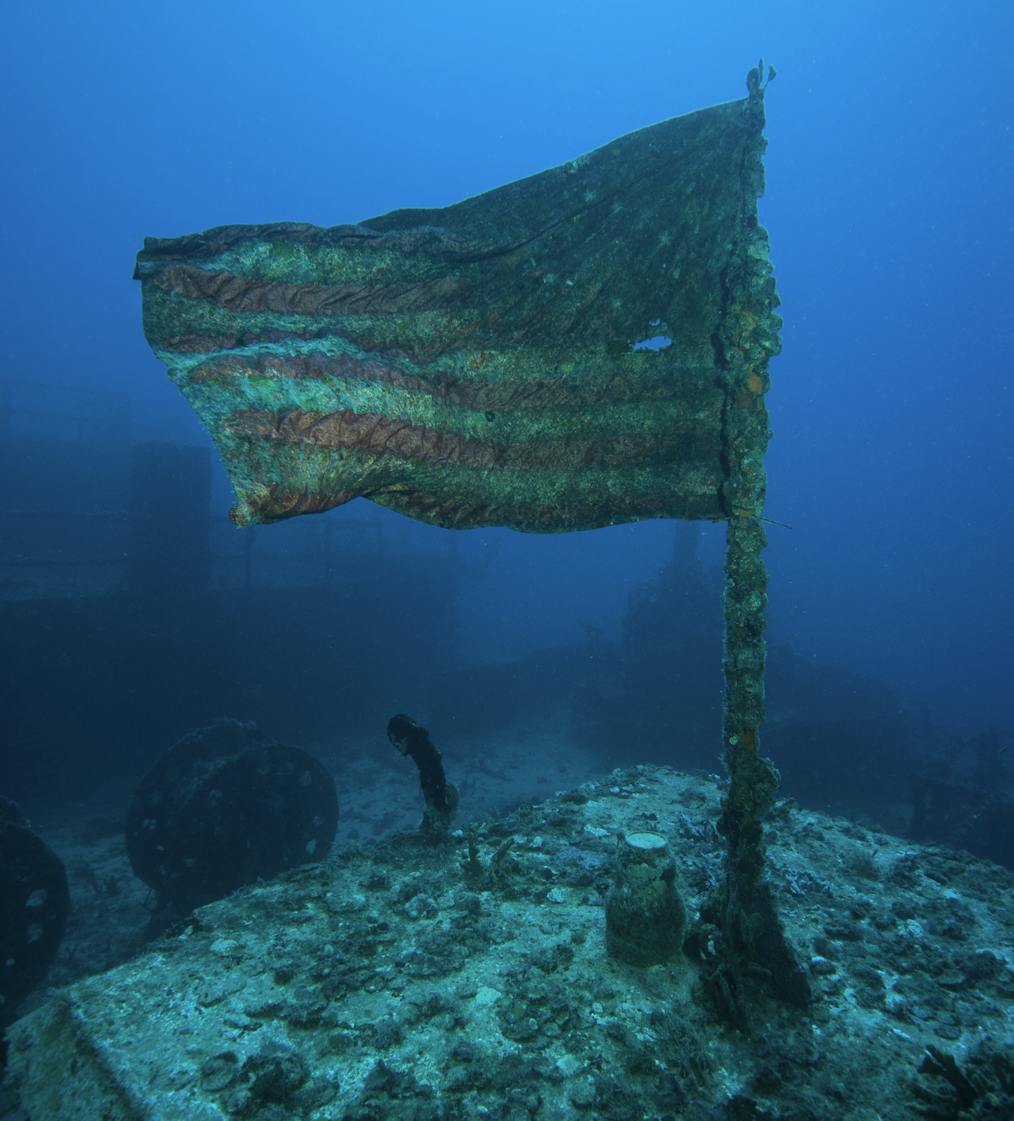 To make matters worse, as it was sinking it rolled and hit the seafloor upside down. Although the stern was resting on the seafloor, the front remained protruding slightly out of the ocean creating a hazard for other vessels. With the threat of detonation, the volunteer crew scrambled to pivot the capsized vessel. Luckily, the Spiegel Grove was rolled on its starboard side and the wreck was opened to recreational divers the following month. 
In July 2005, Hurricane Dennis miraculously shifted Spiegel Grove to its originally intended right-side-up position. The Spiegel Grove is located six miles off the Florida Keys in the Florida Keys National Marine Sanctuary. Sitting at 144 feet underwater, the minimum depth to reach Spiegel Grove is 62 feet. It is an advanced dive site due to its depth. At the time of its intentional sinking, it was the largest artificial reef in the world. Currently, it is the third largest, and from then to now, it continues to buzz with vibrant marine life. 
U.S.C.G.C. Duane, Key Largo
The U.S.C.G. Duane was a Treasury Class Cutter, one of seven vessels. All seven ships were named after prominent U.S. Secretaries of the Treasury. Duane was built in 1936 as a high-endurance cutter and was well-qualified. The fleet received praise for its efforts in World War II, Korea, and Vietnam. After nearly 50 years of service, the 327-foot-long vessel was decommissioned. During its time above the surface, Duane was the oldest active U.S. military vessel. After being generously donated to the Keys Association of Dive Operators, it was intentionally sunk on November 27, 1987, to become an artificial reef. On May 16, 2002, Duane was added to the U.S. National Register of Historic Places. To embark toward Duane, you must be an advanced diver. The vessel sits 120 feet underwater, approximately 7.5 miles off Key Largo, and one mile south of Molasses Reef. Among much smaller fish, if you're lucky, you may see some sharks; bull, great white, and whale sharks have been spotted here. 
Fun fact: One of its sister ships, the U.S.C.G.C. Bibb, was also intentionally sunk to become an artificial reef. It rests on its side within the National Marine Sanctuary half a mile away.
U.S.S. Sturtevant, Key West
The U.S.S. Sturtevant was a Clemson-class destroyer. Commissioned in 1920, this 314-foot-long vessel was well-equipped with speed and firepower. Along with humanitarian missions and assistance in wartimes, the Sturtevant was a convoy escort. This vessel could easily defend itself and its company with its advanced artillery. On April 26, 1942, the U.S.S. Sturtevant was unintentionally sunk by the United States. Conducting an escort, an explosion shook the boat two hours away from the port. The captain, thinking it was a German U-boat, quickly responded and deployed depth charges to counter-attack. Moments later, a second explosion tore through the center of the ship. Turns out that it was not a German U-boat but a U.S. mine instead. The captain was not informed of the newly placed minefield in the area. Fortunately, 90% of the crew survived the incident. Diving to witness the U.S.S. Sturtevant is twice the fun because she is broken into two main parts on the sandy bottom. She is easily reached at 65 feet underwater. Seven miles north of Key West, you will encounter hundreds of species of fish and coral.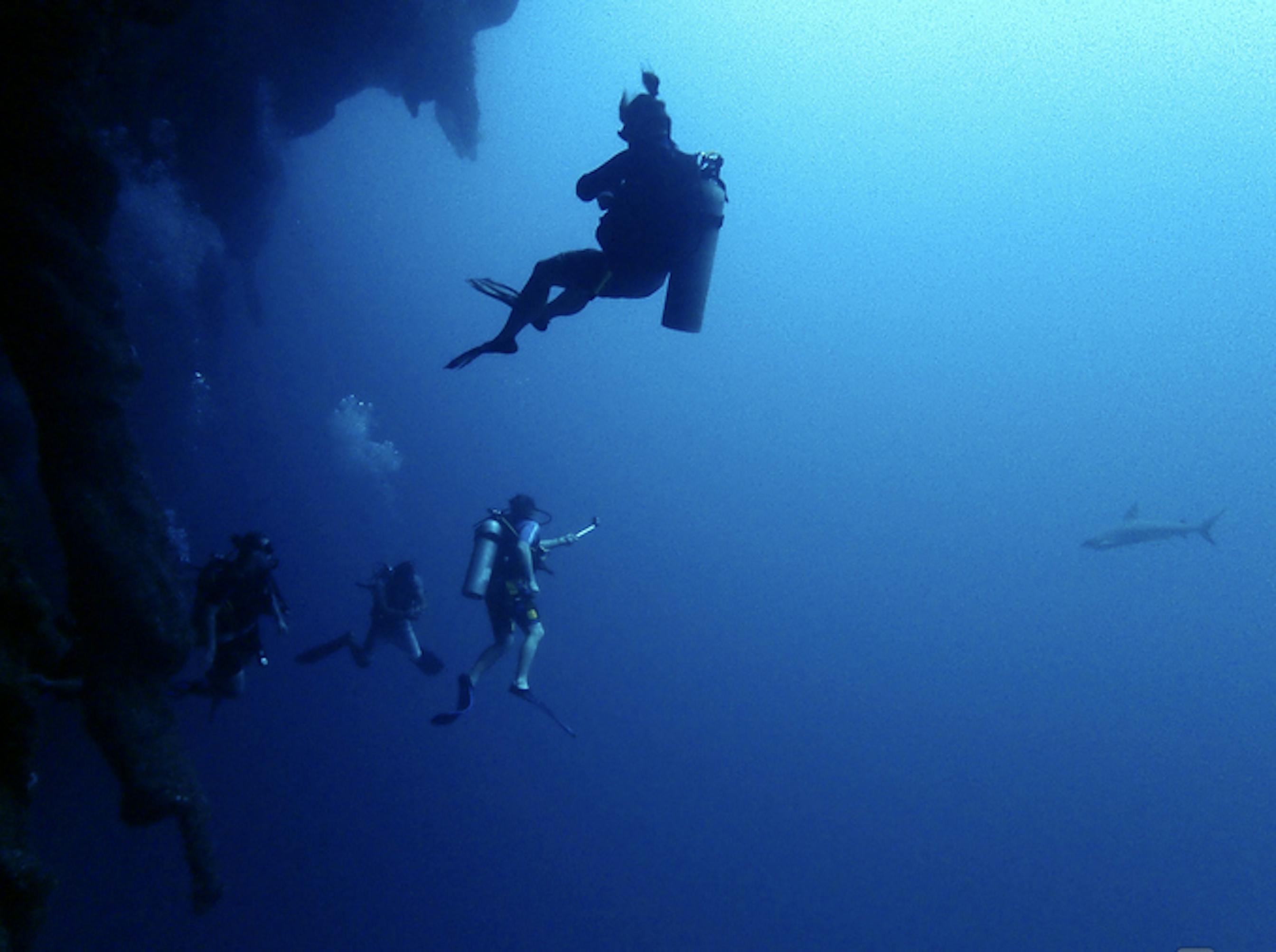 U.S.N.S. Gen. Hoyt S. Vandenberg, Key West
The U.S.N.S Gen. Hoyt S. Vandenberg was previously called Gen. Harry Taylor. After being acquired by the U.S. Navy and several years of service, Taylor was transferred to the U.S. Air Force and renamed Gen. Hoyt S. Vandenberg.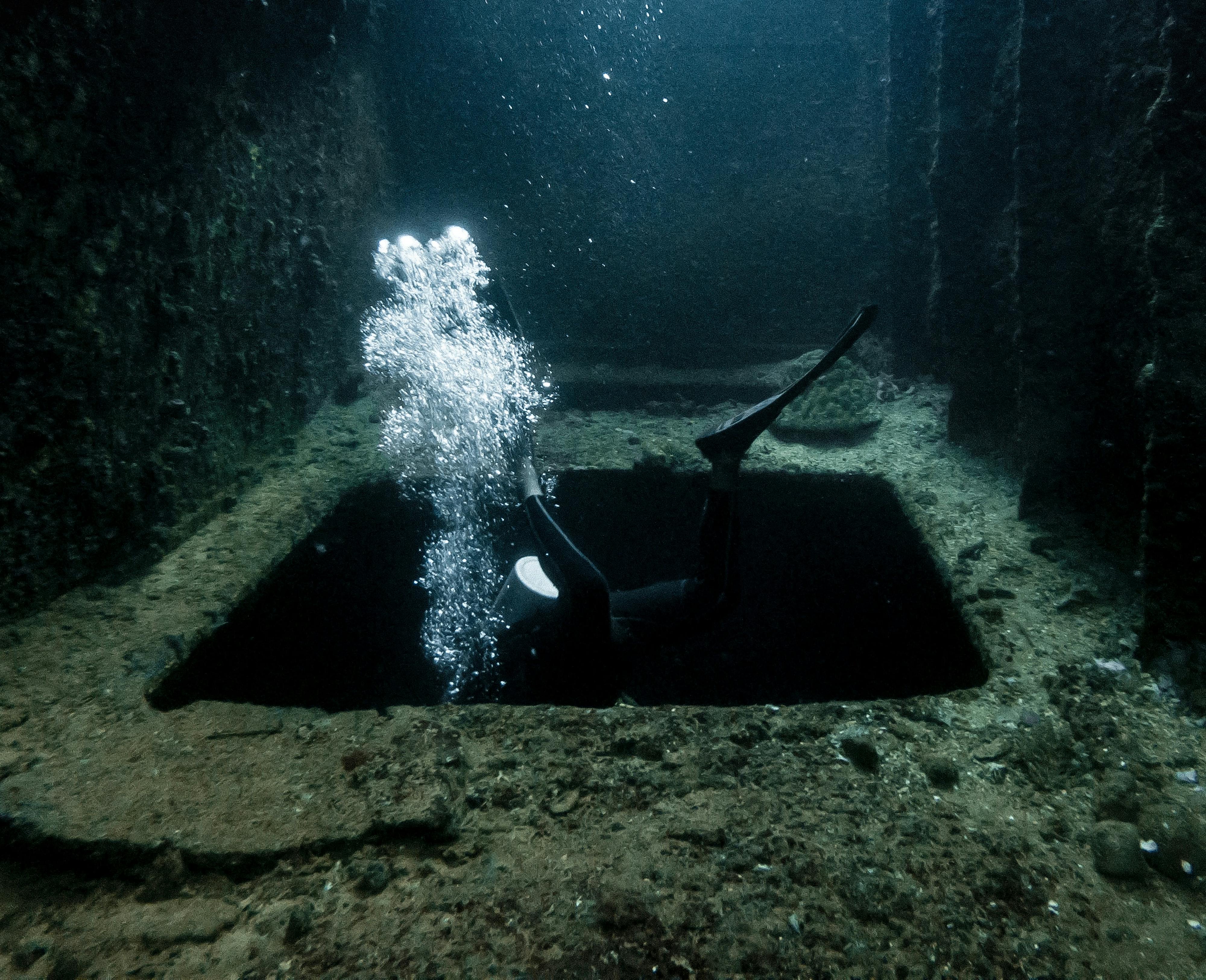 The U.S.N.S Gen. Hoyt S. Vandenberg was previously called Gen. Harry Taylor. After being acquired by the U.S. Navy and several years of service, Taylor was transferred to the U.S. Air Force and renamed Gen. Hoyt S. Vandenberg. This vessel monitored missiles and tracked space launches off Cape Canaveral, Florida. Vandenberg retired in 1983 and was stored at a U.S. Air Force base in Virginia. If you wish to see this celebrity-status ship in action above water, it was leased to Universal Studios for the motion picture movie "Virus" (1999). To witness it underwater, the former missile-tracking ship lies about 7 miles south of Key West in the Florida Keys National Marine Sanctuary. Out of a list of 400 ex-military ships, this 524-foot-long superstar ship was selected and considered the best choice to be sunk purposely. Sunk on May 27, 2009, Gen. Hoyt S. Vandenberg is currently the second largest artificial reef in the world. Strategically placed, the ship sits roughly 150 feet underwater and can be reached at a minimum depth of 40 feet. Almost two football fields long, you are bound to encounter countless marine life. Keep an eye out for tropical fish, eels, sharks, groupers, and much more. 
These historic dive sites have experienced both times of war and peace, and they are still here for us to admire. This Memorial Day, let's come together with gratitude and pride for the sacrifices made by our fallen heroes and celebrate the freedom and opportunities they have secured for us. 
How deep can a beginner diver go?
Beginner divers can safely dive to depths of 18 meters (60 feet).
How deep can advanced divers go?
Advanced divers are trained to dive to depths of 30 meters (100 feet).
Where is the world's largest artificial reef?
Pensacola, Florida is home to the largest artificial reef, U.S.S. Oriskany.
Why do people wreck-dive?
Wreck diving offers adventure, historical interest, observing marine life, and photography opportunities. 
Can I swim within the wrecks?
Unless you have the proper training and certifications, you should not penetrate the ship. It can be hazardous and dangerous.