The Great Dive Drive - Ft. Lauderdale & West Palm Beach
As we drive deeper into the fast-paced world of South Florida, we definitely notice traffic getting a bit thicker (and wilder) on the way in. We finally make it through our first dangerous adventure—driving on I-95—safe and sound, and once we unload our luggage at the hotel, we notice we only have about an hour before our first dive here in Fort Lauderdale. We shake off the drive and get right into our journey by heading to the American Dream Dive Charters. The American Dream boat takes off east to our first diving destination, Hog Heaven. This 180-foot barge was sunk as an artificial reef in 1986, and my, how the decades have given it life—literally. It's abundant with coral and colorful fish, and it's been punctured in multiple places to offer divers the opportunity to safely swim through the vessel. At around 65 feet in depth and with generally great visibility, it's a leisurely adventure with tons to see and explore. You might even notice a small lighthouse or a Christmas tree around the site! We then toss up our fins and get back on the boat for a quick snack as we head right over to The Caves dive site. This is a much shallower location with the reef's depth varying around 20-30 feet, though the dark, cavernous spaces (often with fish or rays hiding within) give light to the site's name.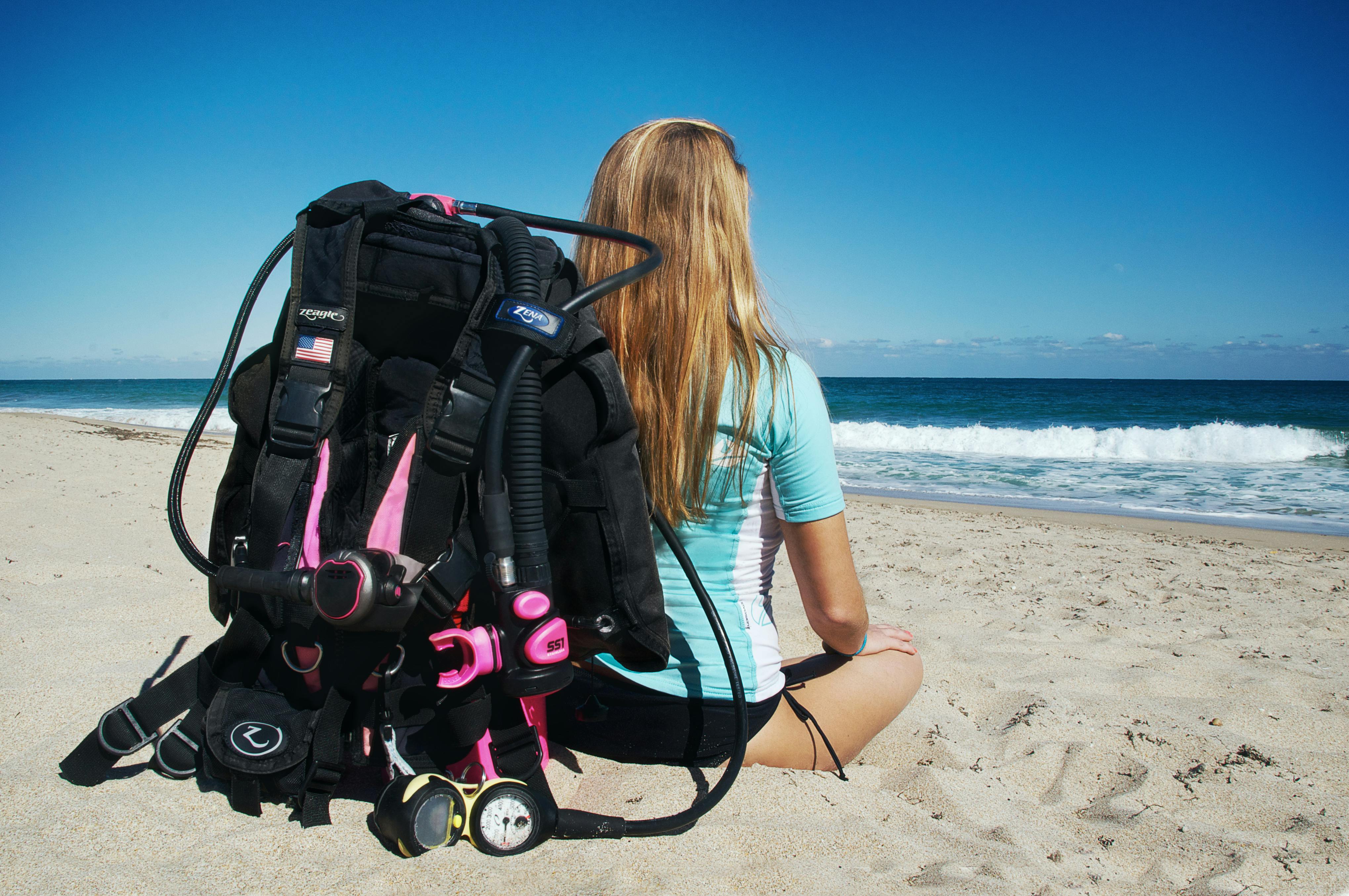 While our little boat snack is holding us over through our second dive, we begin to notice just how hungry we are once we get out of the water again. We rinse our gear and ourselves and get right back in the flow of the city on the hunt for dinner. Fort Lauderdale is often described as a "food mecca", and we are just as excited about the plethora of delicious feasts to be had as we are about the abundance of dive sites to explore. When the dive boat was taking us out earlier and we rounded the corner going towards the Port Everglades Inlet, we noticed a huge restaurant right on the water called 15th Street Fisheries. It sounds like a great place to start, and our experience there is not only delicious, but also quite fun! Some of us are dancing to the live music out on the dock and others are feeding the huge tarpon fish in the water. We also get to spend our dinner watching mega-yachts cruise by in awe of their decadence. While we could hang out here all night, we still have much more to see and do tomorrow, so we call it a night to get some much needed rest.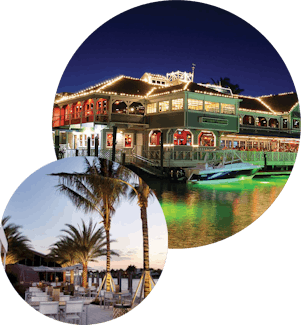 15th Street Fisheries & Shooter's Waterfront
Since we're in a place that's known for its phenomenal sunrises, we decide to wake up especially early and head over to Anglin's Pier in Lauderdale-by-the-Sea to watch the changing colors of the morning. While there, we enjoy a hearty breakfast at Anglin's Beach Cafe. which is directly on the pier and is known for its delicious and organic food. But now that the sun has officially risen and the sunny-side-up eggs are gone, it's time to get wet.
Of course, we don't have far to go to get to our dive site. We walk right down to the beach from the pier, feeling the sand that's still cool from the night around our feet, don our dive gear, and simply walk out into the water. The reef at the end of the Lauderdale-by-the-Sea pier is thriving with marine wildlife and accessible for divers and snorkelers both to enjoy. If you go a little further out, you get to explore a second reef with even more to see!
We're really just getting started with the day, so for lunch (and some surface interval time) we go just up the road to a popular local restaurant, Shooter's Waterfront. While we're enjoying our lunch and water views, a bright yellow boat with "Water Taxi" written across the side pulls up to the restaurant with laughing, happy passengers getting off and on board. Looks like a blast! So if time allows during our trip here, we decide to hitch a water ride through town as well.
We then go right across Ocean Boulevard to Vista Park where we rent a few kayaks, load our gear, and get back in the water paddling out to the Jay Scutti and Mercedes I wrecks. Since the Mercedes I is around 97 feet deep and is known to have stronger currents, the more advanced divers in our group head farther out to this 194-foot German freighter. Those of us who'd like to explore a wreck site but may not have the same advanced skill level stop off at the Jay Scutti Artificial Reef (which is still at a fair depth of about 70 feet). Since both dive sites aren't exactly snorkel accessible, the snorkelers in our group decide to simply enjoy the kayaking experience and paddle about in hopes to see an animal come up to the surface to greet them. Luckily enough, a couple of dolphins actually swim up for a breath right around their kayaks! Thrilled by the experience and wide-eyed with excitement, little do they know that their friends down below at the Mercedes wreck are getting a close encounter of their own—these divers are watching a gigantic whale shark gracefully glide by.
We all meet back at Vista Park and each of our own magnificent stories flood each other's ears while we rinse our gear. Those of us at Jay Scutti even talk of a friendly octopus we got to meet. Feeling immensely fortunate from the day's adventures, we figure it may be opportune to try our luck further, and so we follow the light emitting from the bright beacon of an enormous guitar to the Seminole Hard Rock Casino. We have an excellent dinner at some fabulous upscale restaurant in the casino and end up being followed by Lady Luck into the night when we hit big on the gaming floor. The moment our heads hit the pillow later on, reminiscing on the day from sunrise to sunset, we can't help but feel that this could possibly have been one of the luckiest days of our lives.
A new day is upon us, and with our pockets a bit thicker and a night dive scheduled for some of us later on, we take a day to explore the city itself. Though, we can't quite agree on where to start or what to do. So, we decide to split up. Some in our group wish to start their grand day of spending at the Sawgrass Mills Shopping Center to find new fashion and other fun. Others prefer to take a stroll down the famous Las Olas Boulevard to explore tons of amazing art and local restaurants. But one stop we all could agree on is Divers Direct to explore new dive, snorkel, and beach gear. We decide to all meet back up at this huge local dive shop to try on new wetsuits and BCDs and to learn about new dive computers and underwater camera gear.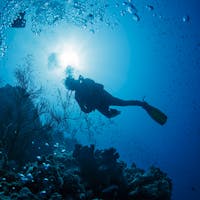 Those in our group who are certified to night dive, head back to the American Dream Dive Charters where they've been able to charter an evening boat out. Those who are not certified to night dive walk right around the corner from the dive center to the Hilton Marina to catch an evening ride on the Water Taxi through the "Venice of America" waterways, enjoying snacks, beverages, and an excellent tour of the Fort Lauderdale area. After cruising up and down the rivers and canals, while the night divers were out at Barracuda Reef getting over their fear of the dark in an odd fashion, we get off at one of the stops by the Bahia Mar and walk just five minutes south to a fascinating hotel in the shape of a boat to visit the Wreck Bar at the B Ocean Hotel. While there, we enjoy a live mermaid show—yes, an actual live mermaid show—while we wait on our night dive buddies to join us and tell us all about their nocturnal aquatic experience.
After they tell us of the amazing underwater adventure they just had, we begin to discuss the next day's transition over to West Palm Beach. But while we're chatting about our future plans for the trip, we can't help but notice how much is still left in Fort Lauderdale that we didn't get a chance to do. There's the airboat tours through the Everglades, the Jungle Queen Riverboat Cruise, the Bonnet House museum, drinks at the famous Elbo Room from the movie "Where the Boys Are", the Museum of Discovery and Science, and not to mention all the other tons of dive sites still left to visit, and of course the beautiful beaches still to enjoy, and so much more! We've done and dived so much in Fort Lauderdale already, yet somehow it feels like there's so much adventure left to be had here. We agree right then and there to come back and dive deeper into this amazing city, but for now, onward we must go and North we would travel to world renowned dive sites in the beautiful area of West Palm Beach.

We pull into the Palm Beach area just an hour after we leave Fort Lauderdale, and while it feels like a similar city, there's certainly a different vibe here—a little more relaxed, and yet, a little more posh at the same time. Of course, while there are amazing on-land sights and adventures to be had, we're here for the city's underwater attractions (which there are plenty of). Now, we only have a couple days to get as much in as we can which is why the first dive of our adventure will be at the world-famous Blue Heron Bridge.
The Blue Heron Bridge is abundant with squid, octopus, rays, seahorses, starfish, and copious amounts of brightly colored fish. It's known as an underwater photographer's paradise, and snorkelers and divers alike get to experience all the amazingness since it is quite shallow and nearly always has calm conditions. It's an easy beach launch to get going and we are absolutely mesmerized by the wide spectrum of aquatic wildlife everywhere we look.
The excitement from our experience at the Blue Heron Bridge keeps us talking for hours over dinner. For a laid back, tropical dining experience, we decide on Johnny Longboats and go over every marine animal we saw while enjoying food, drink, and a warm, salty evening breeze.
After some restful sleep, we awaken to the final full day of our South Florida road trip. Those of us with Advanced Open Water certifications are ready to dive a little deeper and jump on the morning boat from the Pura Vida Dive Center to explore the Mizpah Corridor and Ana Cecilia wrecks, both of which sit around 85 feet deep and are very close to each other. The Ana Cecilia is a newer addition to the abundance of artificial reefs that line the Florida coast having been sunk just a few years ago, but sea life is already flourishing around her. The Mizpah Corridor is known as one of the best dive sites in Palm Beach County and is made up of multiple wrecks to build an amazing and long drift dive. While diving these fascinating wrecks, we get to see loads of goliath grouper, some brightly colored tropicals, and even a sea turtle!
Since the less experienced divers and snorkelers in the group have depth-appropriate dives planned for the afternoon, they get going on some land adventures throughout the morning. The Palm Beach Zoo & Conservation Society is a great way to explore and learn about land animals. You can even meet a koala or feed a flamingo while you're there. The group then heads for even more educational animal experiences at the Manatee Lagoon which is totally free and fun for the whole family.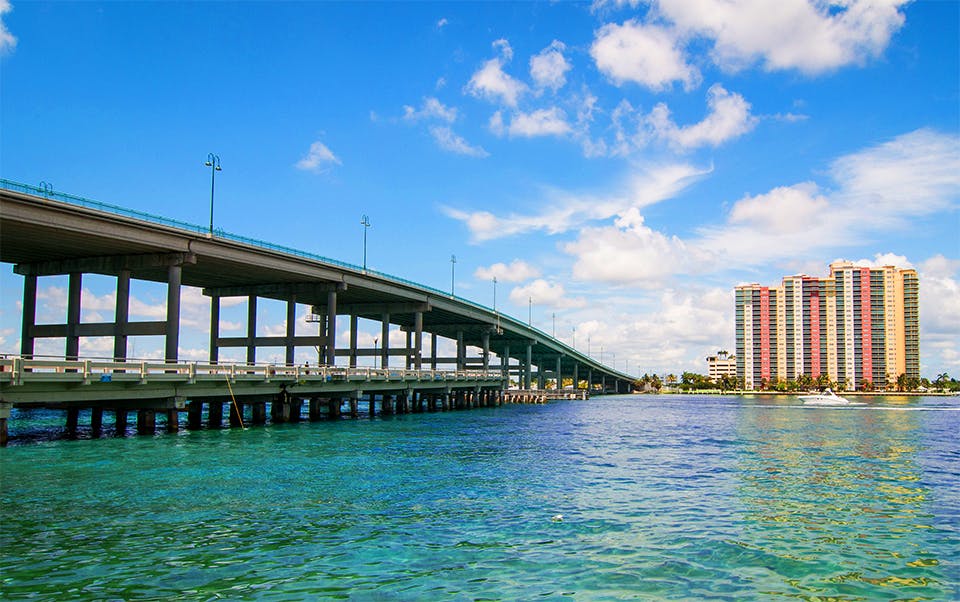 We all come together again at the Pura Vida Dive Center, and the deep divers' faces show obvious elation from the experience and everyone is craving even more time in the water. So back on the boat we go, and our final dives of the trip are at Breaker's Reef and the 1000 Mermaids Artificial Reef. Breaker's Reef varies in depth from around 45-60 feet and is an amazing location to observe hundreds of species of marine life. It's thrilling to see a natural reef like this still thriving with life and energy. After our explorations along this natural reef, we head over to what is not only an artificial reef, but also an art exhibit under water. The 1000 Mermaids site is a project that places mermaid sculptures and other art along the seafloor for a unique diving experience. This site is also about 45 feet in depth and is a great way to finish off our Palm Beach County diving adventure.
We're back on land, and somehow time already feels like it's slowing down as the realization that our departure home is soon upon us. Pushing away the thoughts of leaving this beautiful place, we decide that it's only right to have our final dinner here celebrating a major facet of South Florida culture. Surrounded by some of the best Cuban cuisine in the country, we would be remiss if we didn't dine at the Havana Restaurant. The food is delicious, unique, and full of flavor—just like our entire experience since we arrived in South Florida! Over dinner we discuss all of our fantastic new experiences and the moments of the trip we'll remember forever, like seeing the whale shark and exploring all the historic wrecks and vibrant reefs. With a long drive ahead in the morning, we reluctantly call it a night.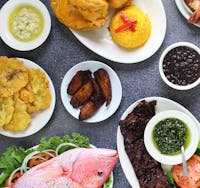 As the following morning arrives, we pack our bags and tote them down to the car noticing a significant decrease in available room for passengers than when we arrived. This adventure has been absolutely wonderful and full of the spontaneous adventure only a big city by the sea could offer; and although we all miss our pets, plants, and loved ones at home, we naturally feel resistance to leaving and are already planning a return trip to dive and explore more. But for now, we hit the road home, brainstorming ideas about our next Great Dive Drive Adventure.