The Great Dive Drive - Central Florida
Welcome back! We've just been sweetly reminiscing about all our road tripping dive fun through South Florida and the Keys these past few weeks, but now it's time for us to look ahead at trekking through a different type of dive adventure all together. We're packing all our dive and snorkel gear to prepare for a road trip within a road trip, off to explore the many natural springs scattered throughout Central Florida. Each of our dives on this adventure will be freshwater dives, and for this week long spring-hopping excursion, we won't just be packing our scuba gear, we'll be packing all our camping gear too. So, with our BCDs, masks, fins, tents, sleeping bags, and everything else all packed up in the car, let's get ready to drive and dive.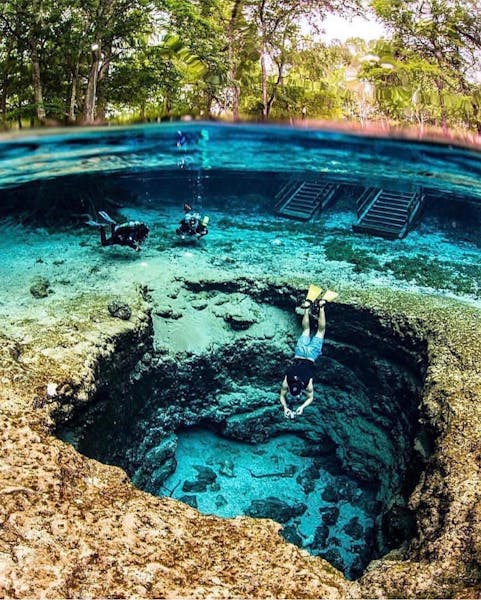 Devil's Ear at Ginnie Springs
Our plan is to start north at Ginnie Springs and gradually make our way southeast to Orlando. It only takes a few hours to arrive in High Springs, Florida where we are immediately greeted with a certain old town charm that seems to take us back in time. We look at all the little shops and restaurants and appreciate that all these small businesses seem to have made it through the pandemic. We drive on, eventually making our way to the Ginnie Springs Outdoors center where we park the car, stretch our legs, check in, and sign some waivers. While we're checking in, the smell of food finds our noses and, though it wasn't there before, a certain emptiness appears in our bellies calling out for breakfast foods, hamburgers, sandwiches, and hotdogs. We head over to Ginnie's Grill, and while we eat, we go over the map and all the activities we plan to do during the day.
We then get acquainted with the grounds, set up our camp site, and start to explore the beautiful area around us. It's still pretty early in the day so we have hours of fun ahead of us and we don't waste any time getting started. While most of the group don our dive gear and get going towards the 72° springs, others in the group rent paddleboards, kayaks, and innertubes and head to the Santa Fe River to either leisurely float or paddle their way down the river. The springs are obviously quite popular—people are swimming, snorkeling, diving, and paddling—and it's no wonder why Jacques Cousteau described Ginnie Springs as having "visibility forever". We're not sure if we have ever seen clearer water. Even as we descend into the dark cavern, the clarity is impeccable. Inevitably, the sky turns from bright blue to transient shades of orange, purple, and pink as the sun sets. We all rinse or return our gear, get dressed in our tents (or cottages for those who need more of a glamping experience), and decide to head back into the charming little town for dinner. Since we'll be spending so much time in nature on this trip, it's only fitting we dine at the Great Outdoors Restaurant. The food is amazing, and the live music and atmosphere make us feel as though we haven't even left the campsite.
It's been a long and wonderful first day, and we are called to our beds, cots, and sleeping bags where we find that somehow we all seem to sleep better than we have in years. We wake up surprisingly well rested and wonder if the effects of sleeping so far away from major city life could be the reason. We're sure one of our brainier dive buddies will tell us all about the benefits of sleeping out in nature during our one hour morning drive to Williston, Florida.
We reflect on how highway driving is much different than interstate driving—forests, farmland, and small towns speed past in an almost rhythmic repetitive cycle. Instead of a steady 75mph speed, we tend to jump from 55mph to 35mph whenever we come upon one of these tiny towns. We pass a sign that lets us know that Williston is only a few more miles away, but we know we won't quite make it there before it's time to turn off towards our destination. We arrive at the Blue Grotto spring and quickly get ready to jump right in. Blue Grotto is certainly one of the safest cavern dives in the area and even has a little waterfall! We swim through the incredibly clear water, seeing an underwater platform where a group of dive students are learning and practicing. We stop off at the air bell and have a quick conversation about how truly amazing this experience is, then keep on swimming towards the bottom, noticing the path get narrower and narrower. As advised, we stay near the ceiling, checking out the many fossils within the walls as we descend, but eventually we realize we've gone as deep as our skill level will allow. We wave farewell at our more advanced dive buddies as they continue their descent towards the 100-foot deep cavern floor.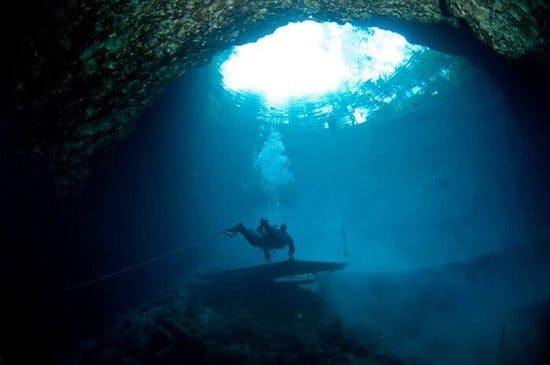 Blue Grotto Spring
When our computers and gauges let us know that it's time for some surface interval time, we make our way up and relax on a nearby picnic table where we doff our gear and talk about all the fossils, the water clarity, and of course, the friendly resident turtle, Virgil. We still have more diving to do, so we pack up the car and drive just six minutes up the road to our second dive site of the day and our lodging for the night, the Devil's Den Prehistoric Spring. We make ourselves at home either in our rented cabins or in our tents, eat a quick picnic lunch, and get ready to get our fins wet again.
The Devil's Den Spring is absolutely breathtaking before we even get in the water. Just standing at the top of the stairs looking down towards the water is a sight to behold. Since the maximum depth is 54-feet, all levels of divers get to enjoy exploring this site, and even those who aren't scuba certified spend their adventures through ancient history snorkeling along the surface. Once we all meet on land again, we rinse our gear and start to get our campside dinner prepared. We talk over our campfire-made hotdogs and s'mores about the astounding beauty of these freshwater springs and how we're starting to notice little differences between freshwater and saltwater diving. The lack of a current certainly makes the dives more relaxing and keeps the water crystal clear, and there is a significant difference in fish species that we've seen so far, pointing out their smaller sizes and more neutral colors. Even the difference in buoyancy took a moment to adjust to, but we think we've got the hang of it now. We find our beds and sleeping bags (some of us taking our sleeping bags outside the tent to fall asleep gazing at the stars), and get yet another amazing night of deep, refreshing sleep.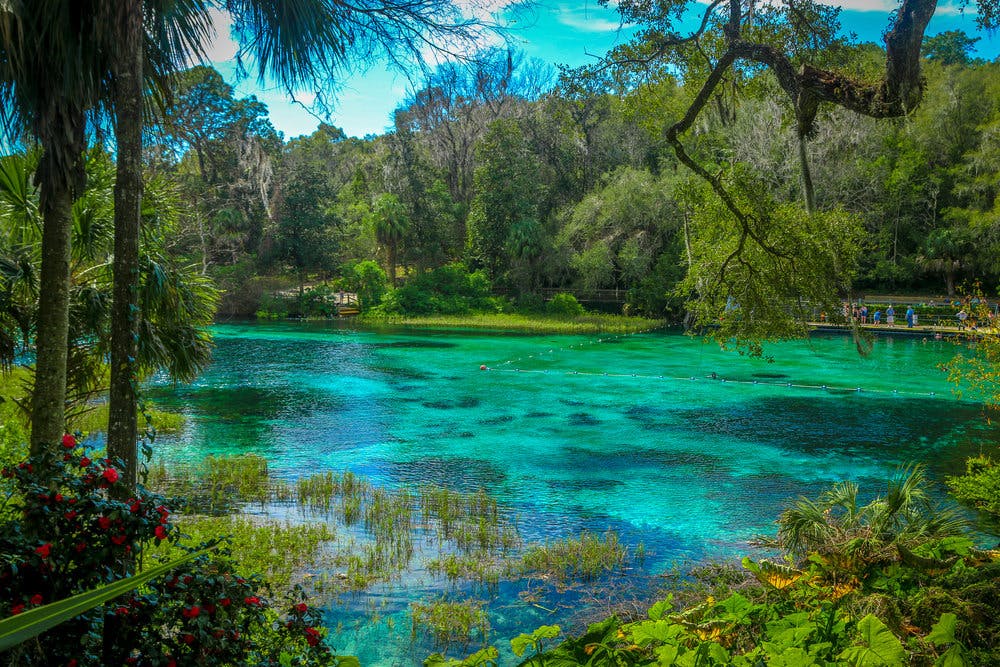 Rainbow Springs
We wake up naturally with the sun and get some scrambled eggs and bacon going for breakfast. Then with our tents rolled up and our gear packed, we get back on the road and drive 30 minutes to the Rainbow Springs State Park. Standing at the water's edge, looking around at the magnificent beauty of this space, we see why humans have been exploring and inhabiting the Rainbow River area for more than 10,000 years. We're finding that the more time we spend outside away from busy city life, the stronger our respect and connection to the natural world seems to grow. We can't wait any longer, it's time to jump in! The Rainbow Springs State Park offers the unique experience of drift diving down the Rainbow River. The river's depth is only about 25-feet, so all the divers in our group get to join in. Of course, some who choose to snorkel, kayak, or innertube down the river, and others feel so strongly connected to the forest here that they decide to take a hike around the park instead. Rainbow Springs is extraordinary, and while we wish we could stay and camp and explore more of it, we have reservations for more fun planned this afternoon.
Just another 30 minutes up the road towards Ocala, we arrive at the The Canyons Zipline and Adventure Park.  Just like at Rainbow Springs, once we get here, we all start to go our separate ways to explore the activities that suit each of us. Most of us jump on the opportunity to zipline through a Florida canyon and take a skyhigh ziplining tour of the area. Those of us who are afraid of heights seriously consider facing our fears here, but say, "Next time," and book a horseback riding tour instead. Then there are some who simply can't say no to more aquatic adventure and hop on the kayak tour through the Big Cliff Canyon while zipliners zoom by overhead. Our experience so far has been more thrilling and stimulating and relaxing and fun than we could have ever imagined, and we're somehow only halfway into it! Our tours come to an end and we find the frequented car again, starting our short journey towards our campgrounds for the night; but first, we feast! We stop off at Harry's Restaurant for a filling and much needed delicious meal. After feasting on some amazing New Orleans-style seafood, we drive 15 minutes up the road and make camp at the  Santos Trailhead and Campground.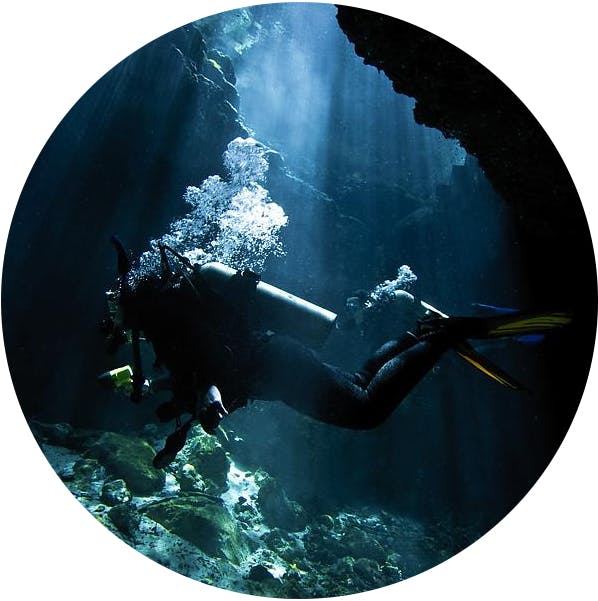 Paradise Springs
Paradise Springs is just 10 minutes from our campground, so after breakfast we pack up and get going. It's always surprising to realize there's so much land in Florida. So often the grand focal points of the state are the beautiful beaches and world famous theme parks, so when you're driving through so much flat, open land and country-style roads and towns you can catch yourself wondering if you're even in Florida at all anymore. We definitely had that very same sensation when we almost missed our hidden dirt road entrance to the spring. While following this bumpy dirt road, we begin to doubt our directions and wonder if we should've taken a left at Albuquerque, but we soon see a little sign pointing us in the right direction and follow it into the woods. We arrive, don our gear, and look at the tiny little pool of vivid blue water at the bottom of a short staircase. One of us actually asks the question, "Are we in the right place?" But as soon as we get into the water, all our doubts wash away. This will certainly be a different type of dive, and one that only some in our group can take to its maximum depth. As we descend, we realize why two dive lights per diver are required—the bright vivid blue of our entrance is quickly disappearing as we go deeper into the narrow, dark cavern. We occasionally see some fish swim past, and we shine our lights all around to admire the fascinating natural architecture of the cavern. We eventually come to a sign that lets some of us know that we've reached our maximum depth and turn back. Two advanced divers in the group continue on into the darkness, descending closer and closer to the cave's 140-foot base.
When we meet again on the lush, forest floor, we find that all our adrenaline levels are slowly settling back to normal as we discuss our experiences. Of all our dives so far, this was certainly the most advanced and possibly the spookiest (including the drive in). But we shake it off and realize we have an hour long drive to our next diving destination, so we hit the dirt road moving on.
We find while we're driving that all that excitement and adrenaline has worked up quite an appetite, and rather than stop off at one of the many fast food joints along the path, we're going to extend our surface interval time a bit and relax at a lakeside restaurant. Finding Eaton's Beach is like finding a hidden gem. This lake view is spectacular and the food is excellent, too. With the little beach leading into the lake, we take a moment to wiggle our toes in the sand and soak in the sunshine before getting back on the road.
We arrive in Ocala National Forest in the early afternoon, check in, pitch our tents, and get familiar with the area. The campsite is very well put together with a surplus of amenities and campground luxuries. Alexander Springs is like something out of a dream. The spring's water is bright turquoise and the forest surrounding it is simply magnificent, featuring scenic walkways throughout. The spring is only about 25-feet deep, so some of us decide to snorkel, some of us dive, and others choose to simply sunbathe and swim by the shoreline with a cold drink in hand. With such excitement through the first half of the day, this was the perfect way to balance out and just relax. We eventually head back to our campsite, grill out some hamburgers, and crawl into our tents for the last time during this trip to sleep under the infinitely starry sky.        
Along our morning drive towards Orange City, the road and scenery seem to be the same as nearly all the roads thus far—continuous forests and farmland. We soon find that we are quite mistaken when our path suddenly takes us through miles of residential area and back to the world of TJ Maxxes and Starbucks coffee houses. Weren't we on the way to a state park?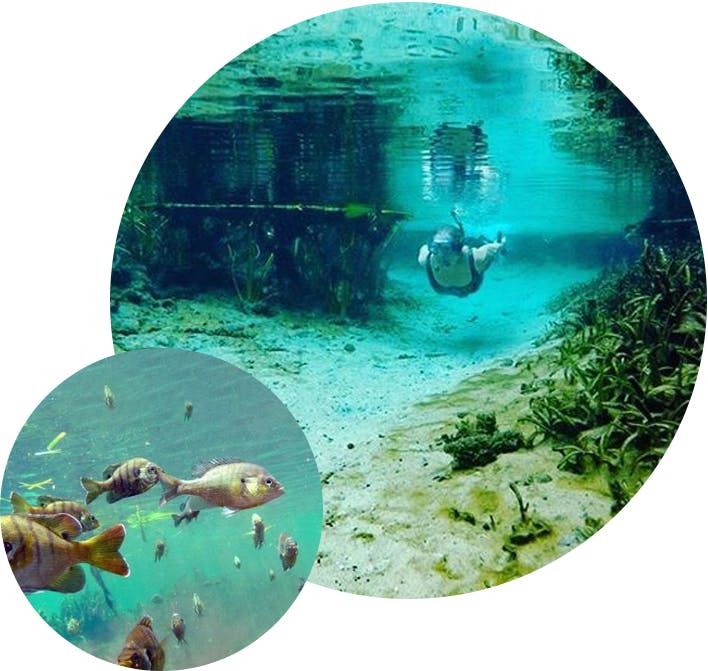 Following our directions, we eventually make our way back to nature and get ready to explore the Blue Springs State Park. For a natural spring that's right outside of a city, it's surprising to see that the park has such an abundance of wildlife, including the gentle and lovable manatees! Manatees have been so protected here that their numbers in the area have more than doubled, but there are also tons of fish to see and fascinating birds to observe like ospreys and eagles. Certified cave divers can squeeze their way down the springs up to 120-feet, but everyone can explore the water in some way, whether snorkeling, swimming, or kayaking. After playing for hours in the water, we grab some deli sandwiches at the Blue Springs Camp Store and look forward to the next and final leg of our trip.
While some in our group feel like they can live the camping life forever, others are quite ready to get back to a city setting again. They'll soon get their wish since our next stop is the booming Central Florida city of Orlando. As we make our way into the city, we find ourselves more highly aware of the thickening traffic after days of cruising through empty country highways. Eventually, we find our exit ramp going towards Orange Blossom Trail, heading for our favorite Florida dive shop, Divers Direct. This store is absolutely enormous, and just like the other Divers Direct stores we've been to throughout our diving road trip adventures, the staff seems to know it all. Inspired by our recent adventures, some of us even get better dive lights and safety gear to help further explore the world of cave diving later on.
We then pack our new dive and snorkel goodies in the car and head 15 minutes west to ICON Park to ride the giant ferris wheel, spin on the tallest StarFlyer in the world, and win some prizes in Arcade City. Of course, our Orlando fun has only just begun. As we're getting closer and closer to nightfall, we drive a few minutes up the road, park in the E.T. section of the parking garage, and practically run towards Universal CityWalk at Universal Orlando. We shop, play putt putt, and have an incredible authentic Mexican dinner and experience at Antojitos. After dinner, we book a nearby hotel and sleep in what seems like the most comfortable beds ever, which could possibly just be the combined effect of having slept on the ground for nearly a week and the residual relaxation from the deliciously strong margaritas earlier. Either way, we all slept hard.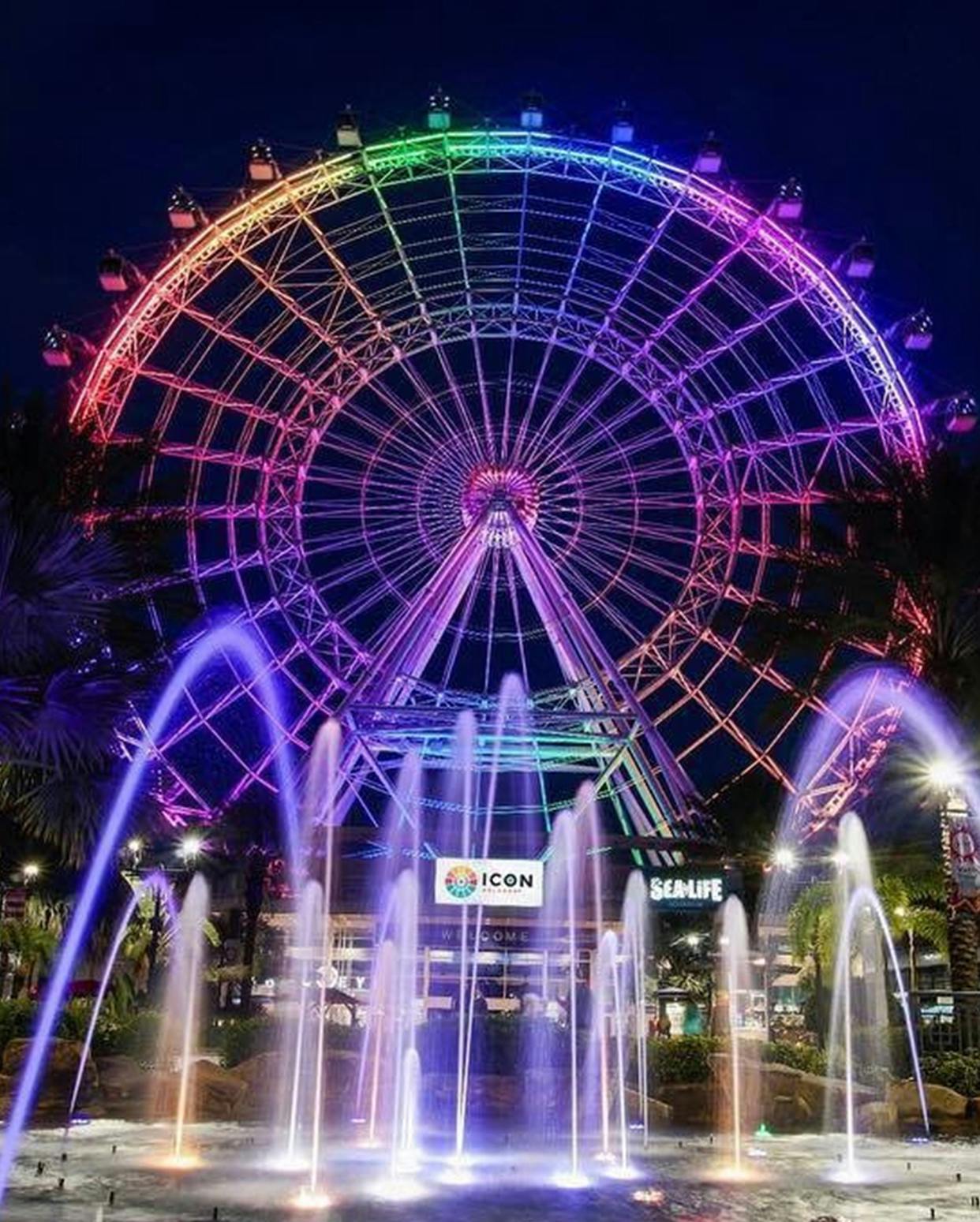 The morning of our final day has arrived and we decide to say our farewells to each other early in the day. This is only because we cannot agree on what to do in Orlando next! Some of us head back to Universal Studios to ride the Hogwarts Express and the Incredible Hulk ride, while others head up the road to explore The Mall at Millenia. Some of our group members actually drive back to their favorite spring of the trip for one more dive. After we all squeeze in a few final moments of freedom and excitement, we each eventually get in our cars in the late afternoon, crank the engine, and sit quietly for a moment, simply processing the end of our long and amazing journey through Central Florida before driving back home.
Written by Amy Baldacci