Destination Manatee: Top Spots to See Manatees in Florida
It's that time of year again! You just know that the moment you're donning your first cozy jacket of the season and making plans for backyard beverages and bonfires with friends, it's also time for the manatees. While you can see manatees year round in Florida in certain areas, the colder months are the perfect time to witness their incredible migration through various Florida waters. November just so happens to be Manatee Awareness Month as well! So let's dive in to discover the best places to visit to see manatees. 
According to the US Fish and Wildlife Foundation, there are currently around 7,500 manatees in Florida waters. They're social creatures so they'll rarely travel alone, meaning if you see one, you'll likely see anywhere from two to fifty more around! They love the consistently low- to mid-seventy degree waters of the crystal clear springs, but you can also see them migrating through rivers and along the coastlines as well. 
So, as soon as you feel that Florida heat drop enough to say the words "Sweata Weatha," head to one of these thriving manatee destinations for a day full of memories and manatees.
We must impress here the absolute importance of respecting these animals and their space. Do NOT boat in restricted areas, and be sure to drive slow enough to see potential manatees on your path. Do NOT stalk, swim to/after, or harass manatees in ANY WAY if swimming with them. If paddleboarding, take your fin off your board and watch where you stick your paddle. Gentle as they are, treat them as you would any endangered wild animal—with space, grace, and caution.
Crystal River & Three Sisters Springs
One of the number one places in Florida to see manatees is Crystal River and the Three Sisters Springs. This great spot for manatee viewing is located on the western side of Florida about 80 miles north of Tampa. Kings Bay is a large expanse along the Crystal River full of boaters and many others enjoying the outdoors, and just off Kings Bay is a vividly clear set of springs called Three Sisters Springs.   
The Springs features a roped-off sanctuary for the manatees. This roped off section separates boaters, paddleboarders, snorkelers, and swimmers from the manatees while still letting you view them in their safe haven. There are tickets to get into the springs which vary in price throughout the year. There is also no parking at the Three Sisters Springs, but there is a trolley from the visitor center that will take you to your destination. If you're up for a little more of an aquatic journey, you can launch your paddleboard or kayak from various locations around Kings Bay and make your way to the Three Sisters Springs by way of water. 
Of course, there are around 70 other springs along the Crystal River that offer manatees the temperatures they're looking for and plenty of less crowded viewing for you too. So whether you make it precisely to the Three Sisters Springs or find yourself cruising the Crystal River, aimlessly exploring its many tributaries and smaller springs, you'll be sure to see manatees around these parts when it's chilly out.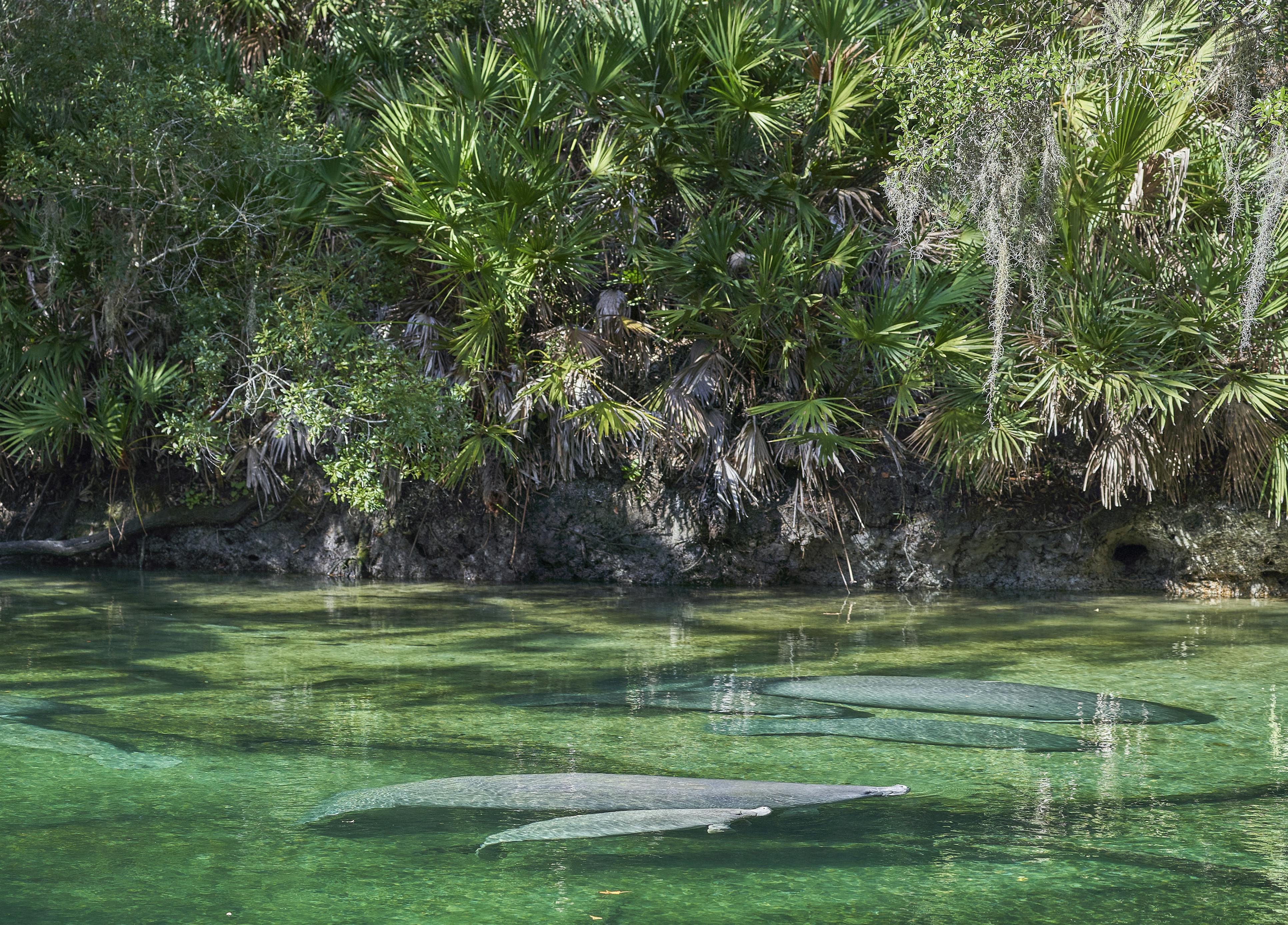 The beautiful Blue Springs State Park is located just off the St. Johns River in Orange City, Florida, about 45 minutes north of Orlando. The 72-degree waters are crystal clear and, oh, how they invite droves of manatees seeking calm, temperate waters to rest in. The park features a half a mile boardwalk for observing the manatees from above, which is quite ideal for bringing the whole family to view these amazing animals and environment. While swimmers and boaters enjoy the spring throughout the summer, in the winter months the park is closed to swimming and boating in order to better protect the hundreds of manatees that travel there for safety. 
Over the years, the park has continued to grow in popularity, not just to people wanting to see the manatees, but to the manatees themselves. According to the Florida State Parks website, researchers counted just 14 manatees in the spring in 1970 (just before the park was established). By 2023, the population of manatees in the spring run grew to a whopping 729! The numbers speak for themselves, these conservation efforts are working, and we can do our part by respecting the rules of the park and all its inhabitants.
In Chiefland, Florida (about an hour west of Gainesville), Manatee Springs is a welcome environment for those seeking some time in nature. Not only will you find hiking and biking trails, designated areas for fishing, swimming, scuba diving, kayaking, and camping, but in the winter months, manatees show their love for this location too.  
This is a first magnitude spring (meaning it releases an average of 100 cu. ft. of water per second), and that water is as clear as can be and at a constant 72-degrees all year long. The manatees travel up the Suwannee River for 23 miles to get to Manatee Springs to find a calm place for rest and vibrant feeding grounds. While boaters are restricted here, you can still snorkel and swim with the manatees—just remember to give them space!
Other popular destinations for viewing manatees include Silver Springs in Central Florida, Weeki Wachee Springs on Florida's West Coast, and Homosassa Springs near Crystal River. These springs are also a safe haven for manatees throughout the winter months and you're bound to see a manatee or twenty in any of these beautiful locations. 
The good news is that because Florida is so porous and aquatic with its rivers and springs and easy access to the oceans, you can spot a manatee just about anywhere here. From as far north as the Georgia-Florida line to as far south as Key West, keep your eye out when you're out boating, paddleboarding, kayaking, snorkeling, beaching, or scuba diving in winter and you may just spot a few of Florida's favorite marine animals. That being said, remember to boat responsibly and keep your hands to yourself when encountering any wild animal.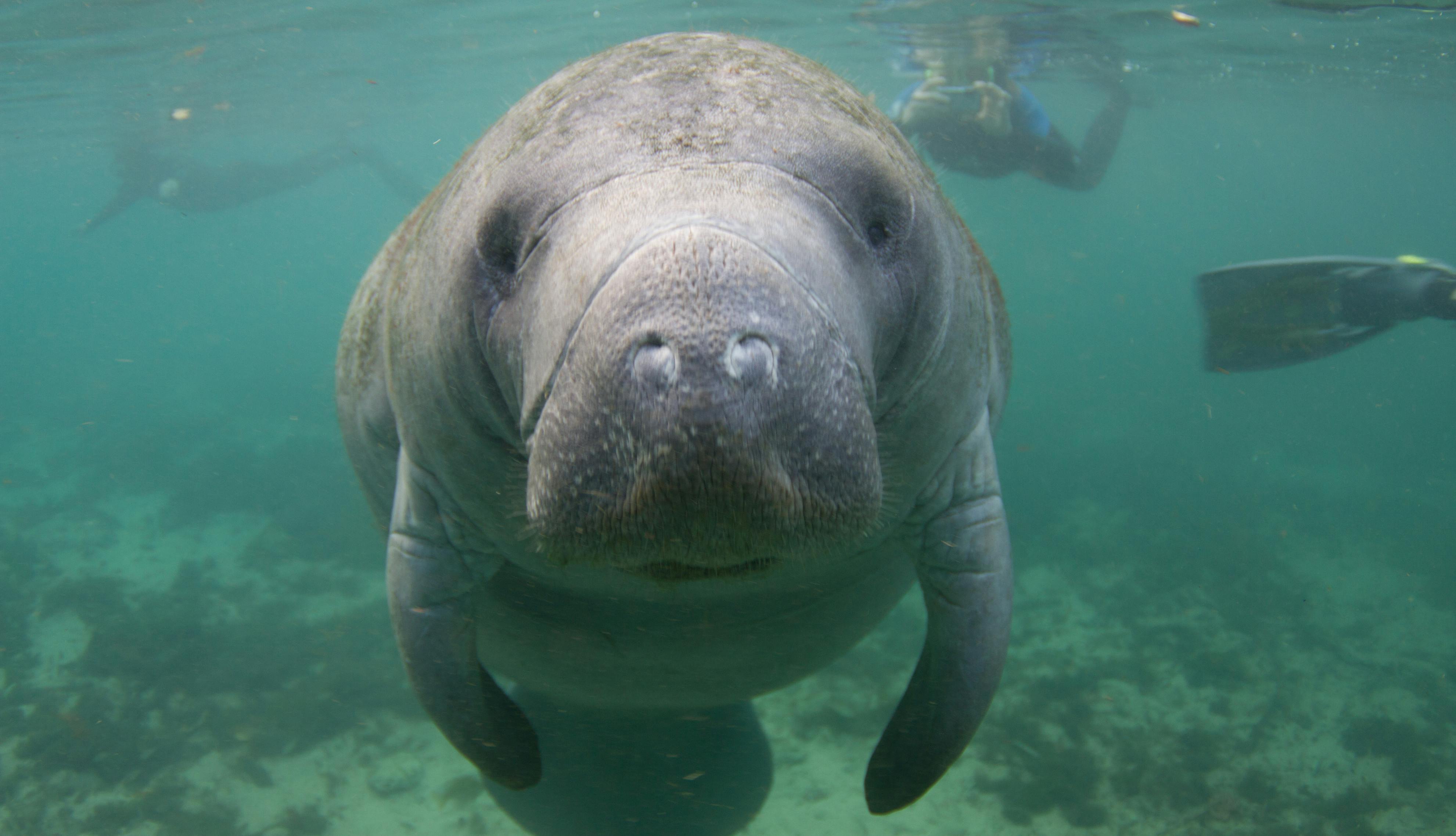 Are manatees dangerous? 
Manatees are known as one of the most gentle marine animals. They have such a calm demeanor and don't mind being around humans and other animals. Like any wild animal, though, if you get too close, especially to a mother and her calf, you may get charged. It's best to keep a respectful distance. They may be the one who approaches you! 
What do manatees eat? 
Manatees are herbivores and eat sea grass, algae, and other aquatic plants. Fun fact, they can consume around 4-9% of their body weight daily! 
Where do manatees live? 
Manatees, like many animals, migrate with the flow of the seasons. West Indian manatees (also known as the North American manatee) can be found in warm waters along America's eastern coast from as south as northern Brazil to as north as Massachusetts! 
When are manatees in Florida? 
Manatees can be found in Florida all year long, but they are seen in mass migrating through during colder months from around November to March. 
Are manatees endangered? 
While they were once endangered, the manatee population has grown to the point that their conservation status was changed to "Threatened" in 2017. This means that they are still very much protected, but their numbers are thankfully improving.