Bags for Travel, Gear, and Everyday
For us, bags are like your favorite pair of jeans: they fit in all the right places and make you look good. Having an affinity for bags, and limited storage space, we want just the right bags for the job, and it's even better when our gear bags are versatile and perform several functions.
Suitcases
Carry-on? Checked luggage? Camping? Road Trip? Do I really need a different suitcase for each? Nope. They could all be the same bag or you can whittle it down to just two bags.
Of course, which suitcase you need comes down to how long you'll be gone. We prefer one larger suitcase with wheels and one smaller carry-on size suitcase. Between these two bags, we can fit all of our dive gear along with all the clothes and accessories we'll need for a 2 week vacation. How do we accomplish that? It's easy - we select bags with compartments and utilize accessories like packing cubes.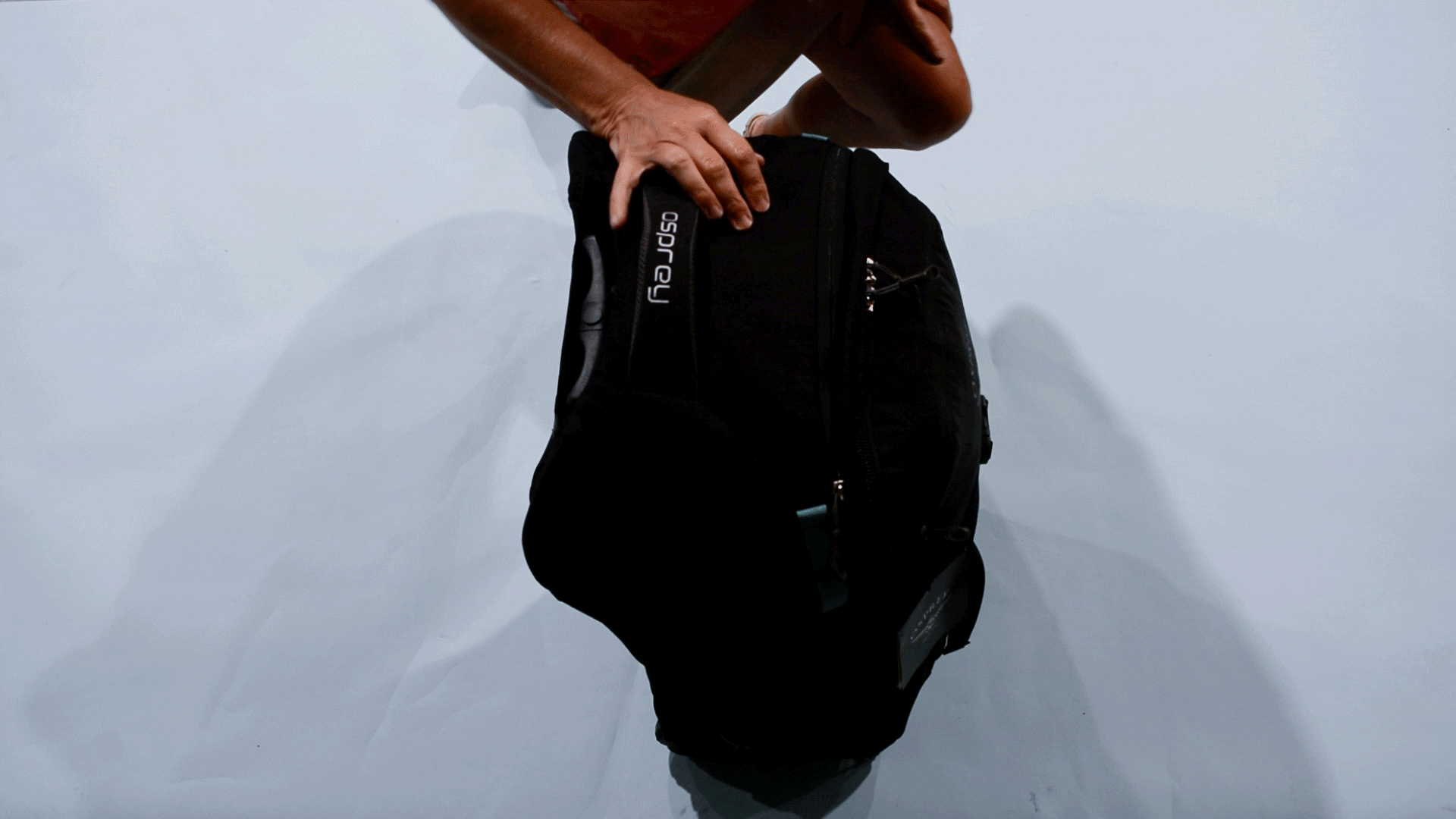 Interior pockets are helpful for organizing but not necessary. We can manage organization inside a large compartment with packing cubes, but we'll talk more about those later. 
Selecting a carry-on suitcase, you'll want to decide if having wheels is a benefit or a drawback. Wheels take up space; however, if you're prone to loading your bag up so it's too heavy to haul through the airport, you might want wheels. If you're a true minimalist and your bag doesn't often get too heavy, we highly recommend going without wheels. 
With our carry-on suitcase, we love pockets and compartments combined with a large interior section. Stashing keys, your phone, a book, your passport, lip balm, and other small essentials in an exterior pocket for easy access makes traveling much simpler. Even having a spot to stash your water bottle (or other beverage) leaves your hands free and you're less likely to accidentally leave your brand new YETI behind. Look, it happens. 
And if the bag you choose doesn't have interior pockets, you can manage organization with packing cubes. Yeah, yeah…we know. But once you try packing cubes, you'll be hooked too.
Gear Bags
If you chose well, your two suitcases from above can pull double duty as your dive gear bags. However, sometimes you want a bag specifically for your gear since your gear goes in and out of the water and might leave behind a little water, salt, sand, and whatever else you happen to drag out of the aquatic environment with you.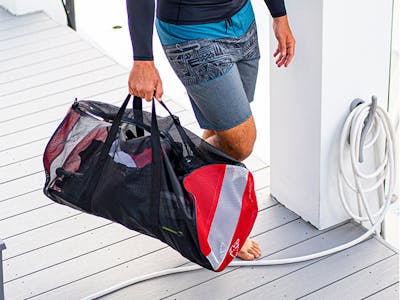 Dive gear bags come in so many shapes and sizes. The most important thing to keep in mind is that it's big enough to hold your BCD, Mask, Fins, Snorkel, Regulator set, Dive Computer, Weights (as necessary), and any other accessories you might want to take along. Also consider this: if you opt for a mesh bag, are you okay with water, silt, and sand getting in your car after the dive? If not, you'll want to get a bag that will hold all your gear and won't leak. Alternatively, you can use the mesh bag and keep a large plastic bin in your trunk, giving you the best of both worlds.
A Freediving gear bag only needs to hold your mask, snorkel, weights, weight belt, freediving computer, any accessories you want to take along, and freediving fins. Since these fins are considerably longer than your snorkel or scuba diving fins, make certain whatever bag you choose can accommodate your fins.
Any time you're diving with a regulator, we highly recommend keeping it in a Regulator bag. This is a specialized and somewhat delicate piece of gear that we want to protect. Simply separating your regulator from your other gear goes a long way to extending its life and reducing the maintenance you'll have to put it through. A good regulator bag is well worth it.
Another item that we take extra special care of is our Dive Computer. A small Dive Computer bag is another worthy investment as it protects your computer, screen, and buttons from your other gear. Extending the life of your dive computer, this bag is a must have in our books.
An easy way to get your weights from home to the dive site (or boat) is a handy Weight bag. It might sound a bit extra; however, it saves the struggle of carrying your BC with the weights already in it along with all the other gear. With this handy bag, drop your weights in and carry them separate, saving your back and your gear from additional wear and tear.
Travel Bags
Packing cubes and toiletries bags go a long way to organizing your gear. Whether it's a day trip, month-long trip, or anything in between, these items are essential for keeping everything organized and easy to find.
There are two main approaches to packing cubes. Employing the first method, you pack all like items in each bag so you'd have all your shirts in one cube, all your shorts, pants, and leggings in one cube, etc. When using the second method, you pack all your clothes for each day or activity in one cube. No matter which method you choose, you'll be organized and ready to go when you use packing cubes.
And never underestimate a good toiletries bag. Find one that gels with your style and you'll find that you start and end your day on the road a little easier.
We take dive travel seriously, so much so that we took the time to put together a quick video on how to pack for dive travel.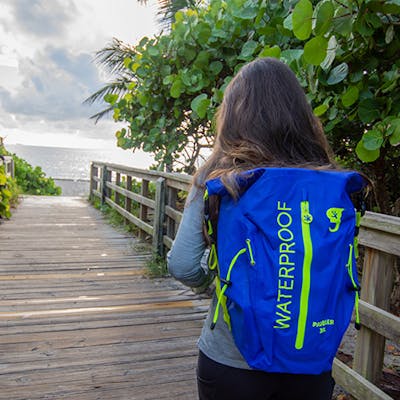 We've already covered so many types of bags, are there really more? Yep. You betcha. Dry bags, backpacks, phone cases, totes, and more. Depending on what you're up to, you'll want to select the bag that goes along with your adventure. And maybe right now you're appreciating why we have so many bags. 
We tend to use our bags for multiple purposes. For example, a small dry bag will double as a packing 'cube' while traveling. Once at our destination, we'll empty that bag into a drawer and use it for our daily adventures. It's how we pack so much into one small suitcase. When staying local, these dry bags are awesome for your essentials when going to the beach, the pool, paddleboarding, or hopping on a boat. 
Backpacks and totes are good bags to have in your line up as well. A good backpack can double as a tote and will stand up to the elements and the abuse you're bound to put it through. This bag can double as a beach bag, pool bag, boat bag, gear bag, overnight bag, and could even be used as your carryon. Pockets and compartments are key with any good backpack and this is one bag we love due to its versatility.
The Wrap 
As you can tell, there are quite a few suitcases, gear bags, and options when it comes to which ones to use and when. Though we have our preferences and methods for minimizing how many bags we have, you have to decide what works well with your style and personality. Our best advice: take your time, research the options, and buy the suitcase(s), dive gear bag, snorkel gear bag, and accessory bags that are right for your situation. 
FAQ
What suitcases, gear bags, and other bags do I need?
We recommend a large wheeled suitcase, a smaller carry-on suitcase (that can double as a backpack), packing cubes, a good dry bag, a regulator bag, and a mesh snorkel gear bag. This array typically covers all our needs.
Which suitcases are best for traveling with dive gear or snorkel gear?
This truly depends on your style and preferences. If you can fit it all in a carry-on, we highly recommend that as it's much easier to travel. However, if you need a larger suitcase, we recommend one with all terrain wheels so you can roll that suitcase over rocks, sand, docks, and uneven earth. 
Which bags are best for carry-on?
We love a good backpack. It's easy to carry and very versatile. However, don't underestimate the power of a rolling carry-on, especially if you tend to take along heavy stuff. 
What bag is best for snorkel gear and scuba gear?
We recommend a mesh snorkel gear bag and a larger solid gear bag for transporting your scuba gear.
Do I need a suitcase or gear bag with wheels?
That's up to you. We like to have our larger suitcase with wheels and our smaller bag without wheels. The main thing to consider when contemplating wheels is how heavy your bag is gonna be with your items in it.