Stream2Sea Conditioning Shampoo & Body Wash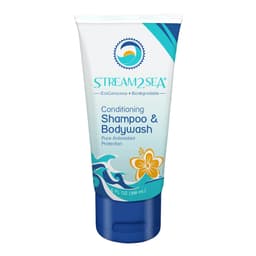 Stream2Sea Conditioning Shampoo & Body Wash
Earn 15 points with this Purchase
This Item Ships FREE in One Business Day with Purchase of $49 or more.
Shipping Policy
Description
There's beach waves, and then there's dive tangles. Keep your hair from looking like a clump of seaweed after diving with Stream2Sea's Shampoo & Body Wash Formula. This 3-in- 1 combo not only eliminates odors and keeps your hair looking pristine, but the ingredients are readily biodegradable and tested safe for our waters. Most other shampoos and soaps contain ingredients that are harmful to aquatic life, but by using Stream2Sea's eco-conscious formula, you can feel good knowing your after dive wash won't affect the sea life! Made with Green Tea, Tulsi, Wakame, Olive Leaf, Keratin, and Panthenol, this shampoo/body wash prevents hair breakage, protects against UV rays to prevent bleaching and contains enzymes to eliminate even the most stubborn after-dive body odors. Stash in your dive bag and enjoy both at home and on the boat for healthy hair and skin!
Way to go! Stream2Sea's hard work and commitment to our environment has paid off, earning the prestigious Protect Land + Sea Certification for their SPF30 Sunscreen. Tested by an independent lab, Stream2Sea can celebrate that they are certified as having 0% (yep, zero percent) of ANY ingredients known to harm sea life.
Stream2Sea Conditioning Shampoo & Body Wash Features:
Keratin and Panthenol prevents hair breakage
UV absorbent helps protect hair color from the sun
Eco-conscious formula is readily biodegradable and safe for use around aquatic life
Tips & Tricks:
This powerful product is also great to use as a non-toxic mask defog.
The packaging for this product is made from Sugarcane Resin, a carbon-neutral bio-

plastic that is fully recyclable and uses no petroleum-based plastic.
More Info
Product Sku:

145620

UPC Code:

851061006032

Sizing:

Adult

Accessory:

No
More Info
Product Sku:

145620

UPC Code:

851061006032

Sizing:

Adult

Accessory:

No