Mares Ultra ADJ/82X Regulator (Yoke)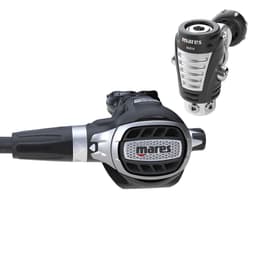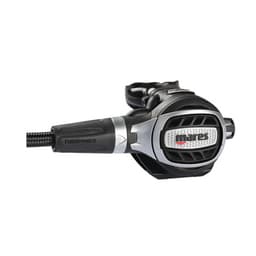 Mares Ultra ADJ/82X Regulator (Yoke)
Earn 596 points with this Purchase
Description
The Mares Ultra ADJ/82X Regulator offers premium performance with a strategic design that makes underwater breathing effortless and smooth. The Ultra ADJ second stage comes with a Twin Power System that offers a new flow control. This Twin Power System manages the delivery rate of gas from your natural breathing (VAD) to power breathing (VAD+) which provides an extra push of air. VAD stands for Vortex Assisted Design and it uses the bypassing air to create a vortex to help keep the diaphragm down during inhalation, resulting in easier breathing at any depth. Additionally, when switched to VAD+ power breathing mode, you can achieve a more powerful and expansive inhale when you need it most, whether you're battling the current or just feel a little out of breath. Otherwise, if you're diving at a leisurely pace on the underwater scenic route, keeping the dial on the VAD setting will still provide effortless airflow at a traditional breathing rate and allows you more conservative use of your air.
The Ultra ADJ also lets you adjust the airflow to suit your necessary breathing comfort. When the knob on the left side of the regulator is turned all the way out (counterclockwise) you get maximum air flow, but if you need higher breathing resistance, just turn the knob in towards you to restrict the airflow—which would inevitably preserve the air in your tank. The pneumatically assisted design also creates easier breathing by reducing the inhalation effort needed to open the second stage valve. As a final note on the second stage, it's made with ultralight technopolymer and has a wide pivoting purge button for easy use even with gloves.
The 82X first stage has Natural DFC (Dynamic Flow Control) on all LP ports that minimize the intermediate pressure drop during your inhalation which ends up maximizing the gas delivery. The purpose of this is so you can always breathe easy, especially when you have a greater demand for air. The auto-sealing technology (AST) keeps your first stage dry and you have tilted HP ports, a swivel turret, and a pearl chrome finish. The last thing you want while you're underwater is difficulty breathing, so having the Mares Ultra ADJ/82X regulator delivers peace of mind and a better overall experience.
Mares Ultra ADJ/82X Regulator Features at a Glance:
Certified performance at 200m
Technopolymer material
Balanced diaphragm
High pressure ports: 2
Low pressure ports: 5
82X First Stage Features:
Natural DFC on all LP ports
Yoke fitting
Swivel turret
OPD - Tilted HP ports
AST - 1st stage dry system
Pearl chrome finish
Compact dimensions
Ultra ADJ Second Stage Features:
Twin Power System (VAD & VAD+)
Adjustable breathing comfort
PAD - Pneumatically assisted design
High air flow
Ultralight technopolymer
Wide pivoting purge button
Superflex hose
Mares Ultra ADJ 82X Regulator Documentation:
More Info
Product Sku:

DD132913

Connector Type:

Yoke

Length Hose (inches):

29

Adjustable Second Stage:

Yes

Balanced:

Balanced

Number of HP Ports:

2

Number of LP Ports:

5

Material:

Technopolymer

UPC Code:

792460375735

Accessory:

No
More Info
Product Sku:

DD132913

Connector Type:

Yoke

Length Hose (inches):

29

Adjustable Second Stage:

Yes

Balanced:

Balanced

Number of HP Ports:

2

Number of LP Ports:

5

Material:

Technopolymer

UPC Code:

792460375735

Accessory:

No