Mares Journey 15X Scuba Regulator (Yoke)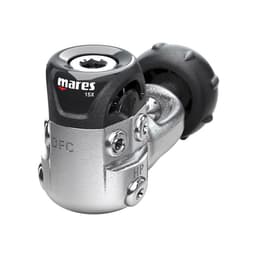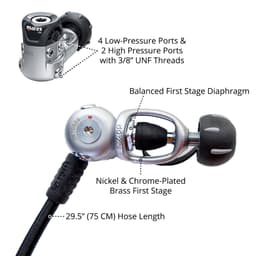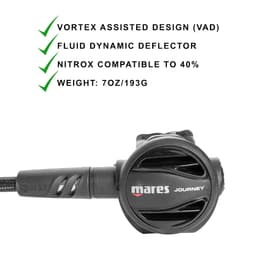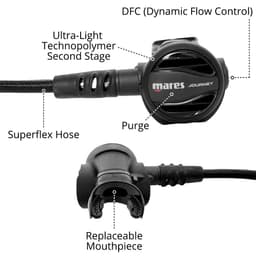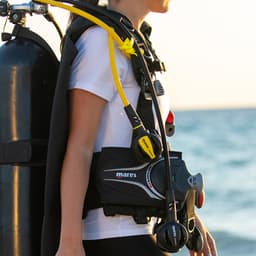 Mares Journey 15X Scuba Regulator (Yoke)
Earn 325 points with this Purchase
Description
Breathe easy with the Divers Direct exclusive Journey 15X regulator by Mares. Designed to be both dependable and comfortable, it's the perfect companion for your next dive.
The Journey 15X is tough and dependable. Like all regulators in the X series, it's built with an ACT Valve. The ACT Valve uses Advanced Coating Technology to increase durability by 600%, even in extreme conditions. The first stage is all metal, with nickel and chrome plated brass construction. The second stage uses ultralight technopolymer. It's abrasion resistant and ideal for diving in moderate water temperatures.
Mares built the Journey 15X second stage for comfortable breathing. The Dynamic Flow Control (DFC) improves performance at any depth. It controls the airflow to minimize intermediate pressure drop during inhalation. It also maximizes gas delivery, especially under extreme conditions. The Fluid Dynamic Deflector directs air from the bypass tube to the mouthpiece. At the mouthpiece, the air meets the Vortex Assisted Design (VAD). The VAD creates a swirling vortex of air with a low-pressure center. This keeps the diaphragm down during inhalation for sensitive, easy breathing at any depth.
The Journey 15X has 75cm (29.5") of Superflex hose. It's lightweight and soft so you can move freely. It also has 4 low-pressure ports and 2 high-pressure ports. All 6 ports have 3/8" UNF thread.
Mares Journey 15X Regulator Features:
Breath easy at all depths with the Vortex Assisted Design (VAD)
DFC (Dynamic Flow Control) up to 10.7bar /155psi for improved performance at any depth
Fluid Dynamic Deflector directs airflow from the bypass tube to the mouthpiece
Advanced Coating Technology (ACT) Valve increases durability by 600%
Superflex hose is lightweight and soft so you can move freely
Ultra-light, technopolymer second stage is abrasion resistant
First stage is made of nickel and chrome-plated brass
4 Low-pressure ports and 2 high-pressure ports
All ports feature a 3/8" UNF thread
Balanced first stage diaphragm
Standard downstream valve
29.5" (75 cm) hose length
Nitrox compatible to 40%
Weight: 7oz/193g
Mares Journey 15X Scuba Regulator Documentation
More Info
Product Sku:

416245-E

Max Nitrox Mix:

40% O2

Connector Type:

Yoke

Length Hose (inches):

29

Adjustable Second Stage:

No

Balanced:

Balanced

Number of HP Ports:

2

Number of LP Ports:

4

Accessory:

No
More Info
Product Sku:

416245-E

Max Nitrox Mix:

40% O2

Connector Type:

Yoke

Length Hose (inches):

29

Adjustable Second Stage:

No

Balanced:

Balanced

Number of HP Ports:

2

Number of LP Ports:

4

Accessory:

No