Mares Dual Adj 62X Black Regulator (Yoke)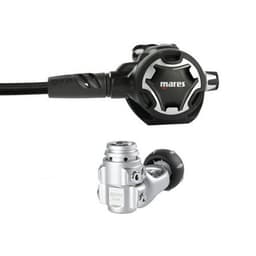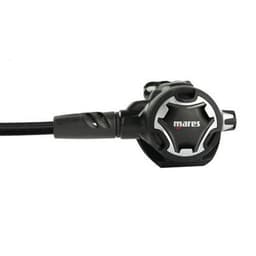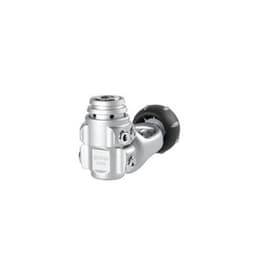 Mares Dual Adj 62X Black Regulator (Yoke)
Earn 496 points with this Purchase
Description
Made for the dive enthusiast, the Mares Dual Adj 62X Black Regulator is made to perform in cold conditions so you know it'll perform in warm, temperate water.
This Yoke first stage is complete with 4 low pressure (LP) and 2 high pressure (HP) ports that allow you to configure your system the way you prefer. This rig is even ready for a transmitter if you're down for air integration on your dive computer. Ultralight, this pearl chrome plated marine brass regulator allows you to control the rate of breathing with the Dynamic Flow Control (DFC) system.
A downstream demand second stage delivers the air from your first stage reliably with every breath you take, every move you make. The Vortex Assist Design (VAD) means the air is right where you want it when you need it and the flow control puts you in charge of how hard you're working to breathe. With the oversized purge button, it's easy to get that reg cleared and back in your mouth whether you have on gloves or not. Even the mouthpiece is super comfortable so you don't suffer jaw fatigue when you're on a long dive or doing a lot of dives in a short time frame. Even better, that exhaust tee is ergonomic, compact, and keeps the bubbles out of your face - thanks Mares.
This regulator is ready to go on every dive with you. Pick yours up today so you can focus on what matters - the dive!
Mares Dual Adj 62X Black Regulator Features:
Yoke attachment
Nitrox ready up to 40% oxygen
Balanced diaphragm first stage
Double DFC (Dynamic Flow Control) system
Natural Convection Channel (NCC) system
Pre-oriented pressure ports
First stage material: pearl chrome plated marine brass
A.C.T. (Advanced Coating Tri-material) valve technology
4 LP and 2 HP ports
Downstream demand valve second stage
VAD (Vortex Assist Design) system
Flow control (twin power) adjustable mechanism
Delivery rate of gas from natural breathing to power breathing
Rotating adjustment sleeve on inlet achieve VAD+
Compact & ergonomic exhaust tee
Soft hypoallergenic silicone mouthpiece
Pneumatically Assisted Design (PAD)
Oversized silicone purge button
Hose: High flow superflex 29.5 inch (75 cm)
Weight: 33.6 oz. (953 g) with hose
Mares 2 year limited warranty
More Info
Product Sku:

DD137185

Max Nitrox Mix:

40% O2

Connector Type:

Yoke

Balanced:

Balanced

Number of HP Ports:

2

Number of LP Ports:

4

UPC Code:

194151020878

Accessory:

No
More Info
Product Sku:

DD137185

Max Nitrox Mix:

40% O2

Connector Type:

Yoke

Balanced:

Balanced

Number of HP Ports:

2

Number of LP Ports:

4

UPC Code:

194151020878

Accessory:

No