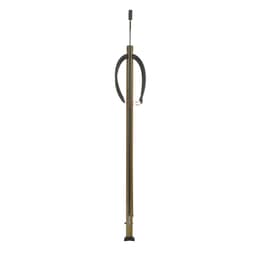 Koah Euro 110 Speargun
Earn 645 points with this Purchase
Description
The Koah Euro 110 Speargun has a slim and sleek design that's lead balanced to ensure precise accuracy. The reverse trigger mechanism gives this teak wooden speargun an extra two inches of band stretch. This "euro style" speargun has a long stock with a rear handle placement for optimal range. The Koah Euro 110cm Speargun is designed to reduce recoil, provide extra band stretch, and improve weight balance of a rear handle, euro style speargun with a long stock. This teak speargun's shiny, sleek design has been extensively tested, and the result is a high quality weapon that's deadly accurate. The 9/32" poured enclosed track improves the preciseness of your shot, while a reverse trigger mechanism adds two inches of band stretch to further increase power. The Koah Euro is solid lead ballasted, and an aggressive rake angle rear handle evens out the weight of the 52" long stock. By designing the muzzle and side channels to pull the innermost band close to the spear shaft, lateral band pull is created that significantly reduces recoil when firing.
Koah wooden spearguns are hand designed and custom made in Jupiter, Florida with high quality materials to ensure precision in accuracy, tracking, and range.
Add a Koah Spare Shaft Holder to be able to carry a spare spear shaft with you when freeshafting.
Koah Euro 110 Speargun Features:
Ennclosed track, poured glass filled epoxy
Teak laminated stock
Uses two 5/8" speargun bands, with the option to add a third
9/32" spear shaft
Reverse trigger mechanism for extra band stretch
Solid lead ballasted for easy maneuverability
Double wrapped 300lb test monofilament line
More Info
Product Sku:

5426

Length Total (inches):

43.7

Spear Band Thickness:

5/8

Length Total (cm):

110

Positively Buoyant:

No

UPC Code:

600137649419
More Info
Product Sku:

5426

Length Total (inches):

43.7

Spear Band Thickness:

5/8

Length Total (cm):

110

Positively Buoyant:

No

UPC Code:

600137649419