HammerHead Mini-Scapula Dive Knife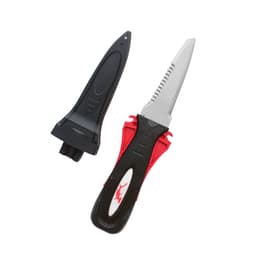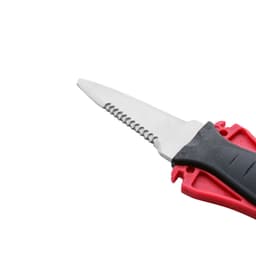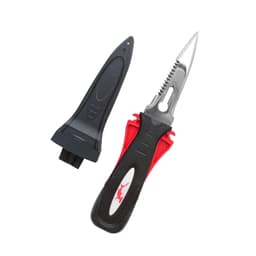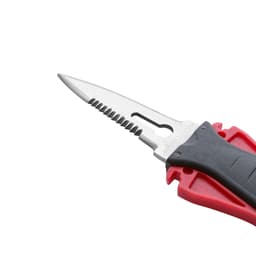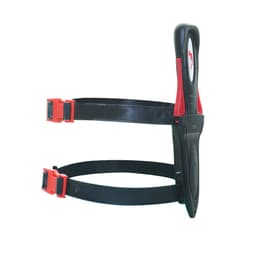 HammerHead Mini-Scapula Dive Knife
Earn 45 points with this Purchase
This Item Ships FREE in One Business Day with Purchase of $49 or more.
Shipping Policy
Description
The HammerHead Mini-Scapula Dive Knife comes with a sheath and rubber straps so you're ready to strap it on your arm or leg and go. This 3" knife blade features both a straight edge and a serrated edge both on one blade, so this dive knife is ready to handle all your needs in the water. With the quick release tabs on the handle, you know your dive knife will be in its sheath when you need it. Making it easy to release and sheath, those tabs squeeze in to release the knife and click into place when you slip the knife into its sheath. Perfect for freediving and spearfishing.
Note: The Stiletto Tip features a keyhole in the middle of the blade. This keyhole is a handy tool that you can use to aid in removing the spear from your catch, which makes this blade even more helpful on the hunt.
HammerHead Mini-Scapula Dive Knife Features:
Quick release locking tabs on handle
Serrated edge
Straight edge
Full knife length: 6 ¾"
Blade length: 3"
Sheath
Rubber straps
Stainless steel
More Info
Product Sku:

DD146884

Attachment Point:

Leg

Length Blade (inches):

3

Length Total (inches):

6.75

Material:

Stainless Steel

Accessory:

No
More Info
Product Sku:

DD146884

Attachment Point:

Leg

Length Blade (inches):

3

Length Total (inches):

6.75

Material:

Stainless Steel

Accessory:

No