Garmin Descent™ Mk2i/Descent T1 Bundle, Titanium Carbon Gray DLC with Titanium Band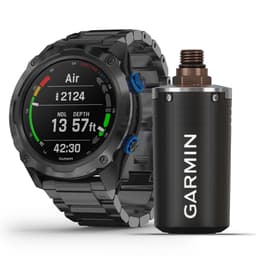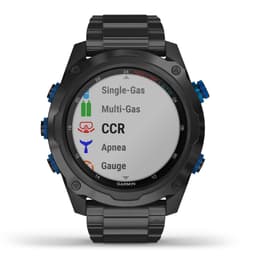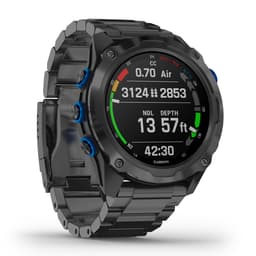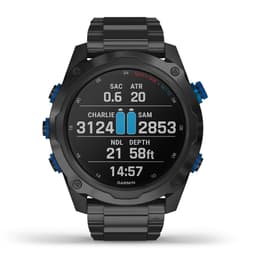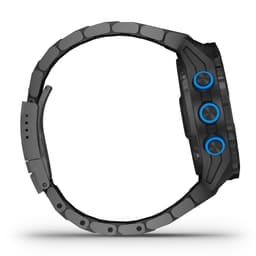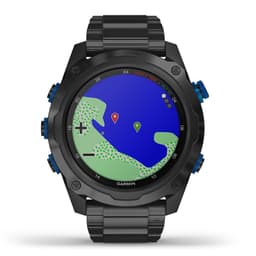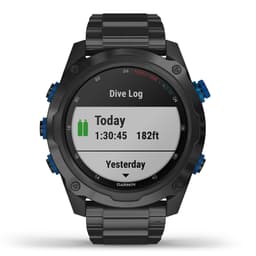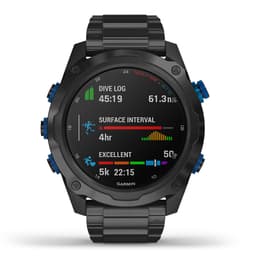 Garmin Descent™ Mk2i/Descent T1 Bundle, Titanium Carbon Gray DLC with Titanium Band
Earn 2050 points with this Purchase
Description
The Garmin Descent™ Mk2i/Descent T1 Bundle is a high-tech, air integrated dive computer that's made to make your dive life and your daily life easier. This particular dive computer features a lightweight and practically indestructible titanium watch band. Made to look stylish with both a business suit and a wetsuit, this dive computer's design traverses land and sea.
While the Descent™ Mk2i is made specifically as a dive computer, it lives a double life as a daily-use smartwatch as well. When paired with a compatible smartphone, it alerts you to texts, calls, calendar appointments, and more. You can check your heart rate and blood oxygen levels with it, and you'll find that the sports apps can track your progress with a variety of workouts and training. The colorful and highly visible screen is easily readable while deep in the sea and out in the sunlight, too.
But you're here for the scuba side of things, right? Right! While you can use the Garmin Mk2i for daily use, when you pair it with the T1 transmitter and get your dive gear ready, the Mk2i puts on its cape and supersuit and gets its game face on for the adventure ahead (figuratively speaking, of course). Choose your dive mode, whether single gas, multi-gas, apnea, apnea hunt, gauge, or closed-circuit rebreather, and dive right in. The underwater 3-axis compass will help to keep you on the right track on your dives, and the T1 transmitter's SubWave™ signal will keep you accurately up to date on your tank pressure. Store up to 200 dives in the computer, and you can download them to the Garmin Dive™ app on your smartphone when you're ready.
Diving in with the advanced technology of the Garmin Descent™ Mk2i/T1 Bundle will change the way you experience your dives for the better. And whether you wear it as a smartwatch on land or as a dive computer underwater, you'll love the style, feel, and functionality of the Descent™ Mk2i by Garmin.
Garmin Descent Mk2i Wrist Dive Computer Features:
SubWave™ sonar technology for integrated tank pressure monitoring on up to 5 tanks
1.4" color sunlight-readable display
Elegant yet rugged design
Six dive modes including single and multiple gas dives, gauge, apnea, apnea hunt, and closed-circuit rebreather
Multi-GNSS support
Multiple sports apps
Wrist-based heart rate monitoring
Pulse Ox sensor (this is not a medical device and is not intended for use in the diagnosis or monitoring of any medical condition)
Advanced training features
Garmin Pay™
Music storage
Smart notifications (when paired with a compatible smartphone) for calls, texts, calendar alerts, and more
ABC sensors with underwater 3-axis compass
Surface GPS (GPS tracking does not work underwater)
Stores up to 200 dives, downloadable to the Garmin Dive™ app
Battery life: up to 32 hours in dive mode with T1 enabled, up to 16 days in smartwatch mode, and up to 15 hours in GPS mode with music
32GB memory
Battery Type: Rechargeable Internal Lithium-Ion
Operating temp: -20º to 45ºC (-4º to 113ºF)
DLC titanium band
Garmin Descent T1 Transmitter Features:
7/16 inch thread type
Operating temperature: 0 to 40°C (from 32 to 104°F)
Transmission range: Up to 10 m (33 ft.)
Depth rated to 110 meters
Reports pressure up to 300 bar (4351 psi)
Battery: 3 V CR123A lithium, up to 100 hours
Dimensions: 3.33" x 1.44" x 1.44" (84.50 x 36.52 x 36.52 mm)
What's in the Box:
Descent™ Mk2i Dive Computer with titanium band
Descent™ T1 Transmitter
Air spool
Black silicone band
Black extra-long adjustment strap
Charging/data cable
Documentation
Garmin Descent Mk2i/Descent T1 Transmitter Documentation:
More Info
Product Sku:

DD147556

Air Integrated:

Yes

Altitude Adjustable:

No

Back Light:

Yes

Rechargeable Battery:

No

Audible Alarm:

Yes

Display Type:

Digital

UPC Code:

753759223465

Accessory:

No

Hoseless/Transmitter Air Integrated:

Yes

Computer Type:

Wrist
More Info
Product Sku:

DD147556

Air Integrated:

Yes

Altitude Adjustable:

No

Back Light:

Yes

Rechargeable Battery:

No

Audible Alarm:

Yes

Display Type:

Digital

UPC Code:

753759223465

Accessory:

No

Hoseless/Transmitter Air Integrated:

Yes

Computer Type:

Wrist