Aqualung Leg3nd MBS Regulator (Yoke)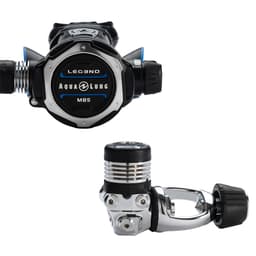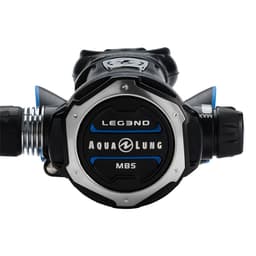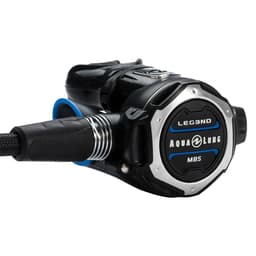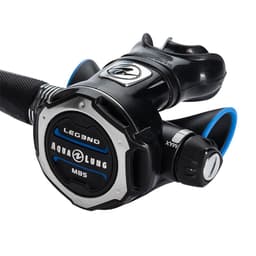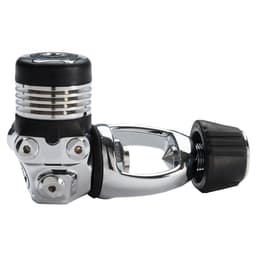 Aqualung Leg3nd MBS Regulator (Yoke)
Description
Taking your dive adventures to the next level, the Aqualung Leg3nd MBS Regulator is ready to accompany you on all your dives.
With exceptional cold water performance, the beauty of this first stage regulator starts with its Auto Closure Device (ACD) which works to keep contaminants and water out of your regulator's inner workings. This simple yet effective device keeps the inlet filter clean and dry while also working to preserve the internal lubrication so the internal parts glide easily and deliver the air you need. When you're diving, the last thing you want to think about is whether or not your internal components are working properly. Rest easy knowing that this first stage has an integrated dry chamber to keep those internal components protected and in pristine working condition. Notice those deep ribs? They work in conjunction with the large heat exchange surface area to ensure, no matter the water temps, your inner components keep working exactly as they were designed to. In diving we're taught about having a backup for your backup, and Aqualung delivers with this first stage. And we're just getting started.
An overmolded cap protects the external diaphragm to help ensure it does exactly what it's supposed to do when it's supposed to do it. Over-balanced (or auto-balanced), this regulator continues to deliver your air consistently regardless of your depth and external conditions. So you breathe just as easily at the surface as you do at your desired depth. And to make setting up your gear, changing tanks between dives, and breaking down your gear even easier, Aqualung designed the YOKE screw with a 'Soft Grip' surface and made the screw ergonomically shaped for ease of use. Easy to operate whether you're wearing dive gloves or not. Oh yeah, they also designed that YOKE screw to be channeled so you're not dealing with water retention in your first stage. To round out this Leg3nd MBS 1st stage, you're getting a specialized ACD dust cap that keeps the elements out, protects the inlet fitting, and protects your first stage from the typical bumps and bangs it will surely endure. Complete with 2 high pressure (HP) and 4 medium pressure (MP) ports, you're in control of your setup.
Aqualung's MBS (Master Breathing System) is what sets this second stage apart from all the others. This feature combines both the Venturi effect and the inhalation effort into one, putting you in control. Easy to adjust, this simple change makes this second stage even more user friendly. Front cover openings allow water to move across the diaphragm sideways and the radial openings reduce the risk of freeflow, keeping you safe and making your dive more enjoyable. With a soft touch overmolded exhaust cover, your bubbles are conveniently diverted from your line of sight. And that big purge button, purging is easy with or without gloves.
Of course, Aqualung didn't just focus on performance, with their patented Comfobite mouthpiece, this regulator is designed to be comfortable all dive long. When you wear out your mouthpiece, you can quickly and easily replace it. Just detach the mouthpiece clamp, grab a new mouthpiece, install it and use the same mouthpiece clamp to secure it in place. Rounding out this second stage is your Aqua Flex hose. Lightweight and flexible, this hose delivers better range of motion with less resistance.
A great regulator for the novice to experienced diver, the Aqualung Leg3nd MBS Regulator is ready to accompany you on all your dives. User friendly yet packed with features, this regulator has your back. All. Dive. Long.
Aqualung Leg3nd MBS Regulator 1st Stage Features:
Auto Closure Device (ACD)
Exceptional cold-water performance
Integrated dry chamber
Deep ribs, large heat exchange surface area
Overmolded cap
External diaphragm
Auto-Balanced (also known as Over-Balanced)
Ergonomically shaped YOKE screw with a bi-material "Soft Grip" surface
Channeled YOKE
Specialized ACD dust cap
2 high pressure (HP) and 4 medium pressure (MP) ports
Aqualung Leg3nd MBS Regulator 2nd Stage Features:
Master Breathing System (MBS)
Front cover opening channels
Radial openings
Overmolded exhaust cover made of elastomer with a "soft touch" effect
Overmolded air purge with wide surface area
Purge depth controller
Patented Comfobite mouthpiece
Detachable and reusable mouthpiece clamp
Enlarged heat exchanger
Air channel deflector
Streamlined bi-material deflector
Flexible and lightweight Aqua Flex hose with dual protectors
Aqualung Leg3nd MBS Regulator Documentation:
More Info
Product Sku:

DD144933

Connector Type:

Yoke

Balanced:

Over-Balanced

Number of HP Ports:

2

Number of LP Ports:

4

UPC Code:

191649978918

Accessory:

No
More Info
Product Sku:

DD144933

Connector Type:

Yoke

Balanced:

Over-Balanced

Number of HP Ports:

2

Number of LP Ports:

4

UPC Code:

191649978918

Accessory:

No