Aqualung i330R 2 Gauge Console Dive Computer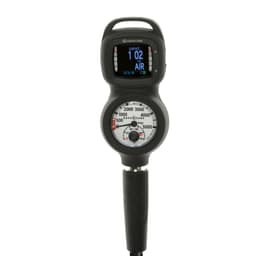 Aqualung i330R 2 Gauge Console Dive Computer
Description
The sleek Aqualung i330R 2 Gauge Console Dive Computer features both your dive computer and your pressure gauge. There's even a temperature gauge on your pressure gauge. Let's dive in.
Your i330R dive computer is loaded with features and easy to use. With two button navigation, you'll be switching between operating modes and gas mixes like a pro in no time. Easy to read, this backlit digital display turns on the moment you slip below the surface. A quick check to make sure everything is good to go and you're off on your next underwater exploration. You can even adjust the brightness of your color display to fit your needs and the dive conditions. Your Aqualung i330R dive computer manages all your calculations and takes into account the fluctuations in depth and if you change between gas mixes to keep you safe and maximize your down time.
Coupled in this console is your pressure gauge that also features a temperature gauge. This analog pressure gauge makes it easy to keep track of where you are in your air supply. An easy to read face with large numbers and bold hash marks means you won't lose sight of the reason you're diving. That red zone from 0 to 500 PSI helps to keep you in the clear because it grabs your attention when you see that needle hovering just above the red. With your dive computer and pressure gauge in one console, you have the dive data you need in one quick glance.
Housed in a contoured, slimline boot, your Aqualung i330R Dive Computer and your pressure gauge are protected and right where you need them when you need them.
Aqualung i330R 2 Gauge Console Dive Computer Features:
Protective rubber boot
Contoured, slimline console
Maximum depth: 100m/330'
Max O2: 100%
Ultra-Bright, adjustable color display
Lens protector
2 button intuitive interface
Display last dive parameters from a single button (max depth and bottom time)
History mode with up to 24 dive memory
4 operating modes: Air, Nitrox, Gauge (with run timer) and Freedive
3 gas dive computer: switch between up to three gasses underwater, from 21% to 100% O2
Rechargeable battery
Download software updates (purchase of optional download cable is required)
Bluetooth 5.0 data transfer to the DiverLog+ app (available for iOS and Android)
Analog pressure gauge
Air pressure measured in PSI
0-500 PSI pressure red zone
Temperature gague
More Info
Product Sku:

DD150000

Computer Type:

Console

Altitude Adjustable:

Yes

Audible Alarm:

Yes

Back Light:

Yes

Depth Rating (ft.):

330

Display Type:

Digital

Downloadable:

Yes

Max Nitrox Mix:

100% O2

Rechargeable Battery:

Yes
More Info
Product Sku:

DD150000

Computer Type:

Console

Altitude Adjustable:

Yes

Audible Alarm:

Yes

Back Light:

Yes

Depth Rating (ft.):

330

Display Type:

Digital

Downloadable:

Yes

Max Nitrox Mix:

100% O2

Rechargeable Battery:

Yes