Cressi Professional Scuba Diving Gear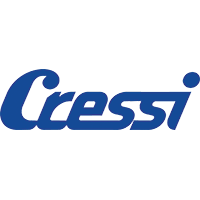 Created in 1939 in Genoa, Italy, Cressi brings the passion for the sea and technical design of the brothers Egidio and Nanni Cressi to divers all around the world. Since its inception, Cressi has been revolutionizing the diving and spearfishing world and has expanded from masks and handcrafted spearfishing guns to a full line of diving products.
Cressi prides itself on passion, commitment, and innovation. Its products, such as the Sirena Mask in 1943, spearguns in the late 40's, the Pinocchio Mask in 1952, and Rondine Fins, changed diving gear with features that are still in use today. Now, divers from all over the world trust Cressi to push the industry forward.
Cressi: Your Passport to Underwater Adventure
Today, Cressi continues to innovate the diving industry by working hand in hand with athletes and enthusiasts that provide constant feedback on the products. Cressi offers a variety of gear and accessories to all divers, from swimmers to spearos, men and women, kids and adults. Be ready to explore with our full range of Cressi products. Test your skills and drift dive in Blue Corner, Palau, the home of sharks, with over 1,400 species of reef fish, 300 species of soft corals and 400 species of hard corals. Or stay local with Divers Direct, and find the most famous wreck, Empire Mica, in Panama City, where a multitude of aquatic life lives. With Cressi, discovering the unknown is easy.
Cressi Diving Gear & Accessories
Divers Direct offers a wide range of Cressi products including dive computers and watches, masks, fins, snorkels, and more. Browse the hottest products in the entire line online now. 
Cressi: Your Scuba Diving, Snorkeling, & Spearfishing Partner
Passion and determination have made Cressi the pioneer in aquatic gear. The Cressi brothers themselves were spearfishers who dedicated their lives to finding the best technology to use themselves -- and when they couldn't find what they needed, they created it. Cressi continues to be relevant by keeping the consumer as the main focus of the process. We invite you to dive into the Cressi world.