Apeks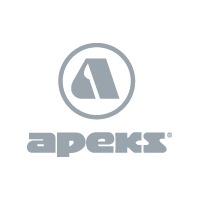 Created in 1974 in Blackburn, England, Apeks brings the precision engineering of Ken Ainscough and Eric Partington to those who love discovering the cold waters. Apeks, an anagram of the founders' initials, was created to produce superior performing cold water regulators suited for the UK and around. Now, divers around the world, including the military, trust Apeks to deliver the best diving gear.
To breath in the most efficient way in cold waters and great depths, Apeks uses the over-balanced diaphragm design with an environmental dry sealing system. This allows for effortless breathing and prevents ice build up that can occur in extreme environments. Nowadays, Apeks is part of the Aqua Lung family, and together they continue to provide dive gear for the most technical divers.
Extreme Adventures Made Possible with Apeks
Apeks' search for safe gear took them to produce every element of its regulators in-house. Still based in England, the factory tools the brass and chromes it, injection molds the plastic parts, manufactures the hoses, assembles and test all units. Explore the coldest and deepest parts of the world with Apeks. Dive below the thick sheets of ice in Antarctica, where waters are as cold as 28F, and witness a variety of marine life, from the small critters to the larger mammals. Or stay local with Divers Direct and check out the Queen of Nassau in the Florida Keys, and hang out with schools of Scalloped Hammerheads in this 220 feet shipwreck dive. With Apeks, your technical diving adventures become possible.
Dive with Apeks
Committed to finding the best gear for frigid waters, Apeks has moved a long way. Nowadays, part of the Aqua Lung family, Apeks continues to improve all its gear to deliver the best diving experience possible.