Women's Dive Day
A Note from our CEO on Women's Dive Day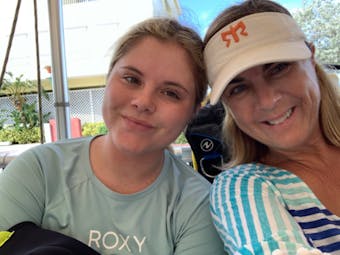 Happy Women's Dive Day!  Living in the Florida Keys, I am fortunate to meet many divers, but female educators who teach diving are a special group. This year, I want to give a big shout out to female educators who are teaching a new generation of young people how to dive responsibly and protect the oceans. Whether you are a female dive instructor like Wendy who works out of our Orlando store, an iCare intern like Mackenzie who works at our Key Largo store, or a marine science educator like Beth who teaches at the local high school in the Keys, you are inspiring young people to be curious, to explore, and to be aware of the delicate ecosystem we have on our coral reefs. While young people need reading, writing, and math, they also need outdoor pursuits. Thank you for your dedication to spreading the love of diving, marine life, and a healthy lifestyle. Please keep spreading your passion to the next set of young girls who dream of being scientists and exploring the world's waters and the creatures who inhabit them. Let's hope that they are celebrating Women's Dive Day for many years to come.
7 of the Most Inspirational Women in Diving
Dottie Frazier will always be remembered as the pioneer for women in diving. Holding the titles of first female freediving and spearfishing athlete, first female scuba instructor, and first woman to own a dive shop (among many other firsts), Dottie knew all too well that "Being underwater does things to your spirit" and we couldn't agree more. Did you know that Dottie Frazier also pioneered women's wetsuit designs? Thank you, Dottie, for taking the first challenge, at 6 years old, to retrieve that coffee pot from the ocean floor freediving 15 feet for your Dad. And thank you to all the men in her life who encouraged and supported her along the way.We stand in awe and are inspired. Anything is possible.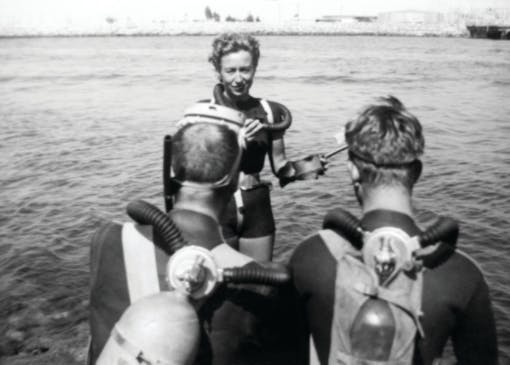 The Shark Lady, Dr. Eugenie Clark, is another inspirational woman who has left her mark on the world of diving. An Ichthyologist who gained worldwide recognition as the scientific authority on fish, Dr. Clark wrote three books and about 160 scientific papers focused on sharks, fish, and the ocean. Having received many honors, awards, and medals, sharks and their behavior were Dr. Clark's passion. She even founded what is now Mote Marine Laboratory so she could devote more time to shark research. Having conducted 72 deep submersible dives, this Shark Lady lives on in our hearts and every time we see a shark on a dive, we think of her. Having gone on a dive to celebrate her 92nd birthday, it's no wonder Dr. Clark continues to inspire so many.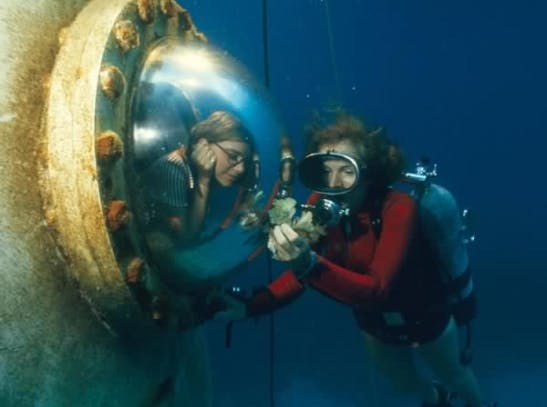 Dr. Sylvia Earle, known as Her Deepness, says that diving regularly is the secret to her vitality. A marine biologist who's forged the way in attaining knowledge about our oceans and marine life, including walking on the ocean floor at 1,250 feet below the surface for 2 ½ hours, Dr. Earle has absolutely earned the title Her Deepness. Receiving more than 100 national and international honors and an Explorer-in-Residence for National Geographic, Dr Earle continues her work to protect the oceans through Mission Blue. Our hats off to this scientist, engineer, teacher, and explorer who knows that divers are best positioned to champion and protect the oceans. 
A tech diver who set the bar in cave diving, Jill Heinerth is one lady diver that leaves us in awe. This record holding cave diver, explorer, filmmaker, and author has devoted her life to advocating for the oceans. Recipient of numerous awards, Jill was the first person to dive into the iceberg caves of Antarctica. Her work with numerous scientists led to her team assisting with a 3D mapping project below the surface. As humble as the day is long, Jill continues to explore and inspire.
Shirley Lee is the first woman of color to receive a scuba diving certification. Born an athlete, she already had a natural love for the water and enjoyed working as a lifeguard in her youth. Once scuba diving found her, she was hooked. Shirley has logged over 1,000 dives all over the world and is a founding member of The National Association of Black Scuba Divers (NABS). Shirley has mentored, trained, and inspired numerous divers over the years.
Lotte Baierl Hass, also known as the first lady of diving, was the first underwater model. Learning to operate a closed circuit rebreather in the water, Lotte was the only female crew member on the filming of Adventure in the Red Sea. Co-producing films and co-writing many books about the ocean, Lotte left her mark on the world of diving and inspires us to keep our fears in check and adventure on. 
Zale Parry was the first woman to go below 200 feet, first woman president of the Underwater Photographic Society, did dives for every studio in Hollywood, and is known for her work on the first civilian hyperbaric chamber. Thank you, Zale, for blazing the path and for your part in making diving a little safer for us all. Having received numerous awards for all of her work, Zale encourages everyone to experience the underwater world.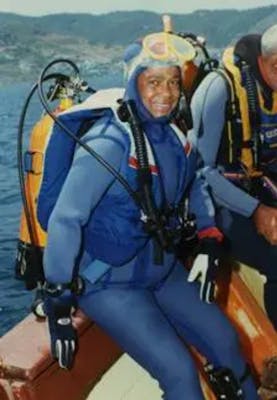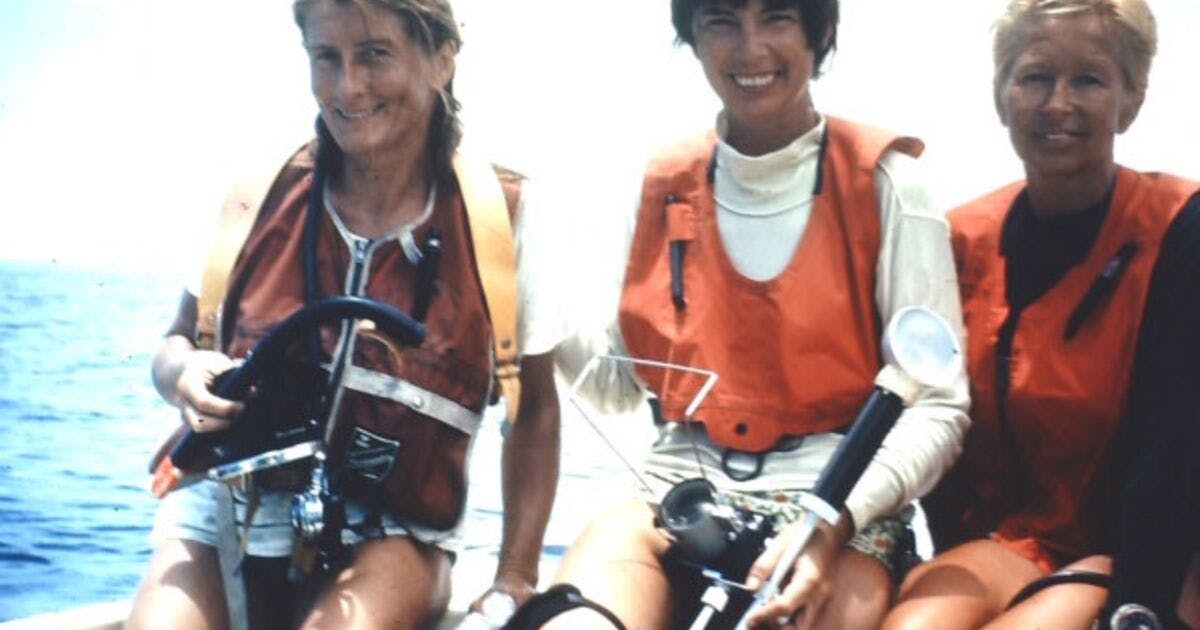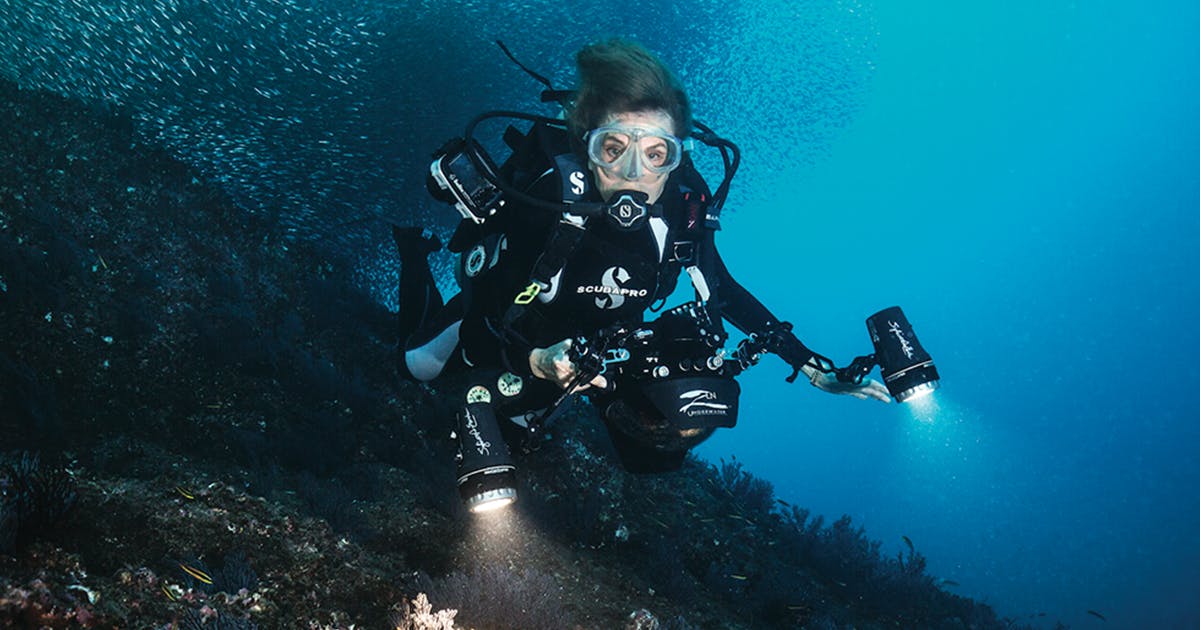 When women like Dottie Frazier started diving, they had to contend with ill fitting dive gear that didn't take a woman's curves into account. It's no surprise that Dottie went to work designing the first women's wetsuit and drysuit. Before long, she was designing wetsuits for men and women. Even though it was a vast improvement, the lack of give and stretch left room for advancements. 
Today, we're lucky to have a wide selection of dive gear designed for men, women, and children. From wetsuits and BCDs to masks and fins that fit the different frames and deliver a much more comfortable dive experience for all.
If it weren't for the ladies mentioned above as well as thousands of other amazing women working to make scuba diving a sport for everyone, we wouldn't be where we are today. 
With a bright future, the sport of diving along with all the dive gear continue to evolve with advancements in technology, materials, and fabrics. Across the globe, women are making their mark in the world of diving, and we're watching, learning, and listening. 
Having a female CEO and women in management positions throughout the company, Divers Direct clearly supports women in diving. We're looking forward to seeing the impact the next group of inspirational women have on diving, dive gear, our oceans, and the ocean dwellers.
Happy Women's Dive Day!