Top Snorkeling Spots: Florida's Hidden Gems
We've seen it time and again, the top snorkeling spots in Florida are almost always loaded with locations in the Keys. Though the Keys are near and dear to our hearts, we're doing things a bit differently 'cause that's how we roll. Yeah, we'll include some spots in the Keys, but our focus here is on the lesser known, and equally amazing, snorkeling spots throughout the state of Florida. Those hidden gems that the locals know and love. With that in mind, we're breaking it down by region, so grab your fins and let's head for the water.
The Panhandle
Highly underrated, the Florida Panhandle offers a variety of snorkeling opportunities for everyone looking to check out what's happening below the surface. So here are a few of our hot spots and hidden gems along the area.
Pensacola
Pensacola has a jetty, the Catherine wreck, and a few reefs, and we've decided our favorite spot in this area is the Pensacola Beach Gulf Snorkel Reef. Just 500 feet offshore, this artificial reef attracts a variety of marine life that lives in the gulf. This reef provides the backdrop for an enjoyable day snorkeling around to watch and explore what's happening below the surface. Because of its location, this is a family friendly snorkel adventure that's easy to get to.
Navarre
If you're new to snorkeling and want to get your feet wet, the Navarre Beach Marine Sanctuary is the perfect place to drop in. An artificial reef just off the coast, this snorkeling adventure offers multiple pilings (about 80) with life forming around the manmade discs. Attracting a variety of gulf marine life, this site is maintained by volunteers and is sure to delight everyone in your group.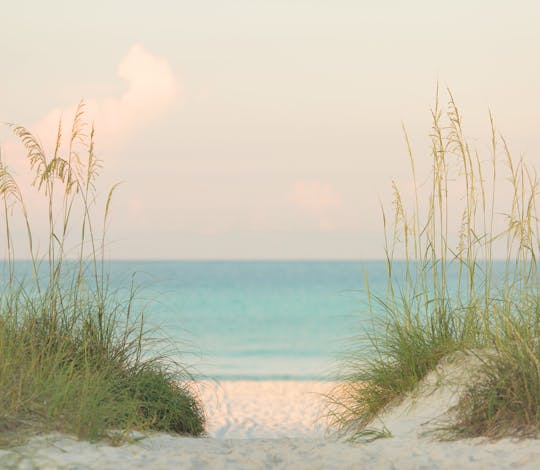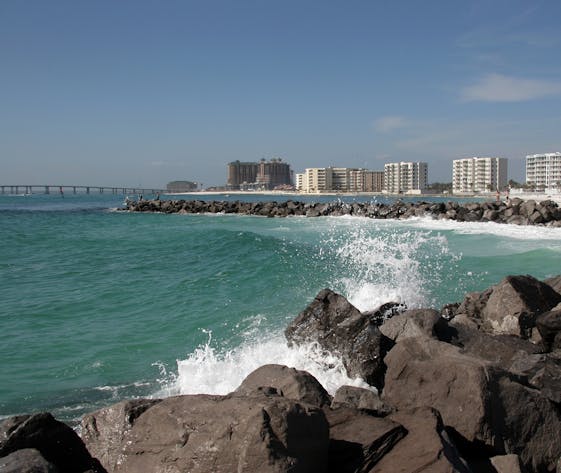 Destin
Snorkeling the Destin East Jetty, we fell in love with the octopus who calls the area home. There are several octopus that call this jetty home along with wrasse, sergeant majors, crab, and puffer fish. Crystal clear waters that are almost as calm as a lake, everyone will enjoy slipping to these waters and checking out what lies beneath. 
Ponce de Leon
Though you'll want to check the clarity level before planning a trip to Morrison Springs Park, they keep it updated so you know what you're getting. Why this spot? With a 250 ft diameter spring, you've got some exploring to do. And though they allow boats here, you'll enjoy exploring a protected area. Being it is a spring, conditions are usually calm and clear. I can't think of a better way to introduce someone to snorkeling. Talk about a low key chill day in the water.
Just a short drive away is Ponce de Leon Springs State Park. With refreshingly cool waters at 68 degrees year round, this spring offers crystal clear waters when you're looking to cool off in the summer heat. Drop in and explore what is often referred to as the fountain of youth in these parts. Embrace your inner child and jump in…we actually think being called childish is a compliment. It shows that we know what matters.
North Florida
Among the most popular places in this part of the state are Ginnie Springs, Devil's Den, and Three Sisters Springs; however, we've got a couple of spots that you're gonna want to add to your list. 
Ocala
Located in the Ocala National Forest, Alexander Springs is sure to delight everyone in the group. An easy snorkel adventure with crystal clear waters that stay 72 degrees year-round, what's not to love? With the schools of fish, turtles, and other marine life, there's plenty to see. And if the aquatic creatures don't hold your interest, surely the animals inhabiting the land will make you ooh and aah.
Silver Glen Springs is another little gem that's perfect for the whole family and is also located in Ocala National Forest. Crystal clear water that varies in depth from waist deep to about 25 feet deep, your entire crew will enjoy checking out the aquatic life in this area. With a designated swimming area, you're sure to meet a fish or two if you hang out a bit.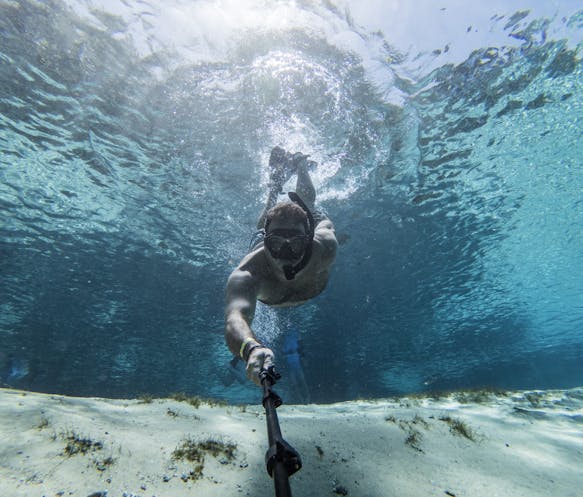 Central Florida
With wrecks and reefs a plenty, let's jump in to explore what's off the coast, in the intracoastal, and viewable via snorkeling in this section of the state.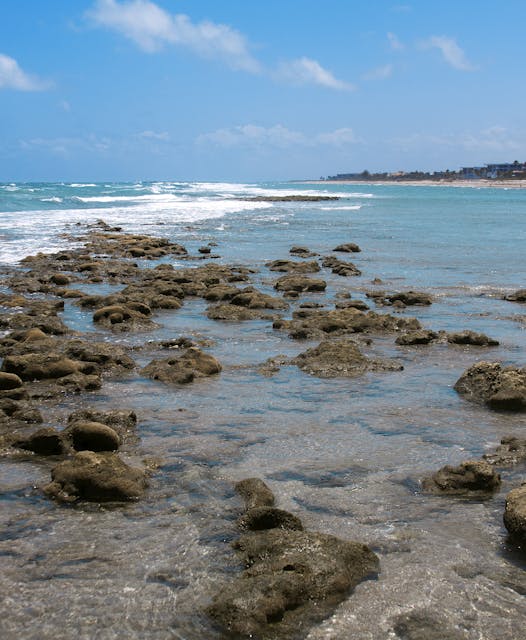 Vero Beach
Wade in and check out the SS Breconshire, also referred to as The Boiler shipwreck just off the coast in Vero Beach. Easily accessible from the beach, we can't think of a better place to sit back and marvel at the full moon than this lovely site. When conditions are right, you can see this 300 foot long wreck easily from the surface and it's not a long swim out to the site from the beach. Turtles, stingrays, and plenty of tropical fish call this location home so everyone will enjoy spending time discovering what this snorkeling stie has to offer.
Fort Pierce
With shallow reefs just 100 feet off the shore, Pepper Park is a snorkeling site for everyone's list. With the Urca De Lima wreck, Florida's first underwater archeological site, sitting in about 20 feet of water, an array of reefs, and abundance of ocean dwellers, why wouldn't you come visit this hidden gem? Easy to access, this location makes for a fun day for adventurers of all ages and skill levels.
Stuart
With Bathtub Reef, St. Lucie Inlet Preserve State Park, and Jensen Beach to Jupiter Inlet Aquatic Preserve all within minutes of each other, you don't want to miss this area. Dolphin sightings are frequent (daily) and the variety of marine life in the different areas is sure to delight snorkelers of all ages. With tons of snorkeling sites, including reefs and wrecks, if you don't want to fight traffic on land, try a boat charter for part of the day, the whole day, or…why not a couple of days? There's so much to see and do here, it might just take two full days to satisfy that snorkeling itch.
Egmont Key
Snorkeling Egmont Key is only reachable by boat; however, checking out part of a fort from 1898 that is now underwater…why wouldn't you? This remote island doesn't offer drinking water nor bathrooms; however, tourists flock to the island for hiking, history, and snorkeling. Part of a nature preserve, this snorkeling site is a must see.
Siesta Key
With calm waters and depths starting at 6 feet, there's plenty to see at Point of Rocks on Siesta Key. Abundant ocean life and an easy beach entry draws snorkelers of all ages into the water to explore what lies beneath. Plants, algae, and corals play host to crabs and an array of fish for your viewing pleasure. 
South Florida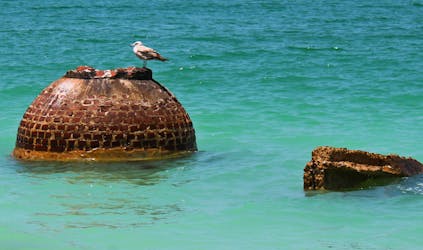 Honestly, you can walk into the water from almost any beach in the area, swim out a bit, and you're on top of the reef. There are plenty of hot spots in this part of Florida and these are a few of our favorite, lesser known sites.
Jupiter
Grab your gear and head on over to Coral Cove Park for a swim out to look at this man made reef. Abundant with marine life, the visibility is usually spot on so you can see all the ocean dwellers as they go about their day. Since there is a plethora of marine life playing around this limestone boulder, don't be surprised if a shark or two stop by to check out the scenery also. A great spot to visit, you're sure to enjoy the swim out, visiting with all the aquatic life, and the swim back to shore.
West Palm Beach
Blue Heron Bridge is a no-brainer for all the snorkeling enthusiasts, but did you know that Peanut Island, a short hop south, has some pretty amazing snorkeling as well? With a shallow water reef habitat, located on the intracoastal, this area is sure to get even the most reluctant of the group in the water with oohs and aahs. Reachable from the beach or by boat charter, The Breakers Reef draws quite a crowd noting that the west side of this reef delivers on abundant marine life including nurse sharks and sea turtles.
Boca Raton
Though recently added to, Red Reef Park's snorkel reef is man made and thriving with ocean life. With the recent addition of more limestone boulders, this area continues to grow and is a local favorite. As this artificial reef develops further, you'll see even more aquatic creatures calling it home. One of the few spots that also offers a boardwalk and bathroom facilities, this beach entry site is ideal for all snorkel adventurers.
Lauderdale by the Sea
North or south of the pier off Commercial Blvd, just walk in the water and swim out a bit. Before you know it, you'll be on top of the inner reef with plenty of marine life. For the more adventurous swimmer, if you head out a bit further, you'll be rewarded with the mid-reef and even more diverse ocean dwellers. Just make certain you bring along a dive flag as boat traffic is high in this area.
The Keys
It might surprise you that our top snorkeling spots are not Key West nor Key Largo. While there is plenty of amazing snorkeling there, as locals we prefer Islamorada, Marathon, and Looe Key. Now, snorkeling in the keys usually requires a boat, so check out the local charters and find one that's right for your group.
Islamorada
Starting on the north end and making our way south, we drop in at Hens & Chickens patch reef to snorkel around the reef formation that resembles a mother hen and her chicks. If you hit it just right, you might get to see a hawksbill turtle, spotted trunkfish, bicolor damselfish, and more. With plenty of ocean life to see from the surface, snorkelers of all ages and abilities will enjoy this site. Next, we head down to Cheeca Rocks patch reef, which is a small reef to snorkel, but well worth the time and effort. With depths ranging 8 to 20 feet and an array of marine life including turtles, eels, bluehead wrasse, and more this stop will have everyone talking about the amazing ocean life for months to come.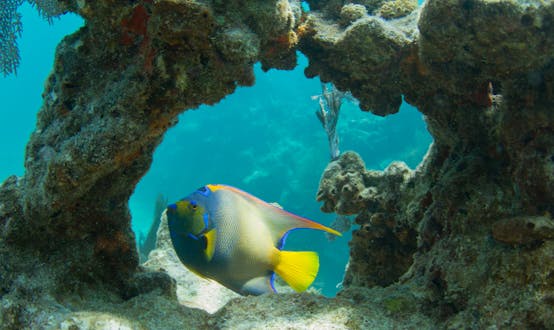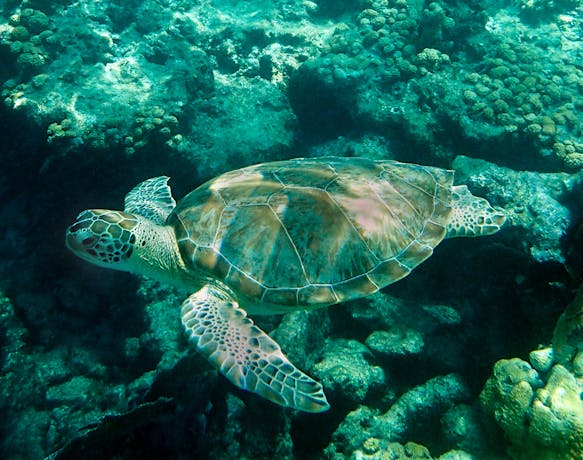 Marathon
Of course Sombrero Reef is amazing and everyone knows about this lovely gem; however, has anyone boasted about snorkeling Coffins Patch? You might be the first of your friends and family to visit this local gem. Coffins Patch offers depths from 6 to 25 feet and rewards you with pillar coral, stingrays, nurse sharks, and butterfly fish. A memorable site, each and every snorkeler will enjoy the vast array of marine life at this location.
Looe Key
With parrotfish and surgeonfish to the north and butterflyfish and angelfish on the crest of this reef, Looe Key offers a bounty of ocean dwellers that'll run your underwater camera battery out. We hope you have a backup because you're going to want to capture every minute of this snorkel spot. And when people ooh and aah over your footage, they'll be amazed that you found this little gem they've never heard of before. We got you.
Though our friends and family might not be too happy about our sharing these hidden gems, we think you'll enjoy exploring some lesser known spots that are just as good - if not better than - the best known and most talked about locations to snorkel in the great state of Florida. 
Pack a picnic lunch, water bottles, and a few beach towels to go along with your snorkel gear for an easy day of fun for the whole family. We enjoy embracing our inner child and getting out to play in the water, so we're off to check out one of those boat charters we mentioned earlier.
Where is your next adventure taking you?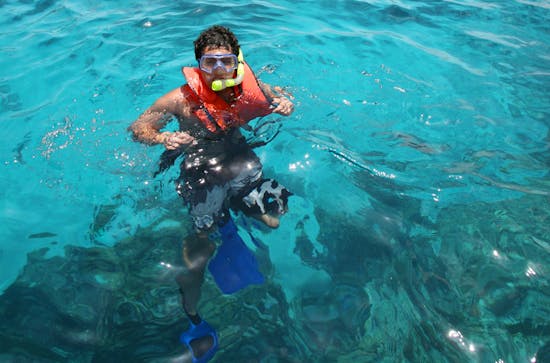 Snorkeling FAQ
What gear do I need to go snorkeling?
For snorkeling, you'll need a mask, fins, and snorkel along with whatever bathing suit and/or rash guard you prefer. Yep, it's that easy.
Which snorkel is best for snorkeling?
We prefer a dry snorkel or a semi-dry snorkel when staying on the surface snorkeling. It keeps more water out, usually has an easy purge valve, and is easier all around. If you're looking for more in depth information, check out our Snorkel Buyer's Guide.
Which fins are best for snorkeling?
This comes down to personal preference. We recommend open heel fins when diving from shore because you'll wear dive boots that protect your feet from rocks and hot sand as you head into the water. They also usually give you better traction if you are traversing over a rocky, slippery area before entering the water. Open heel fins are also adjustable so you can get a better, more customized fit. Full foot fins allow you to take along less gear because you don't need dive boots and the fins slip on your bare feet easily. 
Do I need a life jacket while snorkeling?
No, you don't need one; however, some people prefer to snorkel with a snorkeling vest on. We prefer to have a snorkeling vest on swimmers who aren't as strong, as well as children. Just in case.
Do you really see much while snorkeling?
Actually, yes. We've had fish swim up and check us out because they're just as curious about us as we are about them. One time a sea turtle tagged along for part of a snorkeling adventure, and we recently got to watch a baby dolphin play with a puffer fish inches below the surface about 2 feet away from us.