Top 10 Snorkel/Dive Sites in The Florida keys
Home to the third-largest barrier reef in the world, and with something for every diver, the Florida Keys is one of the best places in the world to go diving. Known as the diving capital of the world, the opportunities for divers of all certification levels are endless. From colorful coral reefs only 15 ft deep, to 500 ft wrecks in 120 ft of water, and everything in between, you could dive the Florida Keys your entire life and still not see everything it has to offer.
In this blog, we'd like to go over some of the top 10 dive sites in the Florida Keys. They're just sitting there on the ocean floor waiting for you to dive in and explore their underwater world. The Florida Keys feature a wreck trek that contains 9 incredible wrecks, some of which sit in 25 ft of water, and others sit 125 ft under the surface. Off the trail there are an estimated 1,000 shipwrecks total. Many of the wrecks on this list require advanced certifications, but even if you can't dive those deep wrecks, you can still explore the 3,000 square miles of marine sanctuary with the largest marine diversity on the planet. 
John Pennekamp Coral Reef State Park, Key Largo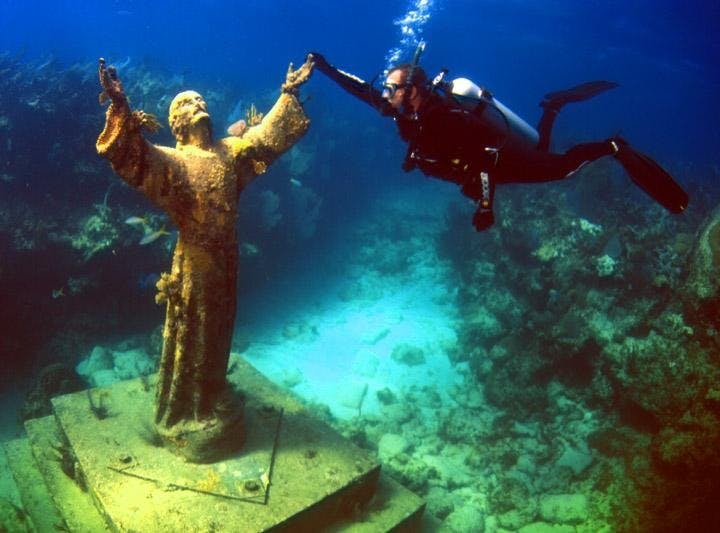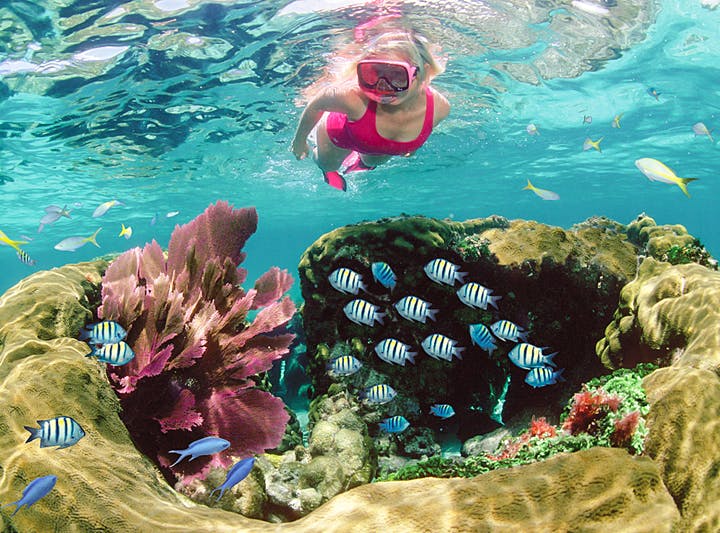 One of the most iconic dive sites in the Florida Keys is the Christ of The Abyss. With its arms stretched out as a memorial to all those who have lost their lives at sea and a monument for the divers that continue to dive around the world. Located in John Pennekamp Coral Reef State Park, the 10 ft tall statue sits in just 25 ft of water. This gives snorkelers and divers alike the opportunity to explore this historic statue, which sits in the middle of an incredible coral reef. The top of the statue can be reached 8 to 10 ft below the surface, so even novice snorkelers can get down to experience its beauty. However, it is scuba divers that get the best view of the statue. You'll have the opportunity to see the occasional barracuda or ray swimming by, and with plenty of mooring buoys, you can set yourself up for an amazing dive without destroying the reef. Visibility is typically 60 feet, so don't forget your camera!
If you need any gear, or a charter to take you out, stop by our store in Key Largo to buy your gear and you can rent a charter from the park. If you already have everything you need, then get out and explore the 70 square miles of protected underwater park. And always remember to look, but do not touch or take.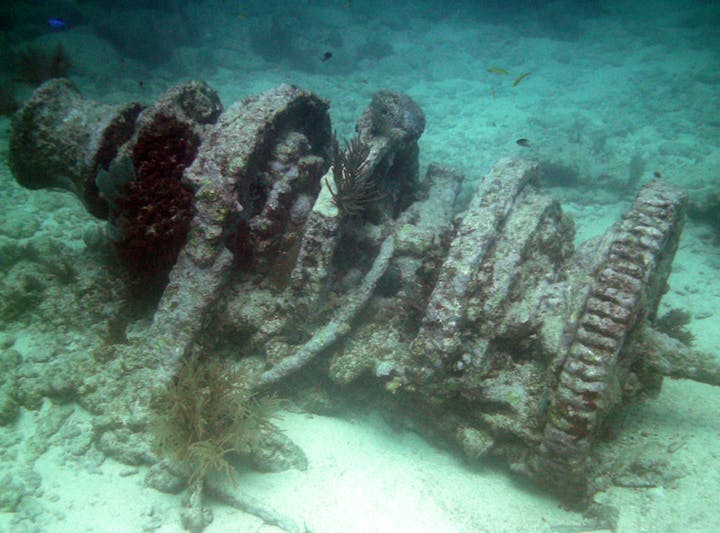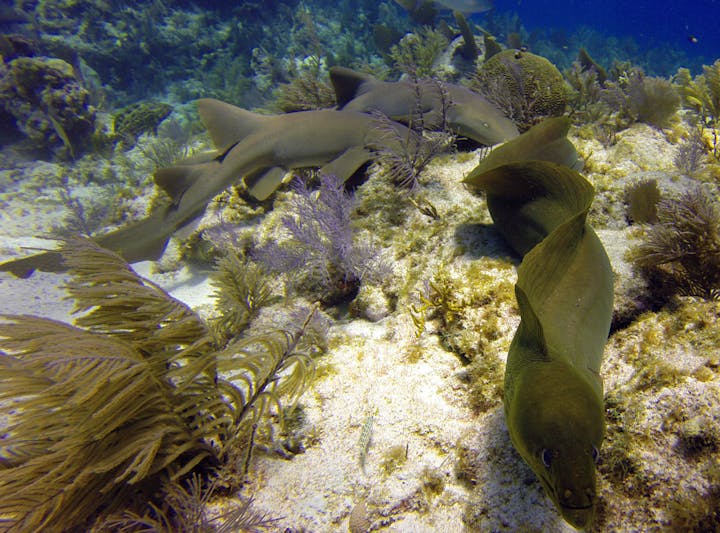 When it comes to an abundance and diversity of marine life, Molasses Reef is known as one of the top reefs in the Caribbean. It is actually the most heavily visited coral reef in the upper Florida Keys. Located about 6 miles off of Key Largo, Molasses Reef is one of the closest reefs to the clear waters of the Gulf Stream. It is also located within the Florida Keys National Marine Sanctuary.
Known for its boulder coral formations, the Molasses Reef always has something to see for every diver. You can see Hammerhead Sharks, Hawksbill and Loggerhead Sea Turtles, Angelfish, Nurse Sharks, Reef Sharks, Grouper, Rays, Eels, Lobster, and so much more! Recently, divers have noticed more Caribbean Reef Sharks patrolling the reef so keep an eye out. 
There are 32 different mooring buoys that you can attach to before diving into the water. Towards the north end of the reef, you can expect 10-15 feet of water, but heading southwest, the water can reach 65 feet deep. Most of the dive sites are within the 15-45 foot range, so this reef is perfect for open water divers or snorkelers. At the center of the reef, you will find a large ship's winch and a historic Spanish anchor. These are the typical photos you will see of this reef.
Heading to the middle keys, Sombrero Reef is one of the most incredible snorkeling spots in the keys. Marked by a 140 ft tall lighthouse, this reef is part of a protected marine preserve and an excellent dive site for amateur divers and snorkelers. With depths reaching 35 feet, it can make an excellent trip to bring your kids or inexperienced divers. But with the incredible abundance of marine life, divers of all levels can enjoy this reef. It is common to have a strong current at this site, so always snorkel/dive into the current so that once you get tired, you can drift back towards your moored boat. The 30 acres of reef is protected, so you will be able to see an extremely diverse variety of marine life including parrotfish, turtles, nurse sharks, bull sharks, grouper, barracuda, angelfish, snapper, and so much more.
Florida Keys
Snorkeling Essentials
Intentionally sunk in 1987, this 327 ft long coast guard vessel sits in 125 ft of water as an artificial reef. The crows nest towers to 60 ft of water, and is the first thing you'll see as you descend into the abyss. The top deck, where most of your dive will be done, sits at 105 ft deep. Because this wreck is a deeper dive, it is best done with Nitrox to allow for the most amount of bottom time. If you want to penetrate the wreck, it is recommended that you have your advanced deep dive and wreck specialty, as well as a reel to help you navigate the wreck.
The Duane has been sitting at the bottom of the ocean for over 30 years now and has become home to some amazing marine life. You can see lots of barracuda, nurse shark, snapper, sea turtles, moray eels, bull sharks, goliath grouper, reef sharks, and even great hammerhead sharks. Recently there have been great white and whale shark sightings, but they are not very common and will depend on the weather.
USNS General Hoyt S. Vandenberg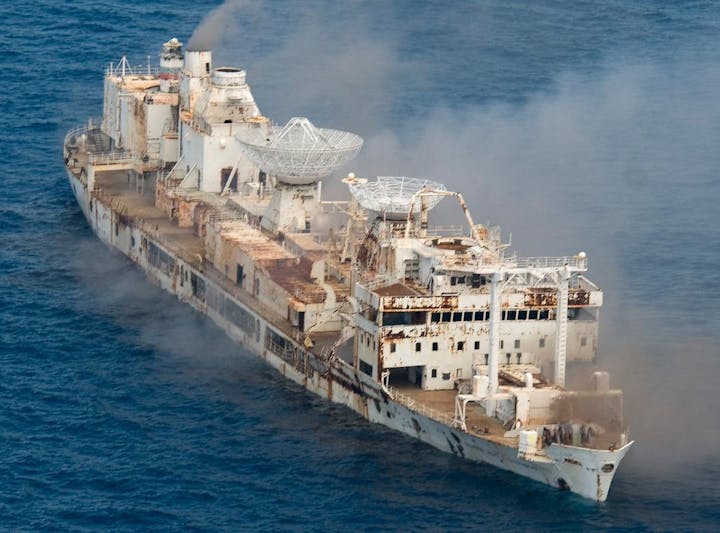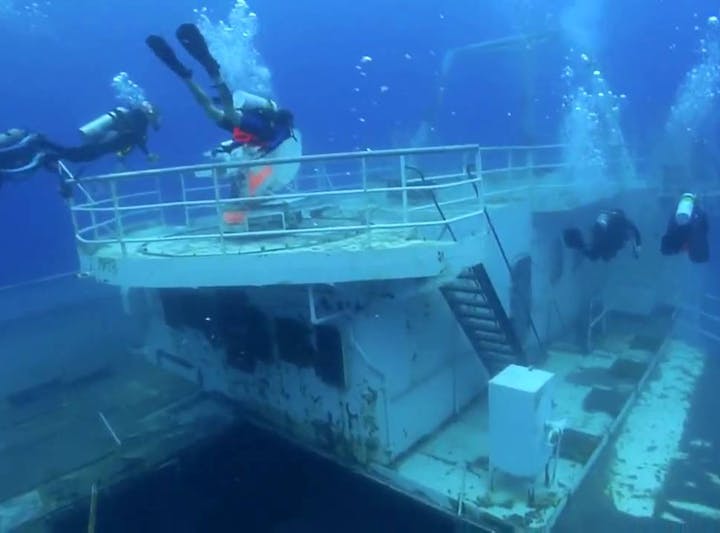 As the second largest ship ever intentionally sunk to create an artificial reef, the USNS General Hoyt S. Vandenberg is 527 ft long and sits 140 ft below the ocean's surface about 7 miles south of Key West. The height of the ship is 100 ft tall, meaning you can reach its highest point in just 40 ft of water. The stacks, masts, and antennas were actually trimmed to allow the 40 ft clearance. 
The Vandenberg was a former military transport ship in WWII and a missile-tracking ship in the cold war. It was then featured in the 1999 movie "Virus" as a Russian science ship. Divers can still see Russian signs and decorations that were put there for the movie. The Vandenberg was sunk in 2009, so it hasn't had the most amount of time to accumulate marine life, but that doesn't mean there's no life that calls it home.
When it comes to marine life, you can see goliath grouper, barracuda, snapper, parrotfish, moray eels, angelfish, and more! One of the staples of this wreck are the enormous radio dishes. However, thanks to previous hurricanes they have actually been ripped off from their original position and pretty much destroyed.
USS Spiegel Grove Wreck (LSD-32)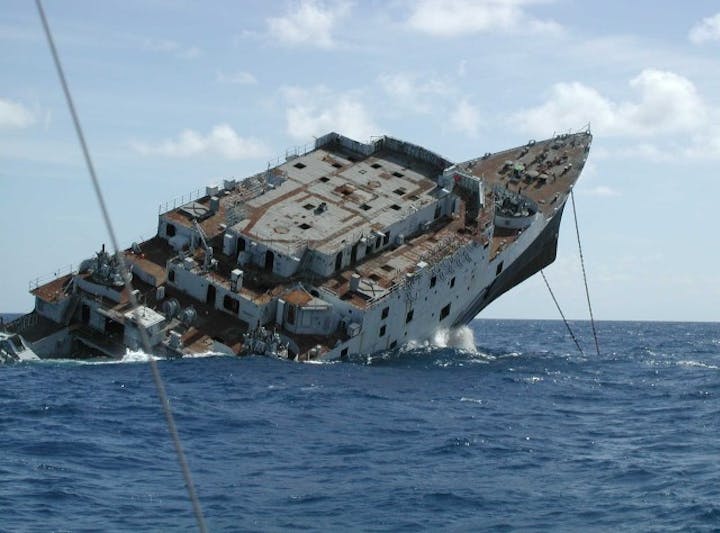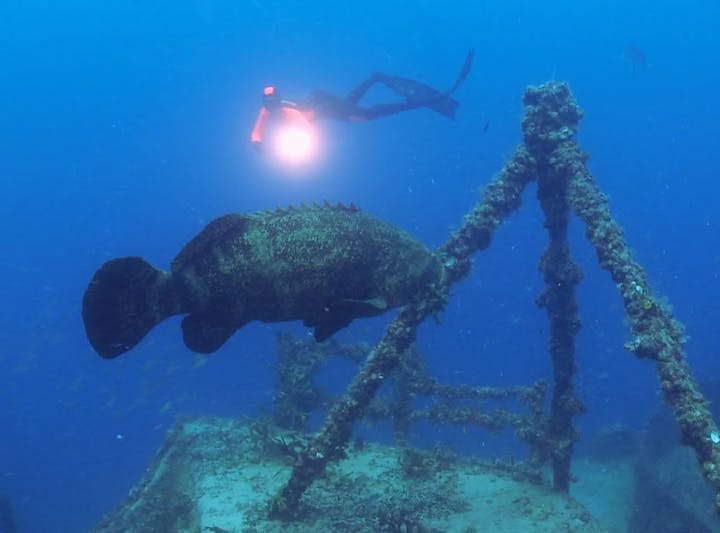 The USS Spiegel Grove wreck is one of the most incredible wrecks you can dive in the Florida Keys. The Spiegel Grove takes the title of 3rd largest artificial reef in the world. At 510 ft long with an 84 ft beam, this wreck is absolutely massive. There are divers who have been diving the Spiegel Grove for decades, and still have yet to explore the entire wreck.
In 2002 the ship was sunk in 134 ft of water 6 miles off of Key Largo but it did not sink perfectly. During the intentional sinking, the ship rolled over and ended up upside down. It wasn't until 2005 when Hurricane Dennis turned the ship upright. Now the wreck sits upright with the superstructure reaching up to 60 ft in depth. However the best parts of the dive are between 70 and 90 ft deep. 
On this wreck you'll be able to see barracuda, sting rays, angelfish, goliath grouper, black grouper, parrotfish, reef sharks, and more. If you decide to penetrate the wreck, the Spiegel Grove features the "Snoopy Corridor" at around 80 feet. This is a long hallway that divers can pass through. The Spiegel Grove was commonly referred to as "Snoopy" or the "Top Dog".
If you take a second to look at the port side of the bow, you'll notice a plaque with the name of Divers Direct's late founder, Kevin Senecal. Kevin worked tirelessly to help get the project funded. And thanks to his efforts working with other Keys community members and the Chamber of Commerce, they were able to bring this incredible wreck to Key Largo. There can be a strong current on this wreck, so be cautious and always plan accordingly.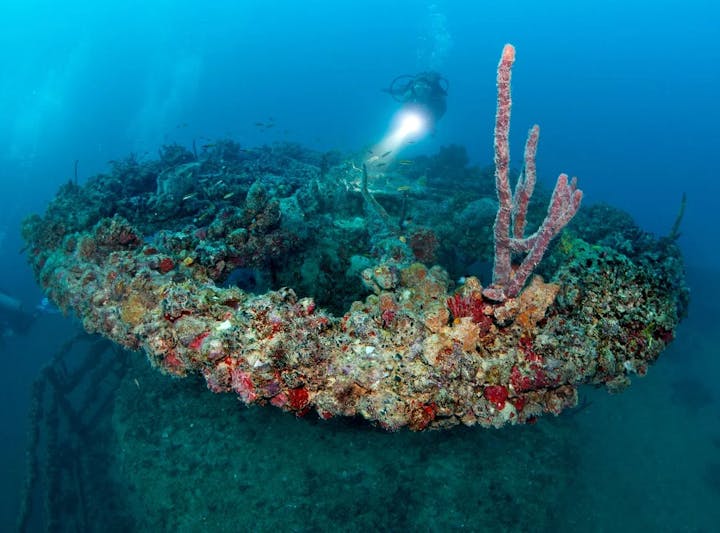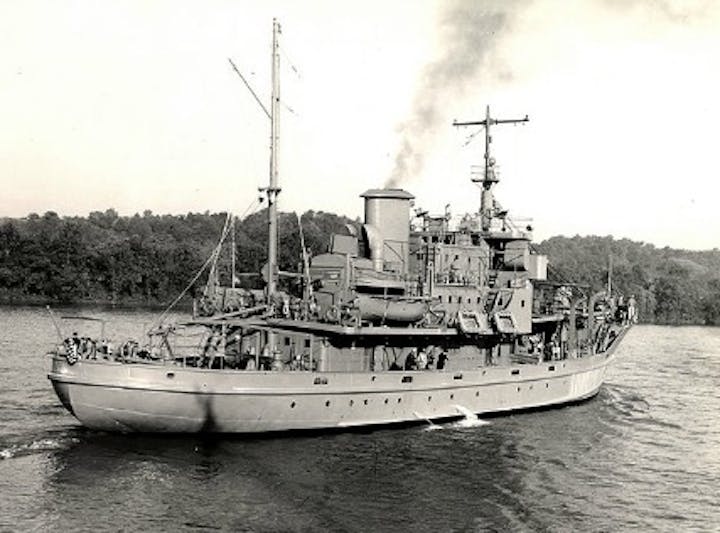 The 188 ft Thunderbolt, originally named the USS Randolph got its more epic name after it was retired from the army and used for lightning research. The ship was intentionally sunk 5 miles southeast of Marathon in 1986 in 115 ft of water as part of the Florida Keys Artificial Reef Association project. Since it was sunk, it has become a popular spearfishing spot with large game fish in the area. You can see goliath grouper, barracuda, sailfish, tarpon, permit, angelfish, amberjack, hogfish, reef shark, mutton snapper, conch, and tons of sponges and coral covering the wreck. One of the main attractions of this wreck is the large horizontal cable spool which was used to plant mines for the army. Today, it is completely covered in coral, and provides a home to many large goliath groupers.
There are no markers for this wreck, just 2 mooring buoys in 25 ft of water at the stern and the bow. The observation deck reaches 75 ft deep, so this dive should only be done by advanced certified divers. Strong currents are common at this dive site, so be wary of your oxygen consumption and plan your dive accordingly. There's no question as to why this is Marathon's most popular wreck. With so much to see, and big fish to shoot, it's the perfect dive site for the avid diver and spearo.
Florida Keys
Diving Essentials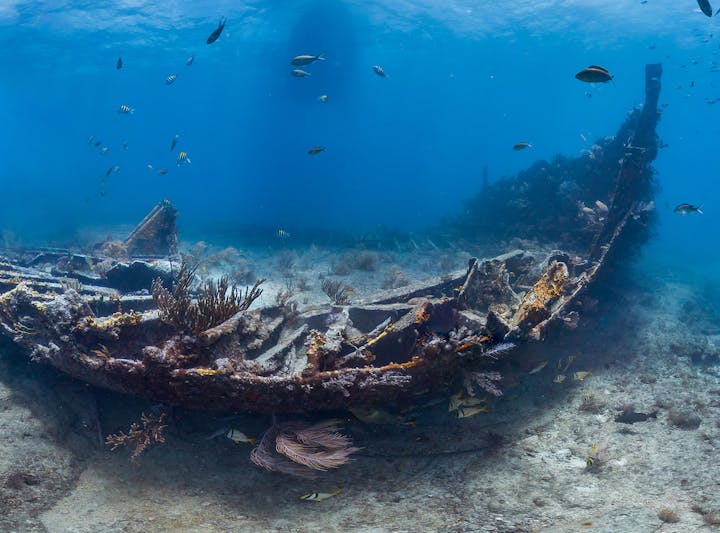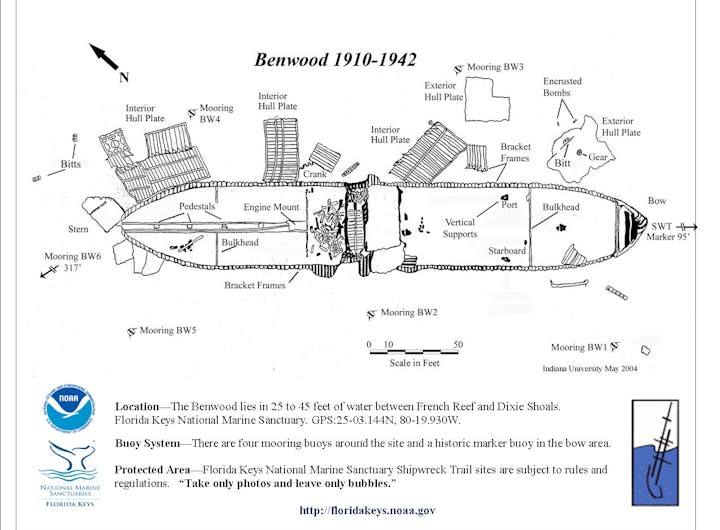 The Benwood wreck is the only real "wreck" on this list. In 1942, the SS Benwood ran a "blackout" tactic to avoid being spotted by German U-2 boats. Unfortunately the Robert C. Tuttle was also blacked out traveling in the same area. On April 9th, the two ships collided. This collision smashed the bow of the Benwood into the port side of the Tuttle. The Tuttle was not in any immediate danger, as it was a much larger ship, but the Benwood's bow was destroyed, and they were taking on water. The captain turned the Benwood toward the shore, and made a run for land. However, a half hour later, the captain gave the orders to abandon the ship. 
The 360 ft long ship sank in 25 to 45 ft of water, and after being mostly salvaged, it was dynamited and used for aerial target practice after World War II. Today, the Benwood is not much of a ship to see, but the abundance of marine life that calls this wreck home never ceases to amaze divers. Diving this wreck, you can see parrotfish, moray eels, grouper, snook, lobster, barracuda, nurse shark, hogfish, angelfish, and so much more. The site is marked with a buoy and 4 anchoring buoys. There can be a mild current, but not one to worry about. And off the Benwood's bow there is a ridge known as "the elevator" by locals that goes down to about 80 ft. During Hurricane Irma the wreck was damaged, but an anchor was uncovered off the bow... another reason why Florida's wrecks are always changing and will never be fully explored.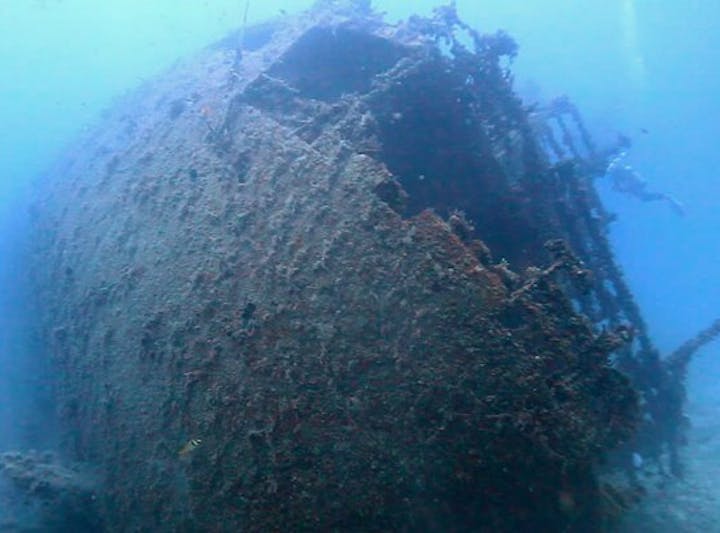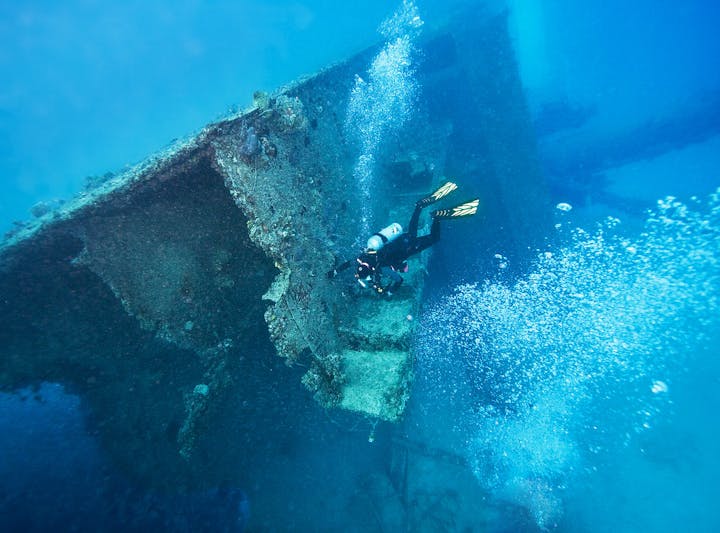 Known as the crown jewel of Islamorada's wrecks, The Eagle is a dutch freighter that sits 120 ft below the surface, 6 miles off of Lower Matecumbe Key, or about 3 miles northeast of the Alligator Reef Light. Intentionally sunk in 1985, the  287 ft long Eagle rests on its starboard side making it a rare site to see for divers. Navigation can be a bit confusing because up is left, and down is right depending which way you're headed of course. In 1998, the wreck was ripped into two sections by Hurricane George. This has allowed divers to see into the belly of the ship without entering through the storage compartment. The top of the superstructure reaches 70 ft deep, making this quite a large ship. If you follow the anchor chain out from the portside of the bow, you can watch it disappear into the sand, and then spot the anchor a little further.
When it comes to marine life, you can see grouper, angelfish, parrotfish, goliath grouper, yellowtail, barracuda, spiny oysters, shark, cobia, amberjack, tarpon, schools of permit, green morays, snook, triggerfish, spotted eagle rays and stingrays. The list goes on and on! Some divers favor the pelagics that frequent this wreck including bull sharks and even sawfish cruising through the gulf stream.
This wreck is an excellent dive site for instructors to teach deep, advanced wreck, and navigation diving. With the unique positioning, and large passageways, it's an instructors paradise. There can be a moderate to strong current though, so be conscious of the current before hopping in the water.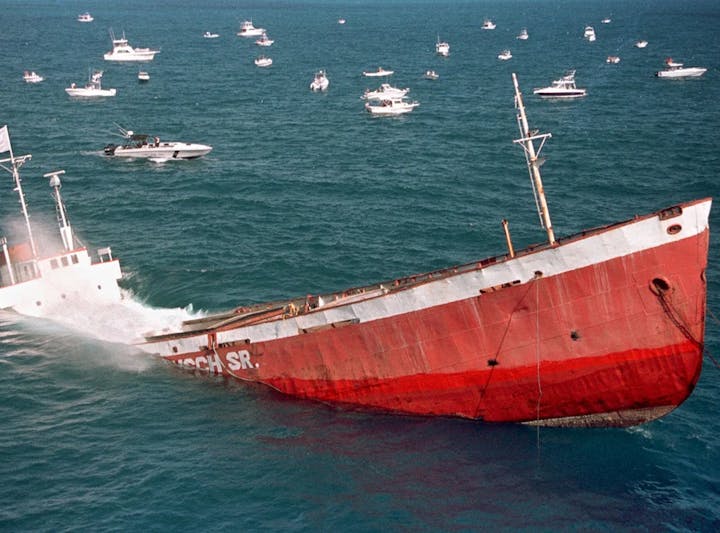 Another wreck sitting 6 miles southwest of Pine Key in the Florida Keys National Marine Sanctuary is the Adolphus Busch Sr. This 210 ft freighter sits upright in 110 ft of water. The ship's deck and wheelhouse sit at 80 feet, and its tower reaches up to 40 ft deep. Because it was sunk in protected water, dynamite could not be used to sink it. Instead, 12 carefully positioned holes were cut into the hull, and it was flooded. This resulted in perfect swim holes for divers looking to penetrate the wreck. The ship's anchors are embedded into the ground to help keep it stabilized, and the frame itself has dug into the sand due to the ship's weight. 
The Adolphus Busch Sr. has fulfilled its purpose of becoming a perfect habitat for marine life. When diving this wreck, you can see large goliath grouper, moray eels, cleaner shrimp, rays, all varieties of tropicals including angelfish and parrotfish, snook, spanish mackerel, barracuda, grunts, jacks, tarpon, ocean sponges and coral! Occasionally you can even spot a sea turtle cruising by, or an octopus tucked away in the nooks and crannies.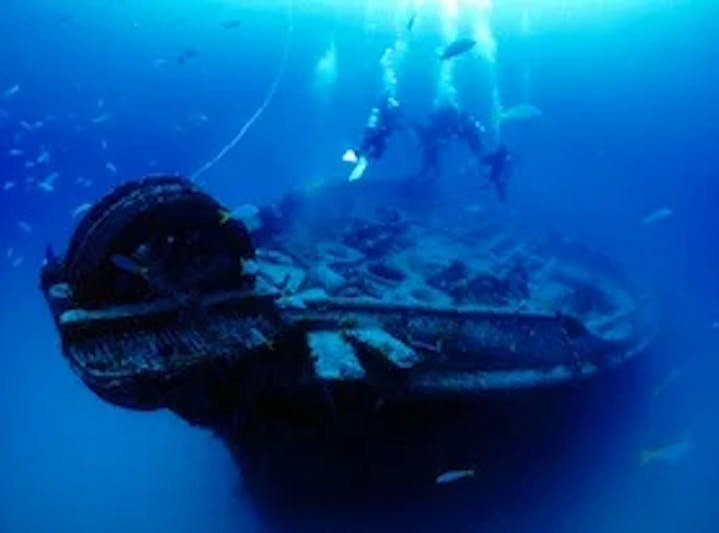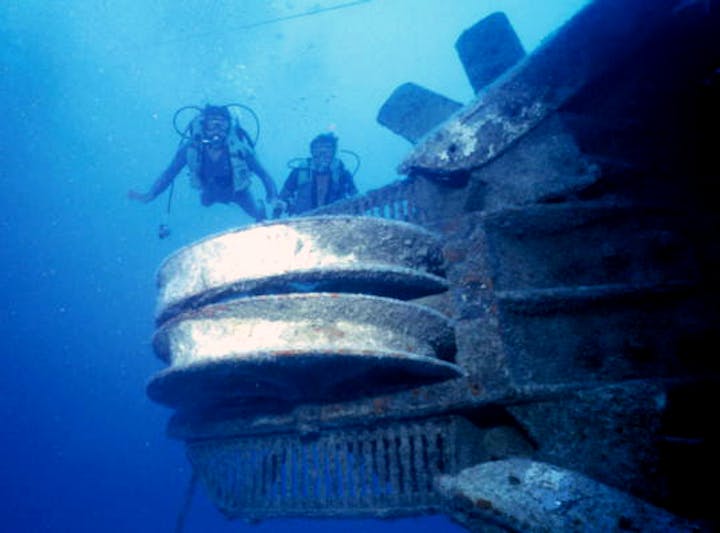 Finishing off our list is a wreck with a story. The Cayman Salvager is a 187 ft steel-hulled wreck that was used as a lighthouse buoy tender. From 1936 to 1979, it was used as a cable layer and freight hauler known as Cayman Salvor. But what really makes this wreck unique is that in 1979, the United States government seized the ship carrying 1,400 Cuban refugees during the Mariel boatlift. After seizure, the ship sat neglected in a Navy Harbor in Key West for 5 years where she actually sank in 1985. She was then refloated and it was finally decided to scuttle the ship to become a deep reef in 300 ft of water. While towing the ship to its final location, the cable snapped, and sent the Cayman Salvager down in 92 feet of water to rest on its side 7 miles southeast of Key West. This was excellent for recreational divers, because it gave them a chance to dive it. If it was sunk at 300 ft, only a select few divers would be able to explore this historical wreck.
The engine room and interior compartments of this wreck sit at around 80 ft, and open decks can be found at around 70 ft. Because this wreck is so close to the currents of the gulf stream, excellent visibility can be expected on most days. In 1985, shortly after it sank, Hurricane Kate shifted the Cayman Salvager to its upright position. This, along with its cavernous open holds allowed easier penetration for divers. The current at this site is normally not an issue, but there are times when it can get so strong that it is not even diveable. Make sure you check out the conditions before diving in.
When it comes to marine life, the Cayman Salvager hosts baitfish, snapper, moray eels, goliath grouper, octopus and a loggerhead sea turtle as well as barracudas and schools of silversides, permit and bar jacks. The wreck also includes some extra features such as three bicycles, a payphone, and a cable spool. Some say the bicycles were left by Cuban refugees, others say they were just put there to add interesting features to the wreck. We'll let you decide.
With hundreds of wrecks, and thousands of miles of coral reefs to be explored, the Florida Keys is the place to be. We had to throw in an extra dive site for you because there are so many, it's impossible to narrow down to just 10. As the diving capital of the world, diving is a way of life down in the keys. It provides business for the residents and vacations for people all around the world. So if you're headed down to the Florida Keys for a relaxing vacation, a diving adventure, or both, stop by Divers Direct in either Key Largo or Key West and we will be sure to hook you up with everything you need to have an unforgettable diving experience.
When is best to visit the Florida Keys?
If you want great weather, it is best to go during the dry season between December and March. Because the Florida Keys are so close to the equator, it does not get very cold during the "winter" anyways. It will still be in the low to mid 70s during the day.
Where is the Florida Keys National Marine Sanctuary?
The Florida Keys National Marine Sanctuary protects 2,900 square nautical miles of water surrounding the Florida Keys, from south Miami to the Dry Tortugas excluding Dry Tortugas National Park. Once you enter the Florida Keys, you have entered the sanctuary.
What certification do you need to scuba dive in the Florida Keys?
There are dive sites that cater to snorkelers and every level of diver. Many of the wrecks in the Florida Keys are deeper and require advanced certifications, but there are thousands of miles of reef for the everyday snorkeler, or open water diver to explore.
What is the best wreck dive in the Florida Keys?
This is all up to your preference, but many will say the USCG Cutter Duane is the best wreck dive in the Florida Keys. Some close runner ups include the USS Spiegel Grove and USNS Gen Hoyt S. Vandenberg.
Does Divers Direct have dive shops in the Florida Keys?
Yes! Divers Direct has 2 locations in the Florida Keys. One in Key Largo and one in Key West.