Celebrating Earth Month with: MANG®
At Divers Direct, we make sure to take corporate responsibility very seriously. Basically, we feel like Earth Month is every month! And when it comes to our vendors, we make sure that they too believe in maintaining the sustainability of our beautiful waters. After careful consideration we have decided to share MANG®'s products and messages in our stores. 
As avid ocean lovers we know how important it is to keep our oceans clean and healthy. Mangroves are essential to ocean ecosystems for a multitude of reasons! Some of which you may not even realize. Dive in below to learn more about MANG® and the importance of their mission.
Founded by twin brothers Keith and Kyle Rossin, MANG® has been growing and planting mangroves by hand since 2015 for all their Florida projects. With their Buy One. Plant One.® initiative, for every purchase, MANG® will plant a mangrove to help restore and preserve coastal ecosystems. Like we mentioned above, planting mangroves is extremely beneficial to the environment providing habitat for thousands of marine species, while also helping to combat climate change by absorbing and trapping carbon underneath their deep rooted soil.
Since their founding, MANG® has partnered with nonprofits, scientific researchers, and communities to plant over 520,000 mangroves. That's a lot of trees if you ask me! They have one mission; Change the World, One Mangrove at a Time.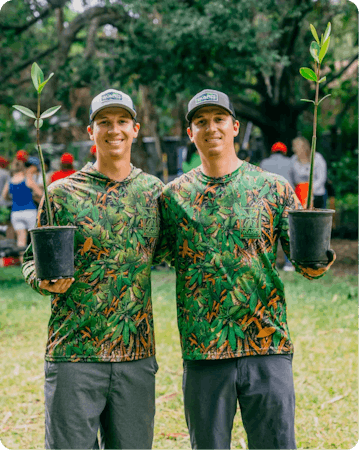 Planting Mangroves Around The World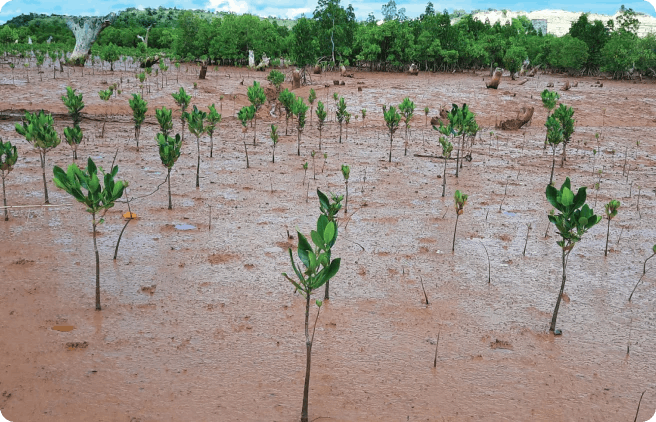 Since planting their first mangrove in West Palm Beach, FL in 2015, MANG® has planted over 8.1 acres of mangrove forests from the Florida Keys all the way up to the Indian River Lagoon in Brevard County. This generates $629,993 in ecosystem benefits, while sequestering over 56,000 lbs of carbon.
In the Bahamas, MANG® has partnered with Bonefish & Tarpon Trust to plant over 11,748 mangroves over 4.74 acres providing $368,662 in ecosystem benefits, sequestering over 33,000 lbs of carbon, and helping to restore the mangrove forests destroyed by Hurricane Dorian. In 2019, Hurricane Dorian devastated over 69 sq. miles of mangrove forests in the Bahamas. So MANG® has shipped 27,000 mangrove propagules so far, and has committed to planting 100,000 mangroves over the next 5 years.
MANG®'s farthest and largest venture is located in Madagascar! Charcoal farming and clear-cutting of forests have devastated over 90% of the nation's forests leaving the island and the over 200,000 species that live there in serious danger. MANG® has dedicated a plot of land in Madagascar, and with the help of Eden Reforestation Projects, they have planted 95.5 acres of mangrove forests generating $7.44 million in ecosystem benefits and sequestering over 668,000 lbs of carbon.
MANG® makes sure to cultivate their mangroves for at least 2 years so that they can grow strong and be ready for anything mother nature throws their way.
The Importance of Mangroves
Did you know that 75% of commercially caught fish have spent some time in the mangroves, or depended on food webs traced back to the mangroves? Mangroves are an extremely important part of the estuarine and ocean ecosystem. Their roots are used as a habitat for crabs, conch, and shrimp. Many fish such as snapper, Snook, and Tarpon will come to the mangroves to spawn, and then their juveniles will grow until they are ready to hunt out in the open ocean. The branches of mangroves are an excellent nesting site for a variety of bird species such as herons, egrets, and spoonbills. Even Key Deer and Florida Panthers will rely on this habitat at some point in their life.
Not only do mangroves provide habitat for thousands of species, but they are also the #1 carbon sequestration tree in the world. Mangroves absorb up to 4x more carbon than rainforests per hectare. After absorbing this carbon, they store it in the soils they live in. The removal of mangroves for development or shrimp farming can release all this carbon back into the atmosphere affecting climate change.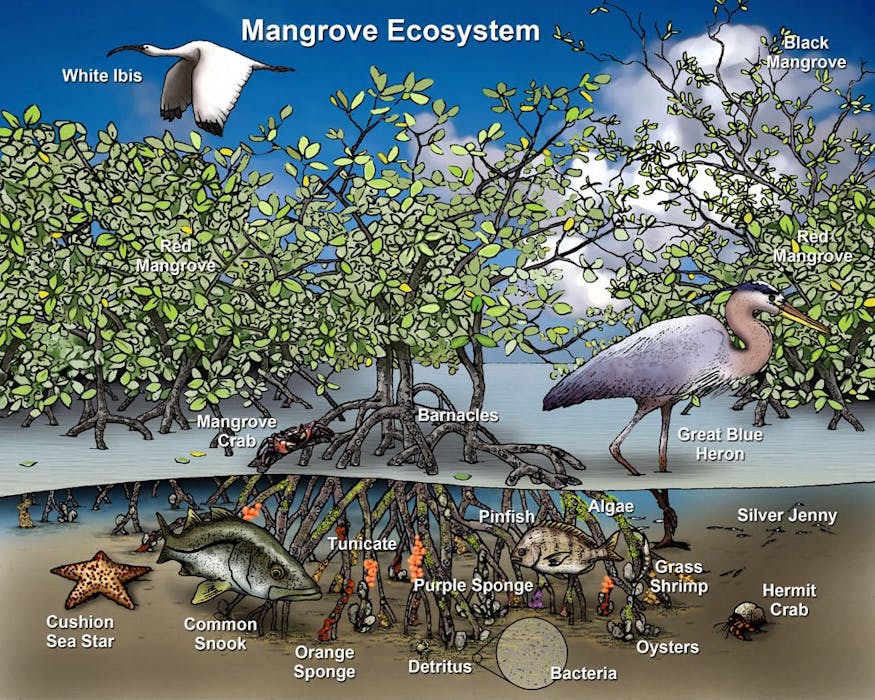 Mangroves do an excellent job of preventing erosion from incoming waves and outgoing rivers and streams. They'll create a build-up of soil and sediment that may even eventually turn them into an island. This creates calmer waters allowing for their leaves and branches to fall into the water and decay into organic material. This organic material is essential for small microorganisms such as algae to survive which then feeds small organisms such as worms, anemones, shrimp, and so on. 
Another reason mangroves are so important is that they protect against wind and storm surges. The deposited soil stays attached to their strong roots helping to solidify them when conditions are rough. It is estimated that Florida mangroves prevented $1.5 billion in direct flood damages and protected over 500 million people during Hurricane Irma in 2017.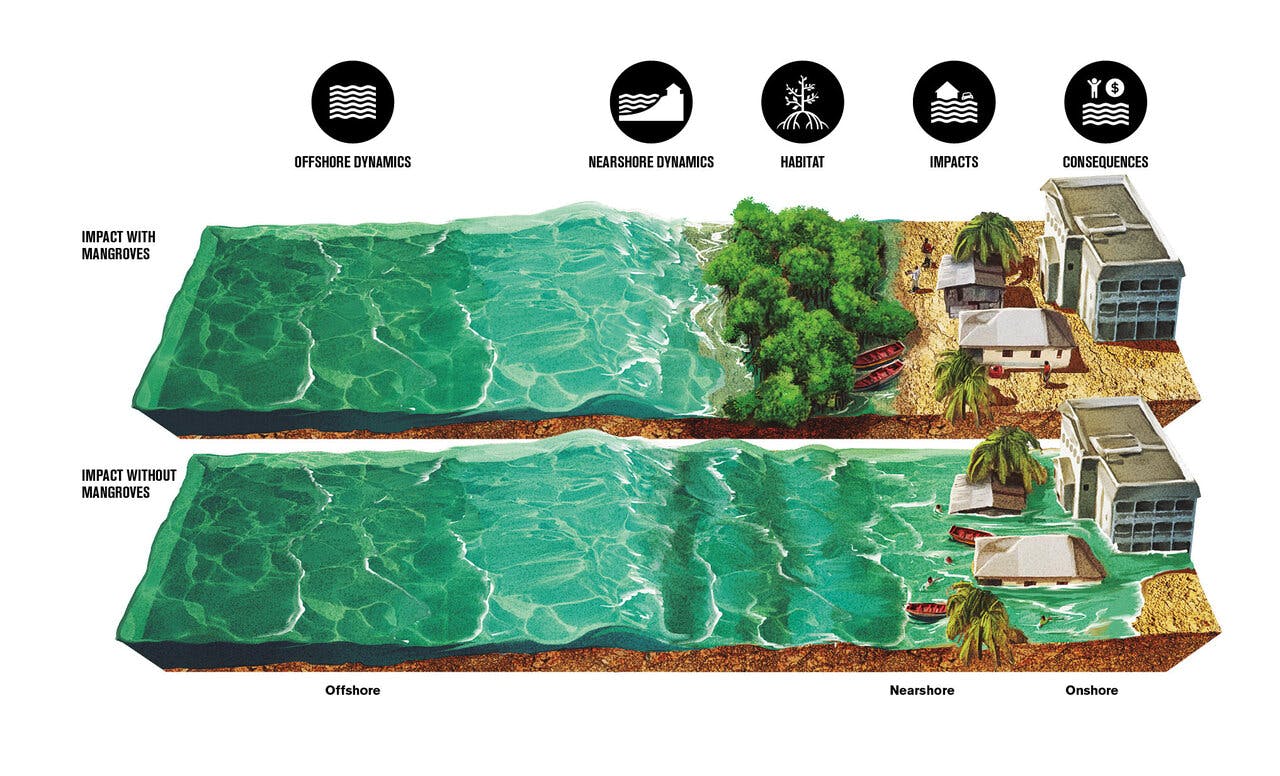 How you can support MANG® and their cause
Looking to help give back to your community and to the planet? MANG® has made a promise to not only restore our ecosystems, but to also educate future generations so that our planet can live long and prosper. Kyle and Keith personally have partnered with schools, communities, and local brands to help educate and bring awareness to the necessities and issues of the mangrove population. Every month, MANG® hosts nursery events where you can get your hands dirty and learn about the importance of mangroves in the ocean ecosystem. They provide nursery and planting excursions so that you can either volunteer in the nursery or get out in the wild and make the change yourself.
Sign up today and become a volunteer here.
MANG® ships all of its products using sustainable shipping methods. From sea turtle safe recycled kraft mailer and algae-based ink to non-toxic recycled gum tape, MANG® does the most. For their materials, MANG® uses organic cotton sourced in the USA that is pesticide, GMO, and chemical free. All of MANG®'s performance shirts are sourced from a sustainable Colombian company that uses safe and efficient business practices. All performance shirts also carry the Skin Cancer Foundation Seal of Recommendation thanks to their UPF 50 rating.
MANG® has recently introduced its Raise the Reef collection. They have partnered with Coral Restoration Foundation™ to help repopulate coral reefs in the Florida Keys. Every purchase from this collection not only plants a mangrove, but also donates directly to CRF's restoration efforts.
MANG® - Cleaner Oceans, Cleaner Air, Cleaner Planet