TUSA Intega Mask, Two Lens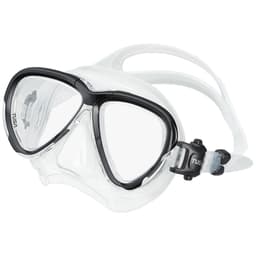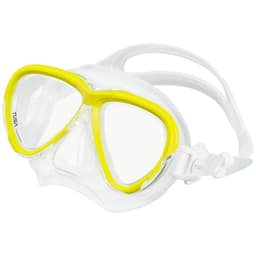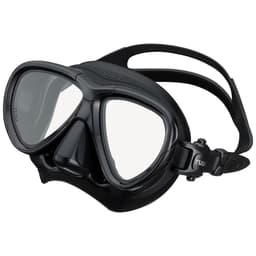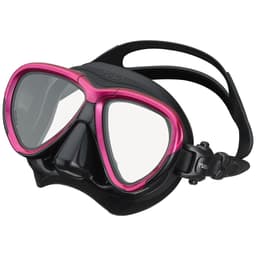 TUSA Intega Mask, Two Lens
Earn 110 points with this Purchase
Description
Bringing together innovation and technology, the TUSA Intega Mask delivers on fit and function. Starting with the TUSA 3D SYNQ technology in the mask skirt, you'll experience the unique Fitting Ring technology that allows the mask to conform to your face. This feature delivers an optimal fit and seal, resulting in an ideal underwater experience. The low profile Swift Buckle 3D makes it easy to adjust your mask strap while delivering a streamlined look. Paired with TUSA's 3D mask strap, this strap slides silently and effortlessly through the buckle as you adjust it. The true 3D mask strap is designed with a natural curve to it so it fits your head better and stays put. Delivering on comfort, this mask strap fits snugly and comfortably.
TUSA added in their Freedom Technology to this mask design as well to enhance fit and performance. Strategically located around the forehead and cheek bones, the dimpled skirt surface allows the mask skirt to gently conform to the curvature of your face resulting in a better fit and seal. Stability ridges are an integral part of this mask skirt. Placed under the cheekbones, these ridges keep the mask skirt from compressing as you descend. Less compression equals less leakage and a better experience. The varied silicone thickness of the mask skirt further enhances the experience. A seemingly minor detail, the varied thickness allows you to use a snorkel or regulator without causing discomfort or leakage. Finishing off this mask skirt is the rounded edge. Cross-sectionally shaped, this rounded edge silicone mask skirt gives you a planar fit (conforming to all planes of the face) rather than a linear fit (sitting on top of your face). With this mask skirt, you also come out of the water with less red marks (mask face) on your face.
TUSA even included an eco-friendly mask case for your Intega Mask. This reusable mask case is made from recycled materials and is a great way to protect your mask from scratches.
A mask designed to fit like it was made for you, the TUSA Intega Mask delivers.
TUSA Intega Mask Features:
3D SYNQ unique Fitting Ring
Swift Buckle 3D
Freedom technology including dimpled skirt, varied silicone thickness, stability ridges, and low-friction skirt surface
3D mask strap
Round edge skirt
Eco-Friendly mask case made from recycled material
More Info
Product Sku:

DD146167

Anti-Fog:

No

Hypoallergenic:

No

Latex Free:

No

Corrective Prescription Lenses Available:

No

Number of Lenses:

Two Lenses

Tempered Glass:

Yes

Sizing:

Adult

Accessory:

No

Camera Mount:

No

Goggles:

No

Full-Face:

No
More Info
Product Sku:

DD146167

Anti-Fog:

No

Hypoallergenic:

No

Latex Free:

No

Corrective Prescription Lenses Available:

No

Number of Lenses:

Two Lenses

Tempered Glass:

Yes

Sizing:

Adult

Accessory:

No

Camera Mount:

No

Goggles:

No

Full-Face:

No