SeaLife Sea Dragon Duo 6000F Underwater Photo-Video Light Set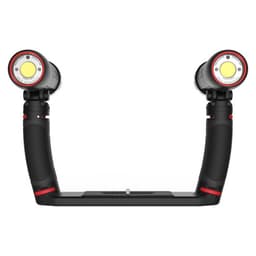 SeaLife Sea Dragon Duo 6000F Underwater Photo-Video Light Set
Earn 999 points with this Purchase
Description
Increase camera stability and photo quality as you dive with the Sea Dragon Duo 6000F Light Set. It offers a 120° wide beam angle, so you can easily capture wide shots. Expand the flex arms to illuminate crevices and capture your underwater surroundings. Thanks to a universal mounting tray, the set fits all SeaLife cameras and other brands. It includes two Sea 3000 light heads, one Flex-Connect dual tray, two Flex-Connect grips, spare O-rings, O-ring lubricant, O-ring removal tool, and a Sea Dragon Duo case.
SeaLife Sea Dragon 3000F Auto Photo-Video Dive Light Head
Always get the perfect lighting when using the Sea Dragon 3000F Light head. With its auto-brightness technology, this dive light picks the right output level for your shot depending on how far is your subject. Aim at a close subject and the light automatically dims to 300 lumens. Aim far away and the light provides up to 3000 lumens. And whenever you're night diving, use the 180-lumen red light setting to protect your acclimated vision and keep the light-shy creatures near.
6000 lumens of brightness that mimics natural daylight
Auto-brightness adjusts from 300 - 3000 lumens
Manual output: 750, 1500, 3000 lumens white light
180-lumen red light for night-acclimated vision and light-shy sea creatures
Auto flash detect turns off flash for 1 second when strobe fires
Run time of 60-240 minutes with supplied lithium-ion battery
Single-button operation for on/off and brightness selection
6 light modes: 100% white, 50% white, 25% white, white auto, red light mode, emergency mode
Depth rated to 330 ft. (100 m)
25Wh 3400 mAh Li-Ion battery with charger and international plug adapters
The SeaDragon 3000 is also great for still shots thanks to the flash-detect feature. This means that your light will shut off for one second when a strobe fires. With this dive light, you're in charge of your lighting. You can control the white-light output manually - simply choose between 3000, 1500 or 750 lumens.

SeaLife Flex-Connect Dual Tray with Mounting Screw for Underwater Camera and 2 Lights
Use the Flex-Connect Dual Tray from SeaLife for improved handling, customizable setups and easy travel. This Flex-Connect Dual Tray comes with the standard 1/4" - 20 mounting screw for a compact camera in its waterproof housing, as well as two mounting points for optional, ergonomic grips, and flex arms for flash units or video lights. The arm easily clicks into place on top of the optional grip, which clicks into the tray, and the setup is just as easily disassembled with the push of a button.
SeaLife Flex-Connect Grip for Flex-Connect Arms and Underwater Camera Trays
Use the Flex-Connect Grip from SeaLife on your DC2000 for immediate versatility. This UNIVERSAL underwater, rubber-armored grip clicks directly into any Flex-Connect underwater camera tray and accepts all Flex-Connect accessories, including lighting arms. It provides comfort and improved handling under water. The ridges down the sides give you a secure hold.
In the Box
2 x SeaLife Sea Dragon 3000F Auto Photo-Video Dive Light Head
SeaLife SL9831 Rechargeable Lithium-Ion Battery (7.4V, 3400mAh)
SeaLife AC Power Adapter for SL98311 Battery Charging Tray
International Plug Adapters
Limited 1-Year Warranty
SeaLife Flex-Connect Dual Tray with Mounting Screw for Underwater Camera and 2 Lights
Limited 1-Year Warranty
2 x SeaLife Flex-Connect Grip for Flex-Connect Arms and Underwater Camera Trays
Limited 1-Year Warranty
More Info
Product Sku:

DD129918

UPC Code:

077068416913

Sizing:

Adult

Accessory:

No
More Info
Product Sku:

DD129918

UPC Code:

077068416913

Sizing:

Adult

Accessory:

No