Gecko Waterproof Floating Dry Phone Bag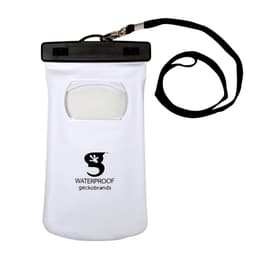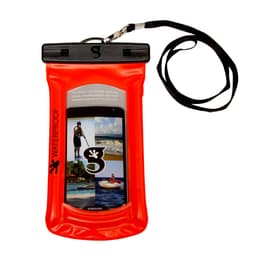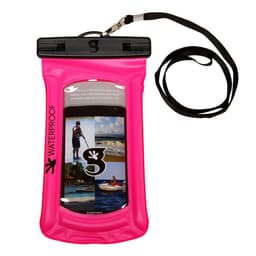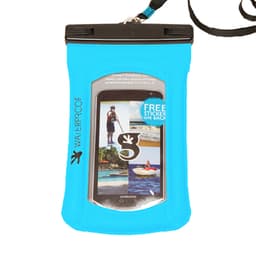 Gecko Waterproof Floating Dry Phone Bag
Earn 20 points with this Purchase
This Item Ships FREE in One Business Day with Purchase of $49 or more.
Shipping Policy
Description
Your phone can float in the Gecko Waterproof Floating Dry Phone Bag!
You don't have to leave your phone behind on your next outdoor adventure. The Dry Phone Bag can be completely submerged in water or float with you on the surface. It also shields your phone from rain, sand, dirt and snow.
You have full access to your phone in the Dry Phone Bag. You can talk, text, play games, send email and browse the web all without leaving the water. The clear window on the back of the back lets you take pictures and video from inside the case. The phone bag floats on the surface, but you can also submerge it at 10m for up to 1 hour, according to tests performed by Gecko. Keep your phone in reach with the hands-free lanyard. There are so many uses for the Dry Phone Bag. It's great for light water activities such as fishing, swimming, boating or lounging at the pool or beach. It's also great for more dynamic activities such as snorkeling, kayaking, rafting, jet skiing and stand up paddle. You can even use it for wet or dirty shore activities. The Dry Phone Bag is universal and will fit most phones up to 7 inches high and 3.5 inches wide. In most cases, it also fits over the protective case you may already have on your device. The bag will hold the iPhone 7, 7 Plus, 6, 5, 4 and beyond. It also protects Android phones like the Samsung Galaxy, along with other smartphone makes and models.
Gecko Floating Dry Phone Bag Features:
Bag floats on water surface with device inside and can also be submerged
Talk, text, take pictures, play games, email and surf the web from inside the bag
Fits most devices including the iPhone 7 Plus/6/5/4, Android phones like the Samsung Galaxy, and others
Enjoy light outdoor activities such as boating, fishing and swimming at the pool or beach without worry
Ideal for dynamic water activities like snorkeling, kayaking, rafting, jet skiing or stand up paddle
Also useful on shore for wet and dirty activities like hiking, camping, skiing, golfing, cycling, mud runs or triathlons
Tested for effectiveness at 10m below the surface for up to 1 hour
Protect your phone from rain, sand, dirt water and snow
Bag fits over most protective phone cases
Lanyard included for hands free use
Dimensions: 7"H x 3.5"W x .5"D
Not for diving
More Info
Product Sku:

97591

Wheels:

No

Internal Dimensions (L x W x H):

7" x 3.5" x .5"

Accessory:

No
More Info
Product Sku:

97591

Wheels:

No

Internal Dimensions (L x W x H):

7" x 3.5" x .5"

Accessory:

No