Cressi Scuba Gear Essentials Package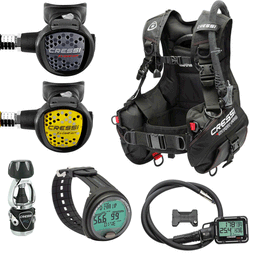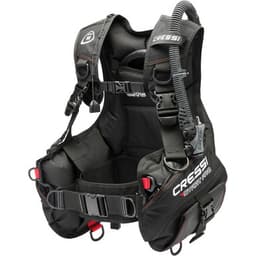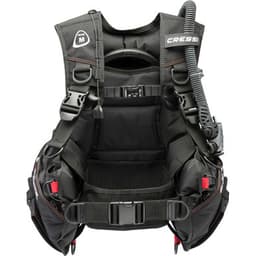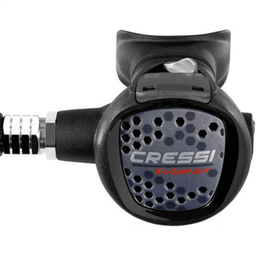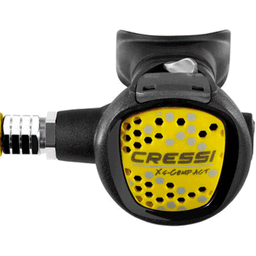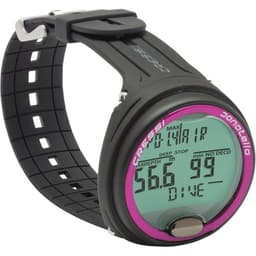 Cressi Scuba Gear Essentials Package
Earn Infinity points with this Purchase
This Item Ships FREE in One Business Day with Purchase of $49 or more.
Shipping Policy
Description
The Cressi Scuba Gear Essentials Package comes with nearly everything you need to get out and go diving. The Cressi Start Pro 2.0 BCD is a jacket style BC that's rugged, durable, and great for beginner divers (or for anyone who likes to keep things uncomplicated). Speaking of uncomplicated, that's exactly what the Cressi Donatello Wrist Dive Computer promises with its single-button, user-friendly design. It features everything you need to keep you safe and informed below the surface while keeping your navigation through the system simple and the display easy to read and understand. An added plus to the Donatello Wrist Computer? It's great for freediving, too, if you like to switch up your dive styles every now and then.
Then there's the Cressi XS-Compact MC9 Regulator and XS-Compact Octo. These are designed not only for reliability and functionality, but also for travel! You'll find it easy to pack up your octo and reg when you're going on your next out of town dive excursion. Not to mention, you'll love that you can breathe easy at any depth with these. Our final essential bit of scuba gear is the Cressi Digi2 Pressure and Depth Gauge. Delivering depth, tank pressure, water temp, and residual dive time in one display, you'll appreciate getting all your dive data in one quick glance.
So what are you waiting for? Dive in with all the right gear when you get the Cressi Scuba Gear Essentials Package.
Cressi Scuba Gear Essentials Product Features:
Cressi Start Pro 2.0 BCD:
Integrated weight pockets with rugged quick-release buckles

2 large cargo pockets with hook and loop closure

Rigid padded backpack style with carry handle

3 exhaust valves

2 technopolymer d-rings

Ultra durable construction

2 spring-clip holding rings

Jacket style BCD

CE Certification EN 250 – EN 1809

Material: 1000 Denier Cordura (outside panel) and 500 Denier (inside layer)
Cressi Donatello Dive Computer:
High contrast display screen with extra large numbers for easy readability

Easy access menu for a user friendly experience

Single-push button design for simplicity

High power backlit display for low visibility conditions

Surf time, desaturation, and No-Fly time calculator

Can be set to metric or imperial measurement

Logbook holds up to 50 dives per category

Dive sessions are downloadable with Interface device (sold separately)

Low profile structure with ergonomic design for comfort

12/24 time format with calendar

Battery power indicator

Interchangeable CR2450 battery
Dive (Air/Nitrox) Mode:
Cressi RGBM algorithm

Complete diving data processor

PPO2 1.2-1.6 configuration

Graphic indicator of CNS toxicity level of oxygen

Safety stop indicator

Multiple level safety factor configurations

Altitude-adjustable configuration

Algorithm made for managing an uncontrolled ascent

Suitable for repeated, multi-day decompression diving

Ability to enable or disable Deep Stop function

Multiple alarms for ascent speed breach, decompression, or PPO2

Ability to disable ascent alarms

Dive planning setting for scrolling of no-decompression limits

Maximum dive depth alarm
Freedive (Apnea) Mode:
Display of all diving parameters

Depth indicator

Temperature display

Dive calculator

Dive time

Maximum dive depth alarm

Interval time clock for surfacing between dives

Calculates duration of dive session

Alarms for surface intervals, recovery time, and dive time

Visualization of time during dive
Gauge Mode:
Depth and temperature indicators

Average depth

Dive time in minutes and seconds

Resettable depth stopwatch

Visualization of time at dive phase
Cressi MC9 Regulator:
Compact shape reduces in water drag

Only 5.1 oz (145 g) light, ideal for travel

Large front purge button

Venturi switch increases air delivery underwater, minimizes accidental freeflow on the surface

Streamlined exhaust tee keeps bubbles away from your face

Lightweight construction reduces jaw fatigue

Certified EN250/2000

High pressure ports (HP) 2 (7/16")

Low pressure ports (LP) 4 (3/8")

Compensation/system: overcompensation diaphragm flanged filter without circlip

Air flow 3000 lliters/minute from LP port, with second stage connected

Exterior regulation LP: yes (Allen key)

Weight: 615 g
Cressi XS Compact Scuba Octopus:
Uses the same internals as Cressi's XS Compact Regulator

High visibility yellow cover

Increased inhale effort

Fits all Cresi first stages

Supports intermediate pressures between 9 and 10 bar

Made in Italy
Cressi Digi2 Pressure and Depth Gauge:
Large digital display

High contrast display

Depth, tank pressure, residual dive time, and water temperature

Maximum depth

Dive time

Depth up to 393' / 120 m

Tank pressure up to 4350 psi / 300 BAR

Reserve indicator at 725 psi / 50 BAR

Anti-scratch display

Great for traveling

User replaceable battery
More Info
Product Sku:

CressiEssentialsPkg

Bundle:

Yes

Sizing:

Adult
More Info
Product Sku:

CressiEssentialsPkg

Bundle:

Yes

Sizing:

Adult