Aqualung Titan Scuba Regulator (Yoke)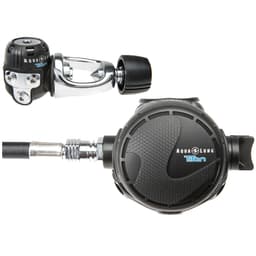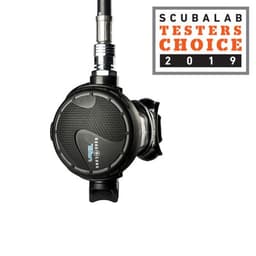 Aqualung Titan Scuba Regulator (Yoke)
Description
The Aqualung Titan Scuba Regulator provides the same notable value, with a sleek new look and revised innovation. The Titan scuba regulator has been known for its lasting durability and dependable performance; this new edition uses these same qualities with a fresh design that's still widely affordable.
Aqualung Titan Scuba Regulator First Stage Features:
Balanced diaphragm creates easy breathing and consistent output
T-shaped design allows for optimal hose routing
Forged body uses less brass to decrease weight
Polyurethane outer skin protects the metal components
Hose outlets placed for streamlined hose routing
Open yoke screw avoids water retention
Aqualung Titan Scuba Regulator Second Stage Features:
Patented Comfo bite mouthpiece reduces jaw fatigue
Removable/reusable clip allows for quick mouthpiece changes
Easy to maintain with few components
In-line Venturi knob allows for progressive changing of breathing output, even when operating with gloves
Polyurethane purge cover resists scratching and purges easily
Side openings reduce accidental freeflow when swimming in strong currents or with underwater scooters
Deflector reduces exhaust bubbles which makes for less noise
Aqualung Titan Scuba Regulator: 2019 ScubaLab Testers Choice Award Winner
Here's what ScubaLab had to say about the Aqualung Titan reg:
On the breathing simulator, the Aqualung Titan was the only reg in its category to collect excellent work-of-breathing scores across all of our standard depths and breathing rates; in fact, it was still going strong after we pushed it below 250 feet. Equally impressive in the water, it took very good scores from test divers for dryness and ease of breathing in all positions. "­Quiet and smooth—a real pleasure to use," one tester commented. The ergonomic Venturi control proved quite effective, managing to stop ­free-flows even while the reg was still face up. The soft polyurethane cover gives the purge just the right amount of stiffness and can also be removed easily, without tools. "Almost forgot I had it in my mouth," was a typical tester response to the lightweight second stage. The compact first stage has two HP and four LP ports in a T-shaped arrangement that allowed easy setup. With Herculean performance and impressive comfort, the Titan was overwhelmingly picked by test divers as a favorite. It is our Testers Choice for ­regulators under $500.
Aqualung Titan Scuba Regulator Documentation:
More Info
Product Sku:

125460-E

Connector Type:

Yoke

Adjustable Second Stage:

Yes

Balanced:

Balanced

Number of HP Ports:

2

Number of LP Ports:

4

UPC Code:

886957925661

Accessory:

No

Warranty info:
More Info
Product Sku:

125460-E

Connector Type:

Yoke

Adjustable Second Stage:

Yes

Balanced:

Balanced

Number of HP Ports:

2

Number of LP Ports:

4

UPC Code:

886957925661

Accessory:

No

Warranty info: