Aqualung Helix Regulator (Yoke)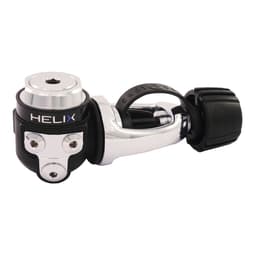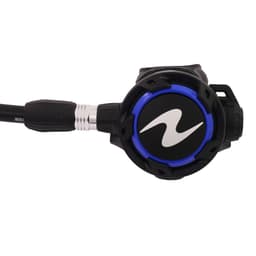 Aqualung Helix Regulator (Yoke)
Description
The Aqualung Helix Regulator delivers a mid-range regulator complete with all the features and functions you need.
As you slide this first stage onto your tank, you turn that screw to tighten it in place. You double check your hoses and with the multiple HP and MP ports, you've got your hoses routed just the way you like them. And that T-shape allows for easy routing on your hoses without putting undue stress on them. Turning on that air, you hear the 'pop' as the auto-closure device opens and allows air into the hose with that all too familiar 'whoosh'. The excitement of the dive building.
You run your hand down the hose to your second stage. As you place your second stage in your mouth and blow out, you're already mentally underwater. Your Comfo-Bite mouthpiece slips into your mouth and you bite down gently. Designed to reduce jaw fatigue, this soft, sturdy piece features a palate bridge that helps keep your regulator in place and comfortable for the duration of your dive. Once cleared, you take that first breath in and feel how easily your pneumatically balanced second stage breathes. If you need to make any adjustments, that Venturi knob is right there and easily adjustable whether you're wearing your bulky dive gloves or not.
Ready to dive?
Aqualung Helix Regulator Features:
First Stage:
Balanced diaphragm
Auto-Closure Device (ACD)
2 HP ports (7/16") and 4 MP ports (3/8")
"T" shape for streamlined hose positioning
Compatible with up to EAN 40 right out of the box
1st Stage Flow Rate: 1450 l/min
First stage exterior: Chrome over marine brass
Second Stage:
Pneumatically balanced
Comfo-Bite mouthpiece
Venturi knob
Aqualung Helix Regulator Documentation: