FREE Dive Flag Beach Blanket with $125 Purchase
This FREE Beach Blanket equals awesome beach fun!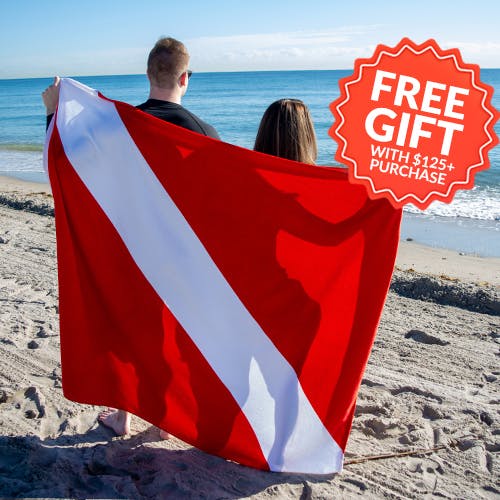 Get cozy in this Dive Flag Beach Blanket! It's large enough to wrap up and dry off both you and your dive buddy. Of course, you could always use it to spread out your dive gear on while you doff your wetsuit after a shore dive. Or maybe it's just a beach day on land and you want to sun bathe in style. Either way, this beach blanket is up for the job so you can be better at leisure. 
Want to know the best part of this Dive Flag Beach Blanket? It's FREE with your purchase of what's sure to be your new favorite dive gear. So gather some scuba diving gifts for your friends (and maybe a little something for yourself) and get a soft, versatile beach blanket on top of all that as well. 
Here's how to get it…
Add $125* or more to your cart
Use promo code BOGO-BFGIFT23 at checkout
Gift is automatically added to your cart at $0
While supplies last. Offer expires at 11:59 PM on 11/28/2023. *Excludes sales tax and shipping charges.