Scuba Certification & Instruction
Why Learn to dive with Divers Direct?
Founded in 1984, we know a thing or two about diving, dive gear, and teaching others to dive. We have a passion for having fun in the water and we want to share our experience and expertise with you. With over 36 years in the industry, our staff of trained professional instructors in Fort Lauderdale and Orlando will guide you through everything you need to know in our SCUBA Certification and Freediving Certification courses.
Another reason to learn to dive with us: we don't stop at instruction. Our gear experts in all four locations will help you choose the gear you need for the best experience. And we might know a few good dive sites and dive boats.
Regardless of whether you're interested in SCUBA diving or Freediving, your safety comes first. One of the things you'll learn with us is safety first, fun second. When it comes down to it, nothing is more important than your safety. This is true no matter which instructor and location you choose.
You've made it this far, so let's get your underwater adventures off to a great start.
SCUBA Certification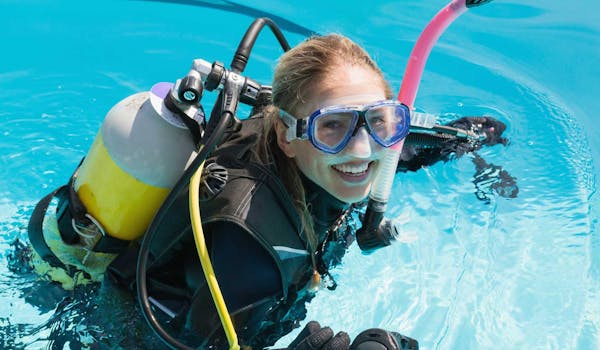 Ready for the adventure of a lifetime? Maybe we should say a lifetime of adventures, because that's what you get when you complete your SCUBA Certification Course. Either way, we've got you covered with courses in our Fort Lauderdale and Orlando locations. Come learn to dive with us and we'll make sure that, through your SCUBA diving lessons, you learn everything you need to know. When you complete the course, you'll get your PADI Certification or SSI Certification for Open Water diving.
Through your SCUBA lessons, you'll interact with your instructor and other students (you always dive with a buddy) to learn proper use of your basic SCUBA gear (including setup, break down, and basic maintenance), performing a proper buddy check, entering and exiting the water, buoyancy control, basic underwater navigation, basic safety and emergency procedures, and a little dive boat etiquette. Who knows, we might just have a little fun along the way.
Once you're Open Water certified, you'll likely want to expand your knowledge and skills. Because we want to make sure you have the best instruction possible, we also offer Advanced Open Water Certification, Nitrox Certification, and the Stress and Rescue Certification courses. Course offerings vary by location, so check the calendars to see whether you want to learn in Fort Lauderdale or Orlando.
If you're already certified but it's been more than 6 months since your last dive, join us for the Refresher Course. Better to be safe than...well, you know the saying. We've got your back and we'll make sure you know what you're doing before you go on your next dive adventure.