Reef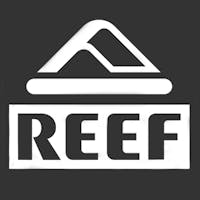 Founded in 1984 in California, Reef brings the brothers Fernando and Santiago's passion for the beach life to the world. Bothered by the fact that sandals were not comfortable for long walks, the brothers created high-quality footwear that could stand their lifestyle yet be comfortable. Fernando and Santiago continue following their dream for the optimal sandals.
Reef's purpose is to share their love for surf travel and beach culture with the world but also feel good when walking around and discovering new places. With that in mind, Reef came up with the Swellular Technology, a three-layer footbed that provides comfort, support, and traction all day long.
Walk Long Distances with Reef
Apart from comfortable, Reef sandals are also stylish. The footwear company recently introduced its new material - a waterproof leather that provides comfort without any break in period. Now, you can walk miles on the beach and have no blisters on your feet. With Reef, everything is better. Jump in the waters of Shark and Yolanda in the Egyptian Red Sea, where you can see three dives in one: anemone city, shark reef and the wreck of Yolanda. Or, stay local with Divers Direct and visit the Molasses Reef where you can witness one of the best visibilities in the world.
Reef Apparel & Accessories:
Divers Direct offers a range of Reef products such as Men's Shoes, Women's Shoes, and more.
Beach Freely with Reef
Reef is also dedicated to helping the environment and communities through various programs and partnerships such as the Better Beach Alliance, Urban Surf 4 Kids, Rob Machado Foundation, Mauli Ola Foundation, and more. The sandals company works to get everyone to Beach Freely and experience the benefits of doing so. Shop for Boardshorts, wetsuits, rashguards, t-shirts, bikinis and more!