Dune Jewelry - Authentic Sand Jewelry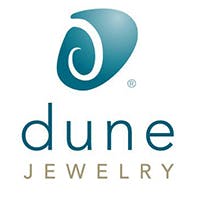 Dune Jewelry - handmade with love and sandy hands in the USA. Dune Jewelry offers a unique selection of natural materials collected from all around the world, memorialized in understated and attractive jewelry. We're partial to the Florida and the Caribbean choices, of course, but you probably could've guessed that.
Each piece of Dune Jewelry is hand-made with intense attention to detail to highlight and display the uniqueness of the natural materials on display. Their goal? To bring out the beauty of each grain of sand and truly capture the original spirit of the place.
Unique Personal Treasures by Dune Jewelry
As the Original Beach Sand Jewelry Company, Dune Jewelry has collected sand from all around the world and created a unique line of jewelry that captures your favorite memories or wanderlust destinations. "Live for the moment, then take it with you" is the Dune Jewelry motto and they believe in giving your most treasured moments back to you in a handmade, fashionable capsule that can be passed down through generations. In 2010, Holly Daniels Christensen launched the company after making sand-filled jewelry for her family and friends on her kitchen table. She feels that the value of jewelry lies in its sentimental worth, and if a piece of jewelry can carry the physical remnants of a cherished memory, then what could possibly be more sentimental than that? The company has grown over the years from that kitchen table project to the world's largest Sandbank with over 4,000 sand samples from beaches, sports venues, hiking trails, and so much more.
Dune Jewelry Gives Back
Dune is dedicated to making the world a better place, and the company supports and has partnered with a number of organizations like Surfrider Foundation, The Association to Preserve Cape Cod, Joslin Diabetes Center, SMILE Mass, HOPE for Ariang, and others. Certain pieces from the Dune Collection donate a percentage of the profits to these organizations. The Sterling Silver Sunburst Charm is an example of a product that gives back by donating to SMILE Mass which helps bring wheelchair accessibility to more beaches.
Dune Jewelry at Divers Direct
We all have some sandy memory we wish we could hold onto forever and Dune Jewelry wants to bring you as close to that memory as possible. Shop the Dune Jewelry Collection to keep your most treasured memories nearby.