COSTA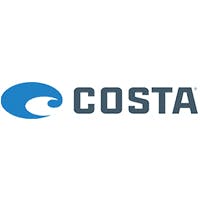 Founded on the water in 1983, Costa Del Mar is for those who live on the water. With the best polarized sunglasses, Costa wants you to see what's out there. It all started when a group of fishermen needed sunglasses for their aquatic adventures. Sunglasses that would protect and yet provide the best clarity, regardless of the circumstances.
Costa was born on the water, and it's still inspired by it. The company works to be on it, protect it, and encourage others to do the same. Costa has created new technologies to provide its water advocates with the best visibility possible. With seven color lenses to choose from and its 580 Polarized lenses, Costa is delivering on their promise.
See What's Out There with Costa
Costa created its polarized sunglasses in-house to enhance colors on the water when other companies were failing to do so. The company developed two types of polarized lenses, 580G and 580P, along with seven color lenses to fit any occasion. The 580G is a lightwave glass with superior clarity and scratch-resistant. It bundles six different layers, yet, it's 20% thinner and 22% lighter than average polarized. The polycarbonate version, 580P, is also lightweight with six layers to provide the most durable material in the market. With Costa, you see what's out there. Visit the Navy Pier in Western Australia where you can find white tipped sharks, octopuses, and scorpionfish. Or enjoy Florida, where everything started, and explore the Keys and put your Costa sunglasses to test.
Costa Del Mar Sunglasses
Divers Direct offers a wide range of Costa products including sunglasses for men, sunglasses for women, shirts, and more.
See More with Costa
When you're spending more time on the water than anywhere else, you'll soon realize the quality of your sunglasses is crucial. The reflection of the sun on sand and water hinder the clarity of your world, and protecting your eyes is a must. Costa's mission is to continue creating the clearest sunglasses available, with patented technology in the framework and lenses.