ScubaPro MK25T EVO/S620 X-Ti Regulator (Yoke) with Free R095 Octo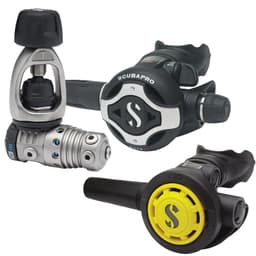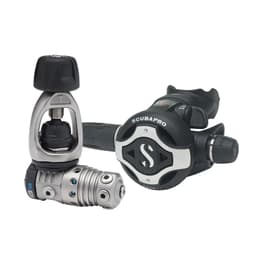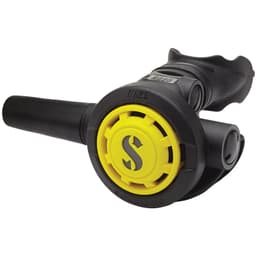 ScubaPro MK25T EVO/S620 X-Ti Regulator (Yoke) with Free R095 Octo
Description
ScubaPro MK25T EVO/S620 X-Ti Regulator and R095 Octopus Combo:
Enjoy effortless and natural breathing with the ScubaPro Regulator and Octo Combo. This lightweight yet sturdy gear is perfect for all your diving adventures, whether you're exploring shallow reefs or diving deep into the ocean. It ensures you move smoothly underwater and provides a reliable air supply for a safe and comfortable dive. Let this combo be your trusted partner beneath the waves, enhancing your diving experience in any environment.
ScubaPro MK25T EVO/S620 X-Ti Regulator Features:
Machined titanium body is lightweight, highly resistant to corrosion and ultra-durable.
Air balanced flow-through piston provides effortless airflow unaffected by depth, tank pressure, or breathing rate.
Patented XTIS (Extended thermal Insulating system) thermally insulates the inner mechanism from the environment, improving cold-water resistance and delaying ice formation in extreme cold-water conditions without compromising breathing performance.
Two opposing high pressure ports allow the first stage to be positioned either up or down.
External intermediate pressure adjustment enables technicians to fine-tune performance quickly and easily.
Air balanced valve smooths out the inhalation effort at varying depths and supply pressures.
Rugged reinforced technopolymer case and front cover with stainless steel frame looks good plus is able to withstand years of aggressive diving.
Full titanium barrel is rugged, anti-corrosion and lightweight for long-term reliability.
Large diaphragm fits inside a more compact casing for maximum breathing sensitivity.
User controls include an easy-grip diver-adjustable inhalation effort knob and Venturi-Initiated Vacuum Assist (VIVA) lever.
New exhaust tee increases performance while directing bubbles out of the field of view.
Newly designed Compact Hi-Flow mouthpiece is mounted on an enlarged mouthpiece pipe to improve airflow as well as mouth comfort.
ScubaPro R095 Scuba Octopus Features:
Downstream valve design for fluid breathing at depth
Reversible hose attachment is ideal for sidemount, pony, or deco tanks
User-friendly design with no toggles or switches -- just grab it and breathe!
Fixed VIVA (Venturi-Initiated Vacuum Assist) inhalation settings are pre-set to prevent freeflow
Large purge button cover for easy use during emergencies - even in thick gloves
Hi-viz yellow cover and hose increases visibility in dimly, murky conditions
Orthodontic mouthpiece for a comfortable bite and better airflow
Long 1m / 39in hose makes sharing air easier
Compatible with Nitrox mixes of up to 40% O2*
Metal valve housing is rugged and reliable
*NOTE: Titanium is not compatible with Nitrox mixes above 40% and Titanium regulators cannot be converted for use with air enriched beyond 40%.
More Info
Product Sku:

SPMK25TS620OCTO

Product Sku:

SPMK25TS620OCTO

Regulator Connector Type:

Yoke

Max Nitrox Mix:

40% O2

Adjustable Second Stage (Regulator):

Yes

Adjustable Second Stage (Octopus):

No

Number of HP Ports:

2

Number of LP Ports:

5

Material (Regulator):

Titanium

Bundle:

Yes
More Info
Product Sku:

SPMK25TS620OCTO

Product Sku:

SPMK25TS620OCTO

Regulator Connector Type:

Yoke

Max Nitrox Mix:

40% O2

Adjustable Second Stage (Regulator):

Yes

Adjustable Second Stage (Octopus):

No

Number of HP Ports:

2

Number of LP Ports:

5

Material (Regulator):

Titanium

Bundle:

Yes