Oceanic Geo 4.0 Wrist Dive Computer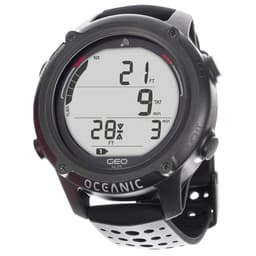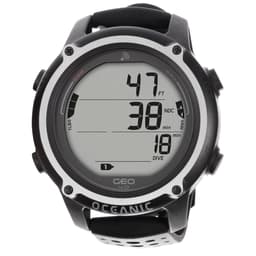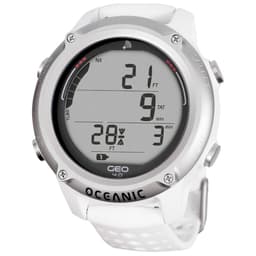 Oceanic Geo 4.0 Wrist Dive Computer
Description
The Oceanic Geo 4.0 Wrist Dive Computer brings smooth, intuitive technology and sleek style to your dive experience. It's packed with features for adaptability for each of your dive needs and is super easy to use. There are four different operating modes including Watch, Dive, Freedive, and Gauge modes. The Gauge Mode comes with a run timer and the Dive Mode includes Air and Nitrox settings. The Freedive Mode tracks calculations allowing you to switch between Dive and Freedive modes when needed, while the Watch Mode offers daily alarms, dual time display, a countdown timer, and more. And that's just the tip of the iceberg of amazingness with the Oceanic Geo 4.0 Computer.
The Bluetooth 4.0 connectivity offers powerful wireless connection to your smartphone through the DiverLog+ App. This allows you to keep your digital dive log up to date, and so you can control the settings of your watch easily from your phone. Of course, if you don't happen to have your phone around, all the same settings are adjustable from the dive computer itself. Additionally, the Geo 4.0 features Oceanic's exclusive Dual Algorithm with a Bühlmann ZHL-16C using PZ+ based or DSAT based algorithm. This way you can choose the decompression algorithm that suits your diving needs.
The XL display area offers a wider font size and crisper, easy-to-read digits than ever before for the Geo, so you won't be squinting through your mask to read your dive computer. While the display may be large, this dive computer is fairly lightweight; and since it features a flexible, yet strong, silicone band, it's designed to not only be smart and adaptable through its technological advances, but also comfortable to wear on a day-to-day basis. The Oceanic Geo 4.0 really is a high-tech, high-quality piece of equipment, and any diver—new or experienced—will find that it's reliable, stylish, and easy to use.
Oceanic Geo 4.0 Dive Computer Features:
Four operating modes: Watch, Normal Dive, Freedive, and Gauge
Dual algorithm: Bühlmann ZHL-16C (PZ+ or DSAT)
Bluetooth 4.0 connectivity
2 Nitrox mixes to 100% Oxygen
Gauge mode and run-timer
Deep stop and countdown timer
Intuitive user interface with "Step Back"
History mode and 24 dive/99 freedives on-unit logbook
"Last Dive" display featuring max depth and dive time
Altitude adjustable from 2,001' to 14,000' (610 to 4,200 meters)
Operational depth: 330' (100m)
Audible alarms with user acknowledgement
User upgradeable firmware
Diver-replaceable battery with data retention
300 hour battery life
CR2430 lithium battery
Dual time display
Daily alarms
Backlight for low light conditions
Time, date, and temperature
Electronic device interface (with Bluetooth)
Oceanic Geo 4.0 Wrist Dive Computer Documentation:
More Info
Product Sku:

DD134543

Depth Rating (ft.):

330

Altitude Adjustable:

Yes

Back Light:

Yes

Rechargeable Battery:

No

Max Nitrox Mix:

100% O2

Battery Type:

CR2430 Lithium Battery

Audible Alarm:

Yes

Display Type:

Digital

Computer Algorithm:

Dual Pelagic

Accessory:

No

Hoseless/Transmitter Air Integrated:

No

Computer Type:

Wrist
More Info
Product Sku:

DD134543

Depth Rating (ft.):

330

Altitude Adjustable:

Yes

Back Light:

Yes

Rechargeable Battery:

No

Max Nitrox Mix:

100% O2

Battery Type:

CR2430 Lithium Battery

Audible Alarm:

Yes

Display Type:

Digital

Computer Algorithm:

Dual Pelagic

Accessory:

No

Hoseless/Transmitter Air Integrated:

No

Computer Type:

Wrist