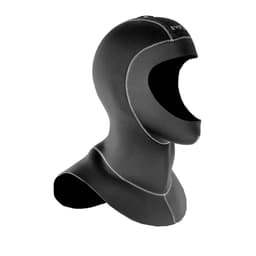 EVO 3mm Dive Hood
Earn 40 points with this Purchase
This Item Ships FREE in One Business Day with Purchase of $49 or more.
Shipping Policy
Description
The EVO 3mm dive hood is a great all around choice when it comes to added warmth and protection. The bib tucks into your wetsuit to provide added warmth and protection from the elements for your head, neck and shoulders. With a reinforced, vented middle panel, you know this hood is designed to keep you warm under water. The stretchy 3mm neoprene and the smoothskin inner face seal ensure a comfortable fit and nice seal, keeping cold water at bay. This hood is also a nice choice for added protection from the elements, including sunburn and stinging marine life, minimizing the amount of skin exposed.Great for temperate waters.
There seems to be some debate about whether to wear your mask over or under your hood. The answer is simple: it's up to you. The arguments for over include that it keeps cold water from entering around the temples (where the mask meets the hood) and it keeps your hair from getting pulled or tangled in your mask strap. The arguments for under include that it keeps your mask on even if the mask strap breaks and it helps ensure your mask won't get knocked off underwater.
EVO 3mm Dive Hood Features:
Flat lock seams
Smoothskin inner face seal
Bibbed hood
3mm Neoprene
Vented hood
More Info
Product Sku:

83510X0-E

Thickness (mm):

3

Latex Free:

No

Hooded:

No

Material:

Neoprene

Sealed Seam:

No

Sizing:

Adult

Accessory:

No

Neoprene-Free:

No
More Info
Product Sku:

83510X0-E

Thickness (mm):

3

Latex Free:

No

Hooded:

No

Material:

Neoprene

Sealed Seam:

No

Sizing:

Adult

Accessory:

No

Neoprene-Free:

No