The Great Dive Drive - Key West
The Florida Keys are finally open again and we can't wait to get on the road and head south. Considering Key West has the third largest barrier reef in the world and the largest reef in the United States, our Great Dive Drive adventure wouldn't be complete without it. As soon as we cross over from the mainland to Key Largo, we know we only have a couple more hours of driving to go, and what a beautiful drive it is! As we cruise through Key Largo and Islamorada, we remember our amazing adventures there and point out the places we visited and enjoyed and we even wave to Big Betsy, the giant lobster, as we pass by. The road just seems to go on and on and these little island towns are so colorful and charming, calling for us to stop and explore. Once we get to the Seven Mile Bridge and realize there's only one hour left to reach our destination, we look around the car and see that beaming smiles and giggles of giddiness seem to be contagious.
It's hard to believe that the island we're now entering is only 4 miles long and roughly 1-2 miles wide and somehow holds loads of activities to discover. The question is, what do we do first? Since we have an afternoon reef dive scheduled at Lost Reef Adventures, we stop off at the hotel to unload then head over that way to explore the area while we await our first dive and snorkel of the trip. We notice that right across the street from the dive center is the Cuban Coffee Queen, and since we're a little tired from the drive and have heard that it's basically an island treasure, we figure it's time to caffeinate and enjoy a light snack. And what a way to perk up! Cuban coffee is dangerously amazing and the Cuban Coffee Queen is such a delicious experience that we even get a t-shirt! Now it's time to check in for the dive, so with a little extra pep in our step, we cross the street to the dive center, get on the boat, and finally get out to sea again.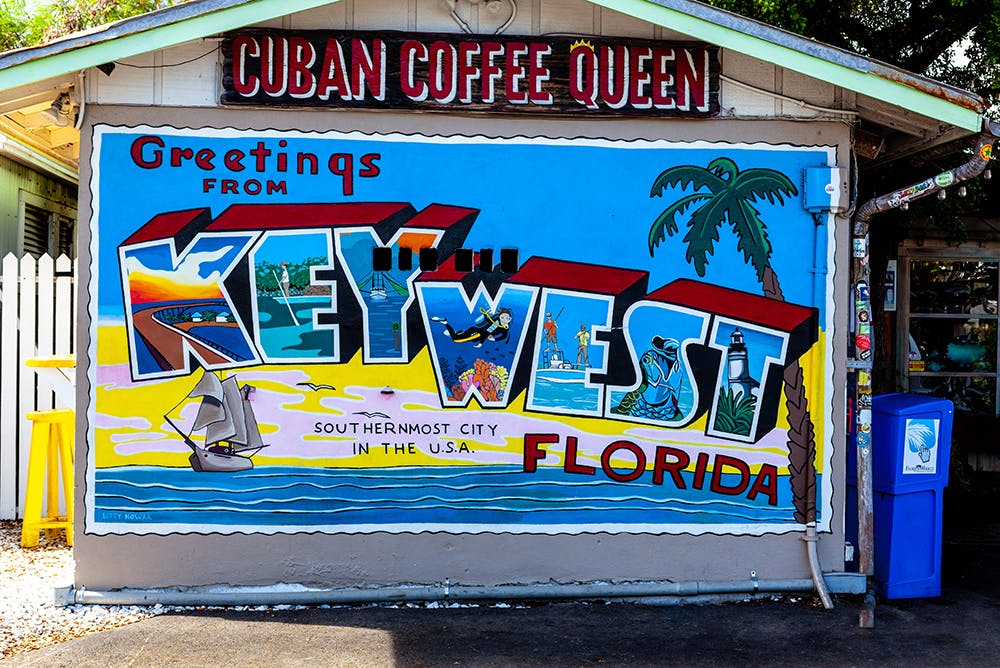 The reefs here in Key West are like the road that led us here—seemingly endless. They just go on and on with vividly beautiful colors of coral and rays and tropical fish. And the shallower depths of the reef make it perfect for both divers and snorkelers. We're quickly discovering that Key West may just be a diver's paradise. As our reef adventure comes to an end, we don't even realize that we've been out on the water for nearly four hours. Our stomachs give a little rumble as we're rinsing off our gear, and we start to look around for our next delicious pit stop. We didn't have to look too far, and head right down the road to Half Shell Raw Bar for some delicious food and waterfront views. With a drive, a dive, and some excellent food and fun in our system, sleep is knocking on our door. Time to rest up for tomorrow's adventures.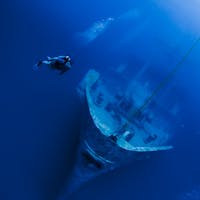 USS Vandenberg
The advanced divers in our group have a great morning ahead of them as they get ready to go out to Key West's most famous wreck dive, the USS Vandenberg. We wish them good luck as they head off to the Captain's Corner Dive Center where they'll board a boat that will take them to this enormous wreck site. The Vandenberg sits at an impressive depth of 140 feet and is ten stories tall from the ocean floor! We can't wait to hear about their dive, but we also can't wait to get on a boat of our own. So all the other divers and snorkelers in our group get on a ferry that will go to the Dry Tortugas National Park. The two hour ferry ride is scenic and comfortable, and once we get to the park, we take a quick tour of Fort Jefferson, then get right in the water to snorkel the sea-nery. We explore for hours and eventually realize that it's time to head back to Key West.
We arrive back around 5:15 in the afternoon and set out to meet up with our deep dive buddies to hear all about their wreck dive. We find them relaxing on the beach with a cold drink in hand, looking just like a quintessential Key West postcard. Plopping down on the sand beside them, they tell us all about their double dip adventure along the Vandenberg and their scrumptious lunch at the Sandbar Sports Grill afterwards. We tell them about our park and snorkel experience and how we overheard a couple on the ferry talking about a sunset celebration in Mallory Square. Looking at the time, we figure we have about two hours before sunset. So we start discussing how we're going to travel over to the other side of the island when our deep dive friends surprise us by announcing that they've gotten everyone tickets for the Old Town Trolley. We just so happen to be right around the corner from a trolley stop and catch it just in time. It doesn't take long to discover that this is a fantastic way to explore the island. We ride by the Southernmost Point, see the Key West lighthouse, point out the brightly colored and beautifully architectured houses along the way, and love every moment of the ride. As the trolley starts driving up Greene Street though, we call for a sudden stop if front of our favorite dive and snorkel shop, Divers Direct. We just have to take a walk through the store while we're here, and what perfect timing to stop and explore!
BCDs, snorkel gear, beach apparel, freediving fun, and more, it seems like Divers Direct has everything an aquatic adventurer in Key West could ask for. Some of us in the group shop around for gear, while others chat with the staff about the dive life in Key West—where to go, what to see, great spearfishing spots, and everything in between. We all leave with something, whether it's new gear or nifty local tips, and we suddenly realize we only have a little while left before sunset. Thankfully we're just around the corner from our destination and only walk five minutes west to catch the Sunset Celebration at Mallory Square. We can see why Key West locals have a daily festival to honor this sunset because it's perhaps the most radiant and beautiful sunset we've ever seen. When the sun completes its descent, the crowd disperses through the many little shops and street performers that the Square has to offer. It feels almost like we've stepped into another century participating in this daily, ritualistic praise of the sun's inevitable downward shift—like we've now been initiated into Key West's highly inclusive island tribe. It's a perfect and memorable moment in time to say the least.
The high of our community sunset festivities starts to give way into hunger, and someone in our group got word from one of our new tribe members that the Conch Republic Seafood Company is the place to be. We walk up the road for about ten minutes to the restaurant and get what has to be the best seat in the house by the water. The entire experience was simply sensational between the food, the view, and the joyful company too. Everyone seems to be having the time of their lives. We eventually start to wind down and take our increasingly drooping eyes as a sign to call it a night. Only one more full day of island fun to go.
We all decide to take the first part of the day to explore the myriad of on-land adventures to be had here. Some of the thrill seekers in our group take a quick journey north to fly 10,500 feet above the Keys and jump 120mph back down towards them with Skydive Key West. Those of us who prefer our feet firmly on the ground (or swimming through the sea) rent some bicycles to tour Key West at our own pace. We take pictures at the Southernmost Point, walk through a tour of Ernest Hemingway's House and Museum (and pet a few of the six-toed cats that call it home), and we always stop our bikes to let the free-roaming chickens cross the road. We then meet our skydiving friends at the Finz Dive Center to get ready for our dives of the day.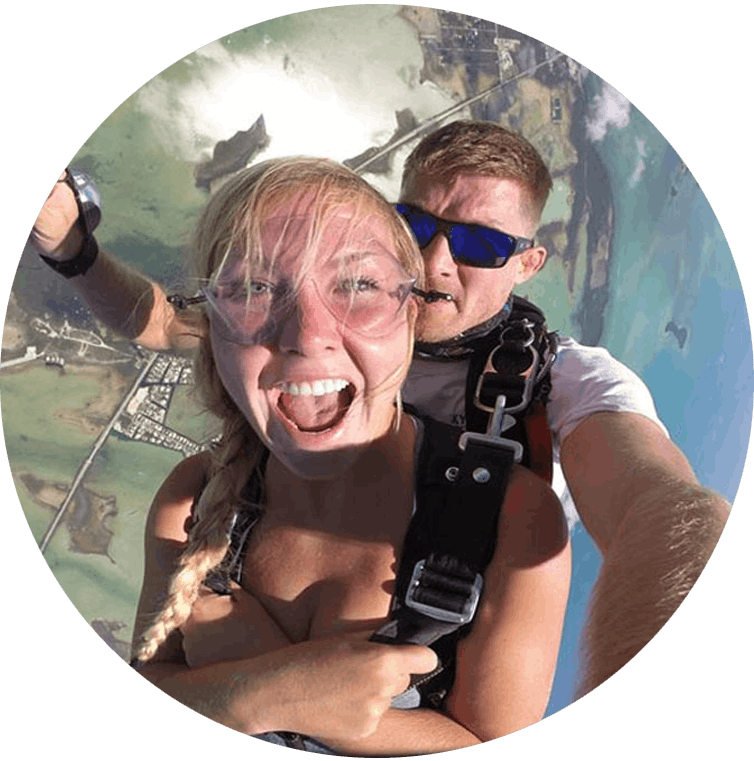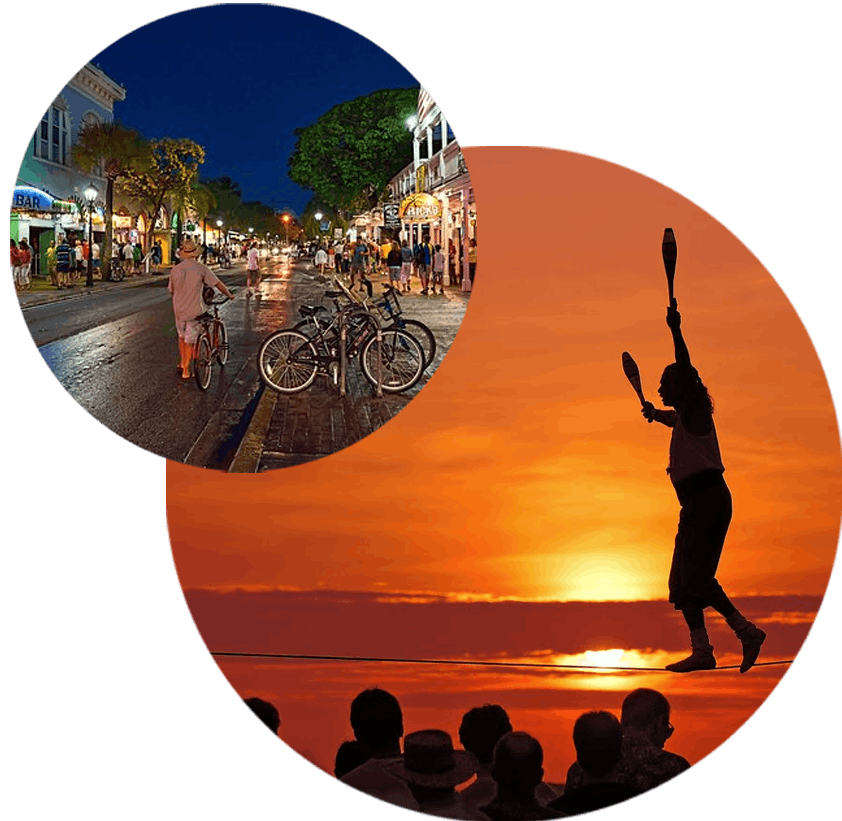 Duval Street & Mallory Square Sunset
Our first stop—Joe's Tug. We're surprised to learn that it isn't really a tugboat, but is actually a 75-foot shrimper. Since it sits at a depth of about 65 feet, all divers in the group (novice and seasoned) seem to find it to be a rather easy site to navigate with tons of great wildlife swimming about. Back on the boat we have a much needed snack and get going towards a reef dive that would complete our water adventures here on the island. The reef is shallow enough for snorkelers to easily participate and enjoy, and the water's current is calm and relaxed, which is just how we feel once we get back on land.
We get cleaned up and ready for our final night on the town, and we head to Louie's Backyard to dine in elegant style and toast to another successful journey. After we feast, we feel the need to walk off our excellent meal, and our time in Key West would not be complete without a stroll down Duval Street. Duval is certainly the most famous street in Key West and there's a reason we saved it for our last night here. It's 1.25 miles of funky shops, boutiques, art galleries, and extraordinary bar-hopping fun. We spend hours on this one-mile stretch of frivolity and hardly realize how late into the wee hours of the morning it's become. We wobble our way back to the hotel, sleep as late as checkout will allow, and pack the car for our reluctant departure from the island.
Knowing that we have at least a few hours of driving before we even get to the Florida mainland, we remember how much the Cuban Coffee Queen helped us perk up on our first dive here. So we stop by for a couple coladas and cafe con leches on the way out, say farewell to the island, and already begin to reminisce on the absolutely incomparable charm and adventure of the little island of Key West.
Written by Amy Baldacci