AQUALUNG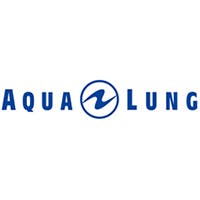 In 1940, the "aqualung," the first self-contained underwater breathing system, was invented by the famous Captain Jacques-Yves Cousteau and the engineer Émile Gagnan. This pair revolutionized how we experience the ocean. That single piece of equipment launched the decades of underwater exploration we now call scuba diving and, back on land, engineers and divers worked tirelessly to improve the aqualung. In 1943, they incorporated Aqua Lung, named for their original invention. Now, divers worldwide trust Aqua Lung to deliver Cousteau-quality diving gear, from masks and fins to BCDs and regulators vastly more robust and reliable than the humble aqualung.
AquaLung has worked to expand its line of products from the original aqualung to everything a diver might require: from technical and military diving to weekend swimmers and snorkelers. The Aqua Lung company continues to be a leading global designer and manufacturer of scuba dive equipment and water sports gear. Designing and supplying high-quality masks, fins, regulators, BCDs, among others, is why Divers Direct proudly offers Aqua Lung.
AQUALUNG Scuba Diving Gear & Accessories
Today there's so much more than the humble aqualung. Divers Direct offers a wide range of AquaLung products including regulators, BCDs, dive computers and gauges, masks, and more.
Dive with AQUALUNG
Commitment and persistence have taken AquaLung to be the pioneer in prime gear for aquatic sports. In the early 2000s, Aqua Lung showed its dedication to getting places first with quality and reliability to divers worldwide when it introduced the tagline "First to Dive." (Any other company that said "first to dive" would probably get scoffed at by divers, but, thanks to Cousteau and Gagnan's invention of the aqualung, we think they earned the tag line.) Till this day, Aqua Lung works to help you venture into the unknown.