GoPro® HERO10® Black Bundle with 64GB microSD Card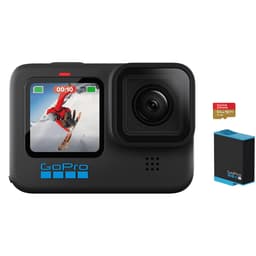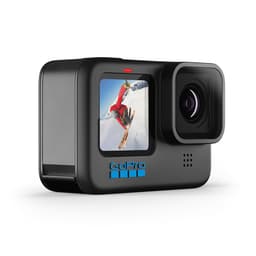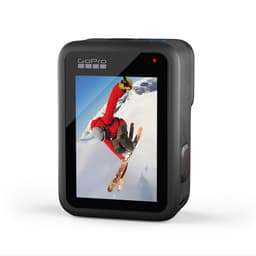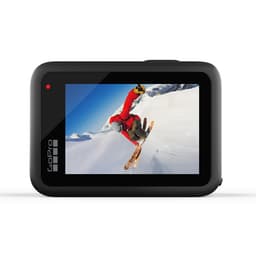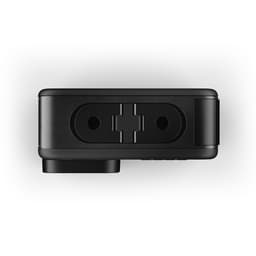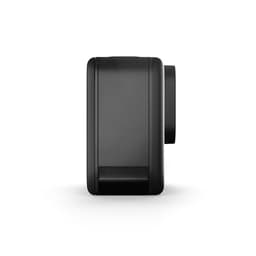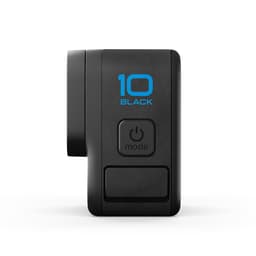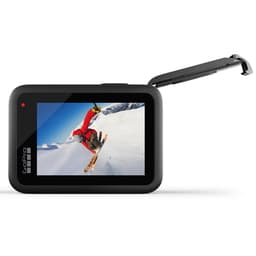 GoPro® HERO10® Black Bundle with 64GB microSD Card
Earn 250 points with this Purchase
Item Available In-Store Only
Description
The GoPro® HERO10® Black sets the new standard in on-the-go photography and videography and with the 64GB microSD card included, you're ready for adventure. Whether you're looking to grow an audience on social media platforms or share your videos with friends and family, the HERO10® and its revolutionary GP2 engine makes it easier than ever. That GP2 engine delivers with responsive controls and a frame rate that, with the HyperSmooth 4.0 stabilization, produces smooth, stable videos that are envy-worthy.
Now we're gonna geek out a bit. This camera shoots 5.3K video at 60 fps (frames per second) and 23MP photos and that's just the beginning. Catch that epic experience at 8x slo-mo at 2.7K or grab a jaw-dropping 15.8MP still photo from your 5.3K video. Talk about mind-blowing, this camera delivers higher resolution, finer details, and better contrast...even in low light conditions. We talked about slo-mo, but let's look at the time lapse possibilities. Both time lapse and night lapse photos allow for stunning, smooth images. But did you know you can create TimeWarp, time lapse, and night lapse videos too? And you can create a looping video. There's also in-camera horizon leveling for when you need it. You can even kiss lens flare goodbye with the water shedding hydrophobic lens cover. Did we mention live streaming at 1080p and webcam mode? With 3 microphones and advanced wind-noise reduction, there's no need to invest in and lug around a bunch of heavy equipment. You've got it all in your convenient, portable HERO10®. And we're not done.
GoPro® Power Tools include LiveBurst which records 1.5 seconds before and after your shot so you capture the whole moment and don't miss a thing. Then you have HindSight, which captures 30 seconds of footage before you start recording so you're not too late to capture that epic thing that's happening right now. Let's not forget about the voice control feature with 13 commands that the camera will recognize in 11 different languages. We're sure you notice the front screen on this sleek camera as well as the size of the back screen. With the front screen, it's easier than ever to get the video or image perfect, making vlogging and selfies a piece of cake. Gone are the days of wondering if you got the framing just right. Talk about responsive, those touch controls keep up with your fast-paced life. And if you know you want to capture something at a specific time and the duration, you can just pop in the settings and schedule your HERO10® to start recording.
Did you know that in addition to the camera's Standard, Activity, and Cinematic modes, you can also create custom presets? Now that's next level. Finishing off this milestone camera are the special GoPro® Cyan Blue logo on the front, a matching HERO10® Black logo on the side, folding mounting fingers, and of course the rugged, waterproof design that lets you go to a depth of 33' without a housing. Well done GoPro®.
Note: Compatible with all HERO9® Black Mods and accessories.
GoPro® HERO10® Black Camera Features:
Video: 5.3K60, 4K120, 2.7K240, and more / looping video / 8x slo-mo / 15.8MP frame grabs
Photo: 23MP / 2x zoom / single photo / night photo / LiveBurst / 25 fps burst / RAW
Time Lapse: TimeWarp video / time lapse video / time lapse photo / night lapse video / night lapse photo
Removable rechargeable 1720mAh battery
HyperSmooth 4.0 with in-camera horizon leveling
SuperPhoto + HDR
Built-in mounting fingers
Digital lenses
Live streaming in 1080p
Webcam mode
Power tools: HindSight, LiveBurst, Scheduled Capture, Duration Capture
Voice control with 13 commands in 11 languages + 6 accents
3 microphones with advanced wind-noise reduction
Stereo + RAW audio
RAW photos
Presets + custom presets
On-screen shortcuts
Large 2.27" rear touch screen with touch zoom
1.4" front screen for preview or status
Portrait orientation
Timer
8x slo-mo
Protune for Photo, Video, and Time Lapse modes
100Mbps bit rate
H.265 (HEVC) + H.264 (AVC) MP4 video formats
Data overlays
Face, smile, blink + scene detection
Rugged + waterproof to 33ft (10m)
Wi-Fi + Bluetooth® technology
64GB microSD card included
More Info
Product Sku:

DD149416

Battery Type:

Rechargeable

Camera Type:

Photo/Video

Depth Rating (ft.):

33

Megapixels:

23

Maximum Frames Per Second:

25

Rechargeable Battery:

Yes
More Info
Product Sku:

DD149416

Battery Type:

Rechargeable

Camera Type:

Photo/Video

Depth Rating (ft.):

33

Megapixels:

23

Maximum Frames Per Second:

25

Rechargeable Battery:

Yes